The current Chinese wine market seen through the eyes of importers, wine educators and sommeliers at Vinitaly 2015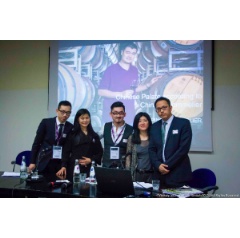 A 360 degree overview of a country where many factors are today concurring to a slow but constant increase of Italy's wine market share
During the 49th edition of Vinitaly, its strategic arm abroad, Vinitaly International, chose to dedicate three complimentary seminars of its "Talk Business Series" to the Chinese wine market: importers, wine educators and sommeliers offered their different points of view for a 360 degree overview of a country where many factors are today concurring to a slow but constant increase of Italy's wine market share.
During the seminar "Wine in China: Big importers small importers", an expert panel made up of the importers themselves and led by one of China's leading wine journalists, Martin Hao, testified to how the professional figures that used to dominate their market, large Chinese groups interested only in top brands, are now giving way to smaller importers attracted by medium level businesses. If importers are changing, so are the consumers: the ones driving wine consumption today are those trying new products and progressing upwards to higher quality wines as well as connoisseurs guided in their choice by trade magazines. Furthermore, the phenomena of collectors who buy wine as an investment is in decline as is the custom of ordering top cru wines as gifts for others.
"In the future these consumers will be wanting good wine at the right price" adds Vinicio Eminenti, importer and owner at VM Fine Wines. As the knowledge of Italian wine grows so will the need to make a conscious choice overcoming the tendency to associate the quality of wine with its provenance, French brands in particular. "Don't drink the label, drink the wine" he says, voicing the thoughts of many wine educators who are today also emphasizing the potential of food and wine pairing: the sheer variety of Italian wines offers many opportunities for successful combinations and, following this same principle, the great number of regional cuisines in China can drive sales of a plethora of different Italian varieties.
The seminar "The Chinese Palate according to Chinese Sommelier" looked at the "on trade" situation together with Moderator Weiley Lu who introduced a panel of fellow sommeliers from the Chinese "Pinor" club. The group targets the high end of the market, educating and guiding clients to obtain the best value for the large amounts spent on top wines.  These young Chinese are the new wave of sommeliers in Shanghai's top trend setting venues. Wu Xiaobin (Arneis) spoke of his work at the famous MINT club, describing his customers preference for red full bodied wines like Amarone. Hou Tielin (Kobe), Beverage Manager- Hotel Sommelier at Kerry Hotel Pudong, gave the audience bottle and glass prices together with Hu Yingxia (Cassie), wine advisor at The House Of Roosevelt. Prices start from €13 a glass but the sky's the limit!
The panel gave more insights into Chinese tastes after Weily Lu stated that there is actually no such thing as the Chinese palate, there being so many regional differences. Chinese cuisine certainly can't be understood from the food served up in Chinese restaurants in the West. In fascinating (and mouth-watering) descriptions each sommelier went on to talk about the typical cuisine of their regional birthplaces and how they naturally combine with different types of Italian wine.
Weily Lu concluded by confirming some of the market tendencies already mentioned by importers in the previous seminar: gifting is part of Chinese culture but after the recent crackdown on corruption, sneak pictures posted on WeChat of politicians and businessmen, enjoying Chateau-Lafite can be compromising. As bribes, top Italian wines are equally effective but go unnoticed.
Other aspects of Chinese life are changing in Italy's favour like the Impact of modern life on eating trends, particularly in the cities where traditional meals with family members have been rapidly replaced by solo-meals in western style restaurants where quality wine is on the table.
Despite having an inside take on a society being transformed by economic growth, the advice given by these young sommeliers to those who want to sell to their compatriots was to study transitional Chinese culture and tradition. This was very much the theme of the third seminar in the Talk Business Series" dedicated to China "Wine Education in Hong Kong: the challenges of food & wine pairing and wine descriptions" where moderator JC Viens maintained that to sell to the Chinese market this self referential European starting point must give way to the Chinese cultural context.
Speakers saw their work as educators as a two way street: empowering Chinese consumers by learning about Italian wine culture helps them to buy into the Italian wine experience but Italian producers must also be prepared to learn how their wines fit in with China's sophisticated culinary culture before they can put it on Chinese tables.
About:
Veronafiere is the leading organizer of trade shows in Italy including Vinitaly (www.vinitaly.com), the largest wine and spirits fair in the world. During its 49th edition Vinitaly counted some 4.000 exhibitors on a 100.000 square meter area and 150.000 visitors including 2.600 journalists from 46 different countries. The next edition of the fair will take place on 10 - 13 April 2016. The premier event to Vinitaly, OperaWine (www.vinitalyinternational.com) "Finest Italian Wines: 100 Great Producers," will unite international wine professionals on April 9th in the heart of Verona, offering them the unique opportunity to discover and taste the wines of the 100 Best Italian Producers, as selected by Wine Spectator. Since 1998 Vinitaly International travels to several countries such as Russia, China, USA and Hong Kong thanks to its strategic arm abroad, Vinitaly International. In February 2014 Vinitaly International launched an educational project, the Vinitaly International Academy (VIA) with the aim of divulging and broadcasting the excellence and diversity of Italian wine around the globe. VIA has now also organized its very first Certification Course with the aim of creating new Ambassadors of Italian Wine in the World.
###
( Press Release Image: https://photos.webwire.com/prmedia/3/196831/196831-1.png )
Related Links
WebWireID196831

This news content was configured by WebWire editorial staff. Linking is permitted.
News Release Distribution and Press Release Distribution Services Provided by WebWire.