Henschel-Steinau to Unveil New Retail Lighting Solution at GlobalShop2015
Henschel-Steinau will debut LumaNEXT™, the next generation retail store illumination system, at GlobalShop2015, Booth 1727, Mandalay Bay Convention Center, Las Vegas, NV, March 24-26.
Allendale, NJ –
WEBWIRE
–
Tuesday, March 3, 2015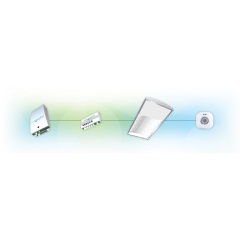 (March 2015) Henschel-Steinau, the leader in retail marketing solutions, will introduce LumaNEXT™, a new and innovative illumination system designed specifically for retail shopping environments, at GlobalShop 2015. LumaNEXT is marketed exclusively by the HS Illumination division of Henschel-Steinau. Areas of the company's exhibit space will be outfitted with LumaNEXT ceiling, vertical banner and display luminaires, providing attendees a first-hand experience of the design, operation, and light quality of this exclusive system. A range of the company's proven retail marketing portfolio and innovative merchandising solutions also will be on display.
 
THE LUMANEXT SYSTEM
LumaNEXT  is a patent-pending, plug-and-play, low voltage LED illumination system that delivers value to retailers in multiple ways, including simplified installation and maintenance, improved lighting, energy  efficiency, intelligent sensors for daylight harvesting, analytics and substantial savings. Centralized Power Stations connected to control devices that can be strategically located throughout a store to deliver 24 Volt DC current to as many as two-dozen system devices. These include overhead solid state lighting, vertical graphic banner luminaires, suspended illuminated signs, illuminated perimeter wall displays, track lighting, and other back-lit merchandising displays.
 
LED ILLUMINATION WITH AN IMPORTANT DIFFERENCE
"All LED illumination systems are not created equal," comments Patty Pellegrin, Director of Marketing for Henschel-Steinau. "LumaNEXT is the first low voltage illumination solution that requires no transformer or ballast at the fixture level, streamlining installation and significantly reducing the need for costly, periodic maintenance. Plus, the system features a future-proof open architecture that enables system expansion and software updates." When compared to other LED lighting solutions, LumaNEXT can reduce operating costs associated with lighting by 25% or more.
 
SUPERIOR QUALITY LIGHT AND A MUCH "GREENER" BOTTOM LINE
LumaNEXT represents the highest quality engineering and construction in illumination. Troffers feature a proprietary diffusor lens, and special coatings by White Optics produce greater reflectivity to help create a pure, natural light for the shopping environment, which has been attributed to increased sales. LumaNEXT also reduces utility consumption by up to 75%, achieving substantially lower energy costs when compared to traditional lighting systems.
 
SOLAR COMPATIBILITY AND TITLE 24 COMPLIANT
LumaNEXT is solar power compatible with an integrated sensor option available for daylight harvesting and energy conservation. Its lighting control devices, luminaires and system components fully comply with the applicable requirements of Title 24 Section 110.9 of the California Building Energy Efficiency Standards for Residential and Non-Residential Buildings.
 
"SMART ANALYTICS" FOR OPTIMUM PERFORMANCE
HS Illumination recently integrated smart sensor technology for real-time actionable data reporting on the system and its performances from Enlighted®, the worlds most advanced digital sensor and analytics platform for smarter buildings. With this addition, light intensity within departments can be controlled, ambient light and temperature can be measured, and fixture outages and abnormal spikes in energy consumption are reported. Retailers also have the ability to analyze consumer foot traffic and shopping patterns, while setting brightness and energy output based on time of day to reduce energy use and associated energy costs.
 
 
FROM THE INDUSTRY LEADER IN RETAIL MARKETING
For over 55 years, Henschel-Steinau has successfully developed and introduced innovative solutions that improve both the shopper and retailer experience. Pellegrin comments, "The introduction of LumaNEXT is a natural extension of our company's mission to create impactful solutions for our retailer partners. Lighting plays such an essential role in the retail environment. With LumaNEXT, we are bringing retailers another in-store solution that, like many Henschel-Steinau innovations, is designed to measurably improve performance and reduce costs, while increasing sales."
           
In addition to LumaNEXT, Henschel-Steinau will be featuring its proven, high-performance line of "EZ" retail solutions at GlobalShop this year.
 
EZ LOAD® PATENTED SHELF MERCHANDISER SYSTEM
The EZ Load® Shelf Management System is simple to install and operate, and dramatically reduces stocking time with a front lens mechanism that enables one-handed re-stocking. The award-winning system automatically faces product to the shelf front, while effectively maintaining side-to-side product positioning, and giving the appearance of an always stocked shelf. Its dividers and pushers move independently with easy lateral slide-click motion adjustments. The exclusive design also provides a natural deterrent to theft, as it prevents "sweeping."
 
EZ ROLL™ THEFT DETERRENT SOLUTION FOR BABY FORMULA
The EZ Roll™ shelf designed by Henschel-Steinau represents a perfect marriage of utility and aesthetics. The unit dispenses a single product at a time which eliminates the threat of "sweep and go" shoplifting where multiple products are quickly swept into a bag or other concealing device. The security door is also connected to a customizable alarm which sounds when forced opened, deterring thieves and alerting employees of the incident. The EZ Roll baby formula retail system fits all standard retail shelving and features modular construction, as well as First-In, First-Out (FIFO) rotation of product. Each individual module holds up to nine W.I.C. sized canisters and works for all major brands. The unit is easily installed, which increases in-store employee compliance.
 
EZ SLIDE™ SHELF MERCHANDISER SYSTEM
EZSlide™ features adjustable widths of 2.5"- 4.5" to fit multiple brands and product sizes of refrigerated products, including yogurt, butter, margarine, cream cheese, and cottage cheese. It also employs the use of a FIFO system to ensure products are purchased in the desired order. EZSlide reduces labor by minimizing the time employees spend stocking, rotating and resetting shelves. EZSlide accommodates shelf depths of 18" - 24," and can be stacked to extended heights up to 8.5." A retractable spring option ensures the fronting lever returns to its retracted position automatically. Products are always positioned to the front of the shelf.
 
EZ Q™ CHECKOUT SOLUTION
A new innovation from Henschel-Steinau, EZ Q™ Checkout system is easy, durable, and represents a cost-competitive option to other retail queue solutions. The simple and intuitive modular design saves on time and labor for set-up and reconfiguring. With the widest variety of available components, EZ Q can be customized or easily expanded to suit any retail checkout area. The system components are not only interchangeable, but also durable and built to last in even the most dynamic retail environments.
 
LUMANEXT INVENTOR ANDY PECK AND OTHER HENSCHEL-STEINAU RETAIL MARKETING SPECIALISTS AT GLOBALSHOP 2015
Visitors will have the opportunity to speak with Henschel-Steinau retail marketing experts to gain insights and perspectives on in-store marketing trends and technology advancements, applicable to a variety of retail sectors. Andy Peck, the inventor of LumaNEXT technology, will also be present at the Henschel-Steinau exhibit during GlobalShop. Mr. Peck is an accomplished entrepreneur, with LumaNEXT being his latest innovative retail solution. Additionally, representatives from Enlighted will be present to demonstrate how Enlighted smart energy management technology integrates with the LumaNEXT system.
 
#  #  #  #
 
ABOUT HENSCHEL-STEINAU
Headquartered in Allendale, NJ, Henschel-Steinau has been recognized as a best-in-class provider for retail marketing solutions in the point-of-sale and in-store marketing industry for more than 55 years. The company provides retail shelf merchandising systems, custom point-of-purchase displays, warehousing and fulfillment services to Fortune 100 consumer goods marketers and retailers. For more information about Henschel-Steinau retail marketing solutions, please visit www.hspop.com.
 
ABOUT HS ILLUMINATION
HS Illumination is a division of Henschel-Steinau, which markets LumaNEXT to retailers throughout North America. HS Illumination is staffed by experienced retail lighting experts responsible for the analysis, configuration, specification and installation of LumaNEXT illumination systems. For more information about LumaNEXT by HS Illumination, please visit www.lumanext.com.
 
MEDIA APPOINTMENTS
Henschel-Steinau is scheduling media appointments at GlobalShop 2015, Booth 1727. To meet with top executives and its product development team, as well as LumaNEXT inventor Andy Peck, please contact Ilena Della Ventura at idellaventura@delianet.com or call 908-534-9044.
 
For additional press information, please contact:
Ilena Della Ventura
Delia Associates
T: 908-534-9044
idellaventura@delianet.com
( Press Release Image: https://photos.webwire.com/prmedia/10362/196154/196154-1.jpg )
Related Links
WebWireID196154
Contact Information

Ilena DellaVentura
Administrative Assistant
Delia Associates

This news content may be integrated into any legitimate news gathering and publishing effort. Linking is permitted.
News Release Distribution and Press Release Distribution Services Provided by WebWire.