Microchip Expands Family of Serial Quad I/O™ SuperFlash® Memory Devices With 1.8V Low-Power 4-Mbit and 8-Mbit Memory
New SuperFlash Memory Devices in Low-Operating Voltage Range From 1.65 to 1.95V
CHANDLER, Ariz. –
WEBWIRE
–
Monday, January 19, 2015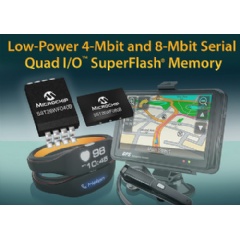 Microchip Technology Inc., a leading provider of microcontroller, mixed-signal, analog and Flash-IP solutions, today announced an expansion of its 1.8V Serial Quad I/O™ (SQI) SuperFlash® Memory with the SST26WF080B and SST26WF040B devices.  These devices offer 4-Mbit and 8-Mbit of memory and are manufactured with Microchip's high-performance SuperFlash technology, which provides the industry's fastest erase times and superior reliability.
To learn more about Microchip's SST26WF080B/040B devices, visit http://www.microchip.com/SST26WF080B-040B-Page-011915a.
The SST26WF080B/040B provide the fastest erase times of any competing device due to the use of SuperFlash technology.  Sector and block erase commands are completed in just 18 ms and a full chip erase operation is completed in 35 ms.  Competing devices require in the range of 5 to 15 seconds to complete a full chip erase operation, making SST26WF080B/040B approximately 300 times faster.  The fast erase times can provide a significant cost savings to customers by minimizing the time required for testing and firmware updates, therefore increasing their manufacturing throughput.
The SQI interface is a high-speed 104 MHz quad I/O serial interface which allows for high-data throughput in a low pin-count package.  This interface enables low latency execute-in-place (XIP) capability, allowing programs to be stored and executed directly from the Flash memory and eliminating the need for code shadowing on a RAM device.  The SST26WF080B/040B provides faster data throughput than a comparable x16 parallel Flash device without the associated high cost and high-pin count of parallel Flash.  The SQI interface also offers full command-set backwards compatibility to traditional Serial Peripheral Interface (SPI) protocol.
Designed for low-power consumption, the SST26WF080B/040B helps maximize battery life in portable powered applications.  Standby current consumption is 10 µA typical and a deep power-down mode further reduces current consumption to 1.8 µA typical.  Active read current at 104 MHz is 15 mA typical.  The combination of 1.8V operation with low-power consumption and small form factor packaging makes the SST26WF080B/040B an excellent choice for applications such as mobile handsets, Bluetooth® headsets, GPS, camera modules, hearing aids and any battery-powered devices.
The SST26WF080B/040B offers excellent quality and reliability with 100 years data retention and device endurance of over 100,000 erase/write cycles.  Enhanced safety features include software write protection of individual blocks for flexible data/code protection and a One-Time Programmable (OTP) 2 Kbyte Secure ID area.  These features protect against unauthorized access and malicious read, program and erase intentions.  The device also includes a JEDEC-compliant Serial Flash Discoverable Parameter (SFDP) table, which contains identifying information about the function and capability of the SST26WF080B/040B in order to simplify software design. 
"The addition of the SST26WF080B/040B SuperFlash devices to our low-power 1.8V Serial Quad I/O product line provides customers with an excellent solution for high speed Flash memory with the industry's fastest erase times," said Randy Drwinga, vice president of Microchip's Memory Products Division.  "The small form factor and low-power consumption make them ideal choices for the next generation of portable battery-powered embedded designs including Internet of Things applications."
Pricing & Availability
The SST26WF080B/040B devices are available today for sampling and volume production in 8-contact WSON (6mm x 5mm), 8-lead SOIC (150 mil), 8-contact USON (2mm x 3mm), 8-ball XFBGA (Z-Scale) packages, starting at $0.57 each for SST26WF040B and $0.65 each for SST26WF080B in 10,000-unit quantities.
For additional information, contact any Microchip sales representative or authorized worldwide distributor, or visit Microchip's Web site at http://www.microchip.com/SST26WF080B-040B-Page-011915a.  To purchase products mentioned in this press release, go to microchipDIRECT or contact one of Microchip's authorized distribution partners.
Follow Microchip:
About Microchip Technology
Microchip Technology Inc. (NASDAQ: MCHP) is a leading provider of microcontroller, mixed-signal, analog and Flash-IP solutions, providing low-risk product development, lower total system cost and faster time to market for thousands of diverse customer applications worldwide. Headquartered in Chandler, Arizona, Microchip offers outstanding technical support along with dependable delivery and quality. For more information, visit the Microchip website at http://www.microchip.com/Homepage-011915a.
###
Note:  The Microchip name and logo, and SuperFlash are registered trademarks of Microchip Technology Inc. in the USA and other countries.  Serial Quad I/O is a trademark of Microchip Technology Inc. in the U.S.A. and other countries. All other trademarks mentioned herein are the property of their respective companies.
( Press Release Image: https://photos.webwire.com/prmedia/7/194858/194858-1.jpg )
Related Links
WebWireID194858

This news content was configured by WebWire editorial staff. Linking is permitted.
News Release Distribution and Press Release Distribution Services Provided by WebWire.