Sophisticated Bosch sensors under the Christmas tree
Christmas 2014 – High-tech gifts high on wish lists

Sensors as electronic "sensory organs"
Stuttgart, Germany –
WEBWIRE
–
Thursday, December 11, 2014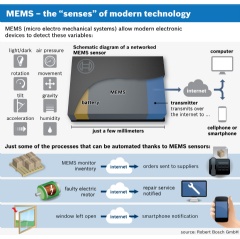 MEMS sensors: The "senses" of modern technology Schematic diagram of a networked MEMS sensor Bosch is helping to build the internet of things and services one tiny sensor at a time.
Going high-tech for the holidays: Christmas gifts for many Germans will include smartphones and tablet PCs. This trend means fascinating sensors are becoming commonplace. Bosch equips many of these must-have devices with tiny "sensory organs."
New and in demand: fitness wristbands
One in every four Germans plans to purchase a tablet PC
Bosch is the global market leader for micromechanical sensors
This year, many of the Christmas gifts waiting under the tree to be unwrapped will be modern electronic devices. Roughly one in four Germans (26 percent) is planning to purchase a smartphone or give one away as a gift, and just as many people would like to do the same with tablet PCs, according to a representative survey conducted by BITKOM, the major association of the digital industry in Germany. Some of the world's most sensitive gauges are installed in such devices, thus finding their way into consumers' homes. Tiny sensors are responsible for determining the position of cell phones and tablets, which then turn the image on screen in the corresponding direction.
Smaller than the diameter of an atom
The sophisticated detection elements in the sensors (MEMS sensors, microelectromechanical systems), which measure just a few millimeters in length, are manufactured out of silicon. The moving structures created within them are no bigger than a few thousandths of a millimeter. Whenever a sensor is moved, a very small electric current is generated that provides information on position, geomagnetic field, and acceleration – all details that make it possible to control and operate cell phones and tablets. The intuitive operation of these devices accounts for a large part of the fascination they have for users.
The finest movements measured in the sensors occur within a space no larger than the diameter of an atom. Bosch is the global market leader in the field of sensors. Approximately three million sensors are manufactured every day and installed in roughly every second smartphone worldwide.
Fitness trackers are new on the list of the most popular high-tech devices, according to the BITKOM survey. The survey reveals that 16 percent of people in Germany would like to purchase a fitness wristband or give one away as a gift. For the first time, these fitness trackers are among the most popular high-tech gifts. MEMS sensors are also used in these devices, for example, to turn the jolts and vibrations measured while the wearer is jogging into a motion profile.
A world record-setting sensor
Bosch has set a world record, creating the world's smallest and most energy-efficient sensor unit – the BMI160 – to ensure that all these devices have as long a service life as possible. Among other things, an acceleration sensor and a yaw-rate sensor (gyroscope) are found in the unit's tiny housing, which measures 2.5 x 3.0 x 0.8 mm. The sensor gauges the position of cell phones with great accuracy. Other devices that benefit from sensors are remote controls, game controls, smart glasses, and head-mounted displays. The latter are worn like ski goggles, and give their wearers the sense of being in a virtual space. When they move their head, the virtual image changes accordingly.
Conventional sensors often consume a lot of power. But even when the BMI160's acceleration sensor and gyroscope are in full operational mode, typical power consumption amounts to a mere 950 microamperes, which is less than half the market standard – a world record.
"That is why our chip can now run the entire day. It no longer needs to be switched off from time to time to conserve the smartphone's battery," says Torsten Ohms, project manager for the development of the chip at Bosch Sensortec. This means that the cell phone can now use the sensors to record all the user's activity throughout the day. At the end of the day, it can then show them how much energy they used up going to work, at the office, and walking up and down stairs. "Users looking to lose weight, for instance, can choose their evening meal based on how many calories they burned over the course of the day," Ohms says. In the days immediately following Christmas, this may prove to be one feature of the latest high-tech gifts that is in particularly high demand.
Sensors at the 2015 CES
Bosch will be attending the Las Vegas Consumer Electronics Show from January 5-9, 2015, where it will present its smart sensors that facilitate intelligent solutions for a connected world, all designed to make life more comfortable, more efficient, and safer.
Internet:
Link to BITKOM survey:
http://bit.ly/1s1tAAS
Background information on record-breaking sensor:
http://bit.ly/1z0AE6V
Background information on MEMS sensors:
http://bit.ly/1zlVno7
The Bosch Group is a leading global supplier of technology and services. In 2013, its roughly 281,000 associates generated sales of 46.1 billion euros. (NB: Due to a change in accounting policies, the 2013 figures can only be compared to a limited extent with the 2012 figures). Its operations are divided into four business sectors: Mobility Solutions, Industrial Technology, Consumer Goods, and Energy and Building Technology. The Bosch Group comprises Robert Bosch GmbH and its roughly 360 subsidiaries and regional companies in some 50 countries. If its sales and service partners are included, then Bosch is represented in roughly 150 countries. This worldwide development, manufacturing, and sales network is the foundation for further growth. In 2013, the Bosch Group invested some 4.5 billion euros in research and development and applied for some 5,000 patents. This is an average of 20 patents per day. The Bosch Group's products and services are designed to fascinate, and to improve the quality of life by providing solutions which are both innovative and beneficial. In this way, the company offers technology worldwide that is "Invented for life."
The company was set up in Stuttgart in 1886 by Robert Bosch (1861-1942) as "Workshop for Precision Mechanics and Electrical Engineering." The special ownership structure of Robert Bosch GmbH guarantees the entrepreneurial freedom of the Bosch Group, making it possible for the company to plan over the long term and to undertake significant up-front investments in the safeguarding of its future. 92 percent of the share capital of Robert Bosch GmbH is held by Robert Bosch Stiftung GmbH, a charitable foundation. The majority of voting rights are held by Robert Bosch Industrietreuhand KG, an industrial trust. The entrepreneurial ownership functions are carried out by the trust. The remaining shares are held by the Bosch family and by Robert Bosch GmbH.
Additional information is available online at www.bosch.com and www.bosch-press.com, http://twitter.com/BoschPresse.
IMAGE CAPTION:
MEMS sensors: The "senses" of modern technology Schematic diagram of a networked MEMS sensor
Bosch is helping to build the internet of things and services one tiny sensor at a time. In future, many objects will report their status over the net, and this makes a range of new functions and business models possible. They contain microscopic structures that are capable of measuring acceleration, air pressure, sound, temperature, or the earth's magnetic field. Fitted with a miniature battery and a tiny radio interface, these MEMS sensors can for instance send their readings over the internet to a user's smartphone.
( Press Release Image: https://photos.webwire.com/prmedia/7/193807/193807-1.jpg )
Related Links
WebWireID193807

This news content was configured by WebWire editorial staff. Linking is permitted.
News Release Distribution and Press Release Distribution Services Provided by WebWire.