Mobistar market leader with 1 million SIM cards in machines. Added value to Belgian economy estimated at 275 million euro
Brussels, Belgium –
WEBWIRE
–
Friday, December 5, 2014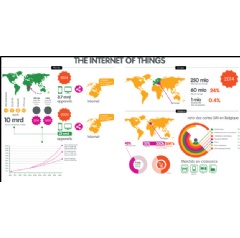 At its M2M event in Brussels, Mobistar today announced that it has already connected more than 1 million machines or objects – ranging from drinks vending machines to vehicles – using SIM cards. This makes Mobistar the market leader in Belgium in connecting machines. About 55 % of those SIM cards are installed in machines that are used in Belgium. The added value to the Belgian economy created through the whole ecosystem (hardware, software, modems and supporting services) is estimated at 275 million euro.
Market leader in Belgium
Mobistar intends to continue and strengthen its market leadership in Belgium for M2M. The company was the first in Belgium to install SIM cards in machines 13 years ago. Today, Mobistars' role has evolved from a supplier of cards to a more strategic role. "Our Enterprise Mobility 3.0 strategy is aimed at helping our customers re-imagine their business processes" explains Stéphane Beauduin, Chief Enterprise & Wholesale Officer bij Mobistar. 'Based on the value generated by Mobistar's clients today via M2M applications in their products, we estimate that every SIM card installed in a machine generates on average 500 euro in revenues for our customer. That amount represents hardware, software and services linked to the end product, on the professional or consumer market.'
1 Mobistar SIM card out of 5 in machines
Currently, approximately 1 Mobistar SIM card out of 5 is installed in a machine. And it looks like the number of connected machines will increase sharply, a trend also called the Internet of things. A study by market research company Gartner showed that next year almost 5 billion objects worldwide will be connected with the internet. By 2020 this number will multiply five-fold to more than 25 billion.
Strong growth expected in the M2M market, both in Belgium and abroad
Mobistar expects a strong growth in the coming years on the Belgian market, especially in the industry and in public service companies. The evolution of certain towns into 'smart cities' is also a real opportunity. More and more M2M applications in these domains require a lot of bandwidth. For example, think about infotainment in cars, buses and trains, the monitoring of the available capacity on the electricity-network or the guarding of public spaces via cameras. The high-quality 4G network of Mobistar is an important asset to guarantee the network coverage that is needed.
Approximately 45 % of the SIM cards installed by Mobistar are being used abroad. The company expects the international demand to grow fast in the coming years, for example in the automobile sector. International companies need a partner that can support them in several countries, not just in Belgium. Orange, the mother company of Mobistar is co-founder of the Global M2M Association, a partnership between TeliaSonera, Orange, Deutsche Telekom, Telecom Italia, Bell en Softbank. 'By being part of an international partnership, we can offer our customers international solutions, both on a technical and a commercial level. Clients want to activate their M2M applications on the local network in every country, so they can avoid roaming costs.' said Stéphane Beauduin.
Where are these 1 million SIM cards?
More and more machines or objects are equipped with a SIM card nowadays, and the sectors and suppliers are very varied. The Flemish Agency for Roads and Traffic (Vlaams Agentschap Wegen en Verkeer) uses the Mobistar M2M technology to manage dynamic traffic signs alongside the highway and the 'zone 30' speeds signs close to schools.They also measure the risk of floods through SIM cards that monitor the water levels of rivers and canals. The 'Société wallonne des eaux' also uses this M2M application.
Another sector, very relevant for M2M applications, is the tracking & tracing of vehicles in the transport sector. For instance, Belgian company Transics, specialised in fleet management software, has been a major user of M2M for a long time.
Taxis Verts, the largest taxi company in Brussels, has also equipped its 500 cars with smart M2M cards. They allow for clients to order a taxi on their smart phone and for taxi drivers to be constantly up to date on routes, addresses, GPS-data. Better communication between drivers leads to a better and faster service for the customer.
Another emerging market is that of the so-called 'smart meters' used for monitoring and managing energy consumption levels. Recent research (November 2014) from EnergyVille (Research center VITO, Catholic University Leuven & incubator Imec) shows that 'black outs' can be avoided if families adapt their energy consumption in peak times. By using M2M applications in household appliances, they can be put into motion at times when the energy consumption in the neighbourhood is low, leading to lower demand and energy production.
The consumer market also buys a lot of machine SIM cards. The Coyote radar detector is a good example in this market. SIM cards are also popular in the retail sector. The best known examples are the electronic payment terminals of Atos Worldline used by traders and shops for payments. A soft drinks manufacturer such as Coca-Cola, on the other hand, uses SIM cards to supply its drinks vending machines. And the professional Nespresso coffee machine installed in offices are also equipped with a SIM card. They support an automatic supply planning, but also take care of timely repairs.
( Press Release Image: https://photos.webwire.com/prmedia/7/193610/193610-1.jpg )
Related Links
WebWireID193610

This news content was configured by WebWire editorial staff. Linking is permitted.
News Release Distribution and Press Release Distribution Services Provided by WebWire.