Warhol Pops Up in Miami
Christie's, JW Marriott, Present First-Ever Pop-Up Art Sale December 3-4 at the JW Marriott Marquis; Exhibit is Open to the Public and Free of Charge
Miami –
WEBWIRE
–
Tuesday, November 11, 2014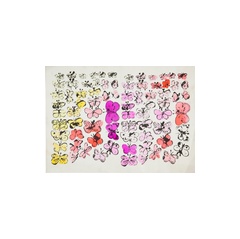 Christie's, JW Marriott® Hotels & Resorts, and JW Marriott Marquis Miami are pleased to announce a pop-up art sale at the JW Marriott Marquis Miami, which will be the first time original art will be available for purchase at a JW Marriott property. Download images.
The unique selling event, which will be held December 3-4 on the hotel's fifth floor, will coincide with Art Basel Miami Beach 2014.  The public is welcome to view the exhibit free-of-charge. The exhibition will be open from 10 a.m. to 5 p.m. on Wednesday, December 3rd and Thursday, December 4th.  
The exhibit is part of Andy Warhol at Christie's, a multi-year, multi-platform partnership with The Andy Warhol Foundation for the Visual Arts.  A curated group of more than 20 paintings, photographs, prints, and works on paper, many of which have never been seen before and with price points ranging from $3,000 to $50,000, will be available for sale to the public and hotel guests. 
"This exhibition presents a unique opportunity for collectors to acquire original works by Andy Warhol that come directly from Warhol's collection – he's the only person who has owned it. Collectors have the added bonus that proceeds of the sales benefit The Andy Warhol Foundation for the Visual Arts' grant-making initiatives," comments Amelia Manderscheid, Associate Vice President, Specialist, Warhol Private Sales.
As with all sales in Andy Warhol at Christie's—including live auctions, online-only auctions, and private sales — all works are drawn from the collection of The Andy Warhol Foundation for the Visual Arts, with proceeds benefitting the Foundation's grant-making programs.
[ANDY WARHOL (1928-1987)
Happy Butterfly Day, offset lithograph with hand-coloring on paper, Executed circa 1955.
Tattooed Woman Holding Rose, offset lithograph in orange, on green paper, with horizontal folds (as issued), the full sheet, 29 1/8 x 11 1/8in. (74 x 28.3 cm.), Executed circa 1955.
La Plata River Dolphin, silkscreen inks on colored paper collage, 12 x 18 in. (30.5 x 45.7 cm.), Executed in 1986]
db Bistro Moderne Miami, Chef Daniel Boulud's restaurant located within the JW Marriott Marquis Miami, will also pay homage to Warhol during the week with dishes and cocktails inspired by the artist's works. Chef Boulud - who cooked for Warhol himself in the 1980s in NYC - Executive Chef Jason Pringle, and Pastry Chef Jerome Maure channel their creativity on the chefs' canvas, the plate. Guests who visit the gallery may bring their ticket to db Bistro to redeem a complimentary Warhol-inspired cocktail from December 2-7. Cocktails include:
POP ART: red wine, coke, lime juice, served in a Campbell's soup can; VELVET UNDERGROUND: gin, St. Germaine, banana, sparking wine, hibiscus; CANDY DARLING: white wine, ginger liqueur, soda, mint ice ball.
As the official hotel partner of Art Basel, Design Miami, Art Miami, and the Perez Art Museum, the JW Marriott Marquis Miami is immersed in the growing art scene already present in the city. Besides its more than $250,000 in sponsorships, and its support of other arts organizations such as the Miami International Symphony Orchestra, Florida Grand Opera, and others, the hotel and JW Marriott brand boast a strategic partnership with Christie's, the world's leading art auction house.  The partnership began during Art Basel 2010 when the hotel featured a popular exhibition of Post-War and Contemporary highlights, which included pieces from artists such as Andy Warhol, Antony Gormley, and Damien Hirst. The hotel also houses a museum-caliber art collection worth more than $1 million, called the Art of Reinvention.
"We are excited to partner with Christie's Auction House for the fifth consecutive year during Art Basel. This unique art event celebrating the remarkable works of one of America's most important art showmen while supporting the Andy Warhol Foundation for the Visual Arts will be a must see for Art Basel visitors and local art enthusiasts," said Florencia Tabeni, General Manager, JW Marriott Marquis Miami.
The exhibit will be launched at an invitation-only lunch and panel discussion titled 'Disruptors: Thinking Outside the Box' on Tuesday, December 2nd.  Confirmed  panelists include Daniel Boulud, chef-owner of DB Bistro, Eric Chang, co-founder and designer for Hellman-Chang furniture, Matthew Von Ertfelda, vice president  Insight, Strategy + Innovation at Marriott International,  Amelia Manderscheid, Christie's Andy Warhol expert, and Eric Shiner, Director, Andy Warhol Museum. MIAMI magazine is the official media partner and moderator for the panel.
For more information on Andy Warhol at Christie's, please visit: http://www.christies.com/warhol
POP-UP SELLING EVENT
Admission is free and open to the public
JW MARRIOTT MARQUIS MIAMI 
255 Biscayne Blvd. Way, Miami, FL
Wednesday, December 3, 10 a.m. to 5 p.m
Thursday, December 4, 10 a.m. to 5 p.m
Notes to Editors:
Christie's began a strategic partnership with JW Marriott, Marriott International's world-class luxury hotel brand, during Art Basel Miami Beach 2010 with an exhibition of Post-War and Contemporary Art highlights from Christie's upcoming London sale. The two brands have since replicated the model in Chicago, London, Mexico City, Denver, Shanghai, and more. The strategic partnership was developed as part of a global brand initiative to deliver a one-of-a-kind opportunity for guests to experience the worlds of art, auction, and beyond at JW Marriott hotels and resorts around the world. 
All Andy Warhol Artworks © The Andy Warhol Foundation for the Visual Arts, Inc.
About The Andy Warhol Foundation for the Visual Arts
The Andy Warhol Foundation for the Visual Arts was established in 1987.  In accordance with Andy Warhol's will, its mission is the advancement of the visual arts.  The primary focus of the Foundation's grant-making activity has been to support the creation, presentation, and documentation of contemporary visual arts, particularly work that is experimental, under-recognized, or challenging in nature. The program has been both pro-active in its approach to the field of cultural philanthropy and responsive to the changing needs of artists. A strong commitment to freedom of artistic expression continues to inform the Foundation's support of organizations that fight censorship, protect artists' rights, and defend their access to evolving technologies in the digital age.
Through cooperative exhibitions, loans. and permanent placement of work in museums nationwide, the Foundation has ensured that the many facets of Warhol's complex oeuvre are both widely accessible and properly cared for. In helping to establish the comprehensive collection and study center of The Andy Warhol Museum in Pittsburgh, the Foundation paved the way for new Warhol scholarship and curatorial innovation. The Foundation's sustained support and oversight of thoroughly researched, extensively illustrated catalogues raisonnés of Warhol's entire artistic output continues to expand the possibilities for scholarship about his work.
The Foundation has also used its ownership of the copyrights to Warhol images and trademarks to his name and signature as an opportunity to craft creative and responsible licensing policies that are both friendly to scholars and artists wishing to use Warhol images for educational and creative purposes and profitable to the Foundation when the images are used for commercial purposes. Revenues from licensing agreements add significantly to those earned through the continued sale of work from the Foundation's art collection, enabling the Foundation to build the endowment from which it makes cash grants to arts organizations around the country. Visit the Foundation's website at www.warholfoundation.org.
About Christie's 
Christie's, the world's leading art business, had global auction and private sales in 2013 that totalled £4.5 billion/ $7.1 billion, making it the highest annual total in Christie's history. Christie's is a name and place that speaks of extraordinary art, unparalleled service and expertise, as well as international glamour. Founded in 1766 by James Christie, Christie's has since conducted the greatest and most celebrated auctions through the centuries providing a popular showcase for the unique and the beautiful. Christie's offers around 450 auctions annually in over 80 categories, including all areas of fine and decorative arts, jewellery, photographs, collectibles, wine, and more. Prices range from $200 to over $100 million. Christie's also has a long and successful history conducting private sales for its clients in all categories, with emphasis on Post-War & Contemporary, Impressionist & Modern, Old Masters and Jewellery. Private sales totalled £760.5 million ($1.19 billion) in 2013, an increase of 20% on the previous year.
Christie's has a global presence with 53 offices in 32 countries and 12 salerooms around the world including in London, New York, Paris, Geneva, Milan, Amsterdam, Dubai, Zürich, Hong Kong, Shanghai, and Mumbai. More recently, Christie's has led the market with expanded initiatives in growth markets such as Russia, China, India and the United Arab Emirates, with successful sales and exhibitions in Beijing, Mumbai and Dubai.
*Estimates do not include buyer's premium. Sales totals are hammer price plus buyer's premium and do not reflect costs, financing fees or application of buyer's or seller's credits.
About JW Marriott Marquis Miami
The JW Marriott Marquis Miami is situated in Miami's new Metropolitan Miami development. The first-to-market JW Marriott property boasts 313 guestrooms, inclusive of 56 suites, along with a broad array of amenities, including renowned chef-restaurateur, Daniel Boulud's db Bistro Moderne.  Offering a diverse setting for business, meeting and pleasure travel pursuits, the 41-story hotel features three concierge levels; 80,000-square-feet of total function space including a 20,000 sq. ft. Grand Ballroom; and one of the most unique indoor sports, lifestyle and entertainment complexes of any hotel in the U.S. The 50,000-square-foot, two-story indoor facility includes a NBA-approved basketball arena, tennis court, Mariano Bartolome Golf School, virtual bowling alley, billiards, full-service enliven spa and salon and more. Owned and operated by Met 2 Hotels LLC, the JW Marriott Marquis Miami is located at 255 Biscayne Boulevard Way, Miami, FL. For additional information and booking please visit www.jwmarriottmarquismiami.com.
About JW Marriott Hotels & Resorts 
JW Marriott is part of Marriott International's luxury portfolio and consists of beautiful properties in gateway cities and distinctive resort locations around the world. These elegant hotels cater to today's sophisticated, self-assured travelers, offering them the quiet luxury they seek in a warmly authentic, relaxed atmosphere lacking in pretense. JW Marriott properties artfully provide highly crafted, anticipatory experiences that are reflective of their locale so that their guests have the time to focus on what is most important to them. Currently, there are 68 JW Marriott hotels in 26 countries; by 2019 the portfolio is expected to encompass more than 100 properties in over 30 countries. Visit us online, on Instagram, Twitter and Facebook.
( Press Release Image: https://photos.webwire.com/prmedia/3/192753/192753-1.png )
Related Links
WebWireID192753

This news content was configured by WebWire editorial staff. Linking is permitted.
News Release Distribution and Press Release Distribution Services Provided by WebWire.