To-Do Lists Don't Work and Inbox Zero is Not a Myth, Productivity Author Says
A common challenge we all grapple with every day is email management–all those unread emails that have piled up can clutter both our inboxes and minds.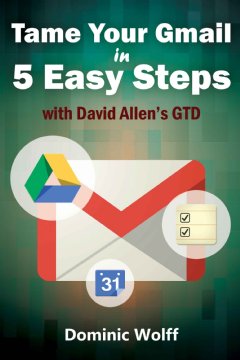 5-Steps to Organize Your Mail, Improve Productivity and Get Things Done Using Gmail, Google Drive, Google Tasks and Google Calendar
Dominic Wolff, an author and proponent of the famous time management system Getting Things Done (GTD), recently released the latest from his series of productivity handbooks, "Tame Your Gmail in 5 Easy Steps with David Allen's GTD." A notable piece of work, the book focuses on how to use GTD to manage your inbox, daily tasks, projects, and schedules using Gmail, Google Calendar, and Google Drive. Wolff aims that by the end of the book, readers will be able master catching every email, task, and project, and organize them into bite-size steps; record every task, errand, piece of information so that nothing will be forgotten; and know "exactly what needs to be done that minute, that hour, and that day," as Wolff puts it.
Getting Things Done is a comprehensive workflow system presented in the bestselling book of the same name. Wolff's book is a complete guide that uses the principles of GTD to teach you how to categorize everything so that you will always know what to do with tasks that go in your direction. According to Wolff, "Nothing says 'I have it all together' better than clearing out your email inbox and replying to those that have piled up. GTD will help you in two ways (actually, several ways but these are the major ones regarding email): organizing the insurmountable amount of emails in your inbox and filtering your emails in such a way as to smoothly move from one task to the next."
Wolff's own productivity system gets rid of the traditional to-do list because your emails and to-do items are categorized into when they're going to be accomplished and the context in which they are to be done. For instance, if you have a list of things to do for the day, you just don't put them all in a master to-do list; you have to segregate them to different categories to systematize your daily routines. In the case of your Gmail inbox, the trick is to split all messages into three primary categories: the action emails, references/to-read emails, and conversations you're waiting a reply for. Action emails are ones that require you to perform an action. The other two main categories are self-explanatory. Action emails are further categorized according to when they are to be completed. Should the action be done now? Later? Someday?
In theory, once you get this system up and running, you'll be more efficient at work and at home. All tasks will move forward with speed and clarity, so much that you'll get work done faster, and thus save time.
"[GTD] provides concrete, real world solutions so that overwhelming and time consuming tasks can be integrated into a stress-free, efficient management system," Wolff says.
If you think this explanation of Wolff's productivity system is tantalizing, wait till you read the whole book! And if you're reading this, you're in luck. Tame Your Gmail in 5 Easy Steps with David Allen's GTD is offered free for two days, so watch out for it. Read it from front to cover free of charge to manage your emails and be more productive.
 
About Dominic Wolff:
Dominic Wolff is an author, business owner, and traveler (or as he likes to call it, a globe trotter). An Idaho native, Dominic became interested in the mechanics of business from a very young age. From those early days of selling candy bars to running a multi-state company today, Dominic has always been on the lookout for systems that would improve his productivity and allow him more free time to enjoy his hobbies. He frequently writes articles about personal productivity for business publications.
He believes that having a structure in place for work and life can mean the difference between being in control and merely coping.
An avid collector of fine red wines, he also owns a small wine boutique stocking only the finest of Washington, Oregon, and Idaho wines. He lives in Wyoming with his wife Sarah, two German Shepherds, and a tiny vineyard of his own.
Mark your calendar. This book will be free on the 11th and 12th of June this year.
( Press Release Image: https://photos.webwire.com/prmedia/47564/187247/187247-1.jpg )
Related Links
WebWireID187247
Contact Information

Dominic Wolff
Author
PproductiveNow.Org

This news content may be integrated into any legitimate news gathering and publishing effort. Linking is permitted.
News Release Distribution and Press Release Distribution Services Provided by WebWire.