Football-related claims increased by 82% during last world cup
-Football fanatics urged to play it safe in lead up to tournament
-Previous claims included damage from balls, boots and even drying football shirts
-The average value of a football-related claim was around £530
WEBWIRE
–
Monday, November 14, 2022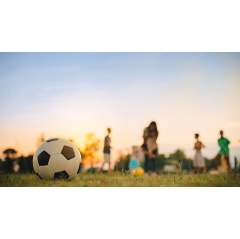 Football fans are being warned to keep their eye on the ball, with household breakages on the cards in the lead up to the World Cup.
Aviva reveals accidental damage claims where football played a part increased by 82% during the last football World Cup in 2018.
Electronic equipment, windows and soft furnishings regularly fell foul of kickabouts and celebrations during matches.
Other incidents included football kits being scorched by tumble dryers, feet being kicked through hallway walls, footballs to the face breaking glasses and a laptop falling into a bath tub while a customer watched a game. These football-related claims had an average value of around £530.
Youngsters were behind many of these claims; one customer's son attempted to dry his football kit by giving it the hairdryer treatment, burning several holes in their living room carpet in the process. Another child kicked a football into their dad's expensive watch, causing it to break.
Other football-related claims included:
A crystal collection – including a rare Cinderella figurine – was smashed by a football.
One customer's little boy threw his football boots at his brother, missing him completely so they smashed through their front door.
Making a game-time snack of popcorn, a customer placed a hot pan onto their worktop, scorching the surface.
A football kicked up into the air smashed a customer's drone, breaking it as it fell to the floor.
A football was kicked into a swimming pool, damaging the pool cover mechanism, preventing it from closing.
One customer went to watch a match and left their phone in their taxi ride home. The driver wouldn't return it as he claimed they didn't leave a big enough tip. 
Kelly Whittington, UK Property Claims Director for Aviva says:
"Our claims provide a unique insight into how people get involved with the World Cup. During a big competition, it seems adults and children are keen to have a kickabout and show off their ball skills. And when a match takes place, they're ready to celebrate – or commiserate, depending on the result.
"As a football fan, I completely understand the excitement and emotions that surround a big tournament – but we'd encourage people to go steady, particularly around any windows or electrical items, so they don't find themselves scoring an own goal!"
Accidental damage cover is usually available as an add-on to home insurance. It can offer protection for home buildings and contents against unexpected incidents such as a spillage on a carpet or a football crashing into a television. Find out more about accidental damage cover here.
-ENDS-
Notes
We are the UK's leading Insurance, Wealth & Retirement business and we operate in the UK, Ireland and Canada. We also have international investments in Singapore, China and India.
We help our 18.5 million customers make the most out of life, plan for the future, and have the confidence that if things go wrong we'll be there to put it right.
We have been taking care of people for 325 years, in line with our purpose of being 'with you today, for a better tomorrow'. In 2021, we paid £30.2 billion in claims and benefits to our customers.
Aviva is a market leader in sustainability. In 2021, we announced our plan to become a Net Zero carbon emissions company by 2040, the first major insurance company in the world to do so. This plan means Net Zero carbon emissions from our investments by 2040; setting out a clear pathway to get there with a cut of 25% in the carbon intensity of our investments by 2025 and of 60% by 2030; and Net Zero carbon emissions from our own operations and supply chain by 2030.  Find out more about our climate goals at www.aviva.com/climate-goals and our sustainability ambition and action at www.aviva.com/sustainability
Aviva is a Living Wage and Living Hours employer and provides market-leading benefits for our people, including flexible working, paid carers leave and equal parental leave. Find out more at https://www.aviva.com/about-us/our-people/
As at 30 June 2022, total Group assets under management at Aviva Group were £353 billion and our Solvency II shareholder capital surplus at 30 September 2022 was £8.8 billion. Our shares are listed on the London Stock Exchange and we are a member of the FTSE 100 index.
For more details on what we do, our business and how we help our customers, visit www.aviva.com/about-us
( Press Release Image: https://photos.webwire.com/prmedia/6/296613/296613-1.jpg )
Related Links
WebWireID296613

This news content was configured by WebWire editorial staff. Linking is permitted.
News Release Distribution and Press Release Distribution Services Provided by WebWire.