Spring Free EV Launches EVInstaFleet to Give EV-preneurs Simple, Hassle-Free Access to Cars and Capital, No Personal Credit or Guarantees Required
● EVInstaFleet serves a growing market of entrepreneurs running high-mileage vehicle fleet businesses - making up nearly 60 percent of the gig economy.
● Eliminates barriers to financing for peer-to-peer car and ride-sharing vehicles.
● Aims to reduce CO2 emissions by one gigaton by the year 2030.
● On February 25, 2022, Spring Free EV will celebrate one year since putting its first EV on the road.
SAN FRANCISCO, Calif. –
WEBWIRE
–
Thursday, February 24, 2022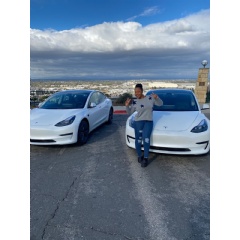 Spring Free EV, a financial technology company accelerating the adoption of electric vehicles (EVs) through innovative fintech products, today announces the launch of EVInstaFleet: a new and affordable way to scale EV fleet businesses. Spring Free EV's EVInstaFleet is a financial product that streamlines the process of electrifying fleets. With EVInstaFleet, entrepreneurs have access to EVs through Spring Free EV's network of vehicles to rent them out for profit. To apply, visit SpringFreeEV.com/EVInstaFleet.com.
Demand for EVs is soaring, but there is one standout barrier: EVs have a sticker price of 25-30% higher than comparable gasoline vehicles. Despite the higher upfront costs, EV drivers save more on total cost over the car's lifetime when considering maintenance and repairs, fueling costs, and depreciation, according to Consumer Reports.
At the same time, financing with traditional leases is near-impossible for high-mileage drivers in car-sharing, ride-sharing, last-mile delivery, and rental fleet businesses such as Turo, Getaround, HyreCar, Uber, Gopuff and Lyft due to the mileage limitations. Without a suitable financing solution for EVs, drivers and fleet owners are forced to defer to traditional gas-fueled vehicles – ultimately delaying climate change efforts.
A Simpler, More Cost-Effective Way to Expand Your Fleets
The newest launch, EVInstaFleet, provides financing and access to affordable EVs in one combined product. As opposed to current financing options that can take upwards of six months and require personal guarantees, EVInstaFleet requires no personal credit or guarantees and uses a pay-per-mile subscription model, charging customers a base monthly fee plus a fee per mile driven. Spring Free EV's financing solution rids fleet owners of the hassle of acquiring fleet vehicles through slow and costly traditional financing models. For a small business, that could mean mortgaging a home, taking on debt, or seeking help from family and friends. With EVInstaFleet, drivers avoid the inflated upfront sticker price of EVs while saving on long-term operational costs, enabling them to build flourishing businesses without incurring personal risk.
Spring Free EV is co-founded by rideshare pioneer Sunil Paul (former Sidecar CEO), Chief Product Officer Tenni Theurer (former GM and VP of Product at Yahoo), Head of Sales and Business Development Visrin Vichit-Vadakan (former Manager of Sales Programs at Tesla), and Martin Lagod, an early investor in solar, battery materials and food supply chain.
To sign up, visit SpringFreeEV.com/EVInstaFleet.com and choose 'Get Started'. Fill out the simple form and SpringFree EV will make you the next EV-preneur.
"Working with Spring Free EV, I was confident from the beginning that my business would thrive. They made the process quick and painless," says Brenda Jones, an EV-preneur using EVInstaFleet for her business, Floss Angeles, in Los Angeles. "Every day since I've had the two Teslas Spring Free EV helped me get, they've been rented out, so I ordered two more. I'm grateful for the way my business has been able to grow."
"EVInstaFleet democratizes access to EVs and opens the door to EV-preneurs growing small businesses using EVs as economic assets. Most of our clients are immigrants and people of color who have been underserved by the traditional auto financing models. We've designed EVInstaFleet with those people in mind and are dedicated to helping those entrepreneurs grow," says Sunil Paul, CEO, and co-founder of Spring Free EV.
EVInstaFleet'a launch comes on the heels of Spring Free EV's partnership with Cox Automotive, the world's largest automotive service provider, and HyreCar, a carsharing platform for ridesharing and delivery services. Cox Automotive will help Spring Free EV accelerate EV deployment for fleets by supplying pre-owned EVs to EV-preneurs nationwide. HyreCar will help Spring Free EV connect with more EV drivers operating rideshares, carshares, rentals, taxicabs, on-demand deliveries, and public works.
The application process is stress-free, quick, unbiased, and leaves credit history out of the equation. To apply, EV-preneurs only need to visit SpringFreeEV.com/EVInstaFleet.com, and fill out some basic information to begin building their small business through Spring Free EV's network of EVs.
About Spring Free EV
Spring Free EV is a financial technology company built to accelerate the adoption of EVs through innovative fintech products. It has the bold mission to reduce CO2 emissions by one gigaton by 2030 through a new vehicle financing approach that makes EVs more accessible to everyone. Spring Free EV was co-founded by Sunil Paul and Martin Lagod in 2021 and is backed by leading investors Reid Hoffman, Mark Pincus, Ev Williams, and others. Learn more at www.springfreeev.com.
( Press Release Image: https://photos.webwire.com/prmedia/42381/285697/285697-1.jpg )
WebWireID285697
Contact Information

Maggie Philbin
Partner
VSC for Spring Free EV

This news content may be integrated into any legitimate news gathering and publishing effort. Linking is permitted.
News Release Distribution and Press Release Distribution Services Provided by WebWire.