The AGO rings in the new year artfully with online programs celebrating the sounds and tastes of the Caribbean
Free live Virtual School Programs return with music and history courtesy of the Canadian Opera Company, Toronto Symphony Orchestra and Toronto History Museums
TORONTO –
WEBWIRE
–
Thursday, January 13, 2022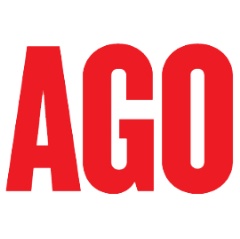 This winter, the Art Gallery of Ontario (AGO) invites everyone to spark their senses, as it presents an exciting line up of online programs and courses exploring the intersection of art, sound and taste.  Bringing together educators, musicians, chefs, curators, singers, artists and writers from across North America and the Caribbean, the AGO's winter 2022 public programming is heavily inspired by the original AGO exhibitions, Fragments of Epic Memory and Matthew Wong: Blue View. The AGO is temporarily closed, but through its robust online programs, continues to connect with artists, students, educators and families across Ontario.
"The demand for our Virtual School Programs and its success in bringing art education to classrooms and living rooms across Ontario, all free of charge, reminds us how important art is to the wellbeing of our community," said Audrey Hudson, the AGO's Richard & Elizabeth Currie Chief, Education & Programming. "This winter we are thrilled to debut two new original video series - our first food-focused conversation series, and an exciting series of studio tours curated by youth – and present our first Mandarin and Mohawk language programs. We look forward to welcoming everyone back to the Museum when allowed, and in the meantime, are pleased to continue sharing art with our public."  
Highlights from AGO's winter programming season are listed below. Registration is now open for all events, including Virtual School Programs and Adult courses. For more details, visit ago.ca/events  and ago.ca/learn.
AGO WINTER 2022 PROGRAMMING HIGHLIGHTS
AGO Virtual School Programs
Free of charge to students, parents, educators and caregivers everywhere, the AGO's Virtual School Program returns this winter, delivering live 30-minute field trips, Monday to Friday, via Zoom. Led by AGO Art Educators, three sessions are presented every morning, each designed especially for students in JK to Grade 3, Grade 4 to 8 and Grade 9 to 12. Sessions are organized thematically and draw on artworks and objects from the AGO Collection. The AGO Virtual School Program is excited to welcome educators from the following cultural organizations this winter:  
On January 13, 20 and 27, artworks from the AGO exhibition

Fragments of Epic Memory

, inspire a series of sessions about music, movement and cultural identity. Two of these sessions will be co-led by artist educators from the Canadian Opera Company, and another co-led by an artist of The National Ballet of Canada.  

On February 3, 17 and 24, educators from three Toronto History Museums (Montgomery's Inn, Fort York and Mackenzie House) will invite students to explore moments in history through sound.

On March 10, 24 and 31, artists and educators from the Toronto Symphony Orchestra (TSO) will guide students through the connections between visual art and music.
To see the schedule of sessions, learn more about the thematic topics and to register for one or all of these free sessions, visit ago.ca/visit/group-visits/virtual-school-programs.
Foodways: Caribbean Flavours
Hosted by AGO's Executive Chef Renée Bellefeuille, Foodways is a new conversation series that brings together chefs to explore the intersection of culinary practices, memory and art. This January the AGO is excited to present Foodways: Caribbean Flavours, a three-part talk series bringing together three chefs with ties to the Caribbean and its Diaspora to reflect on their own foodways, inspired by the AGO exhibition Fragments of Epic Memory. Participating chefs are Roger Mooking, La-toya Fagon and Selwyn Richards.
On January 14, join Chef Roger Mooking at 4 p.m. on Facebook Live for part one of Foodways: Caribbean Flavours, as he discusses his Trinidadian background, love of travel and many influences with series host Renée Bellefeuille and

Fragments of Epic Memory

curator Julie Crooks.  Mooking is best known as the host of grilling and barbecue show "Man Fire Food" and his restaurant

Twist by Roger Mooking

located at Toronto Pearson Airport. For more details, visit ago.ca/events/foodways-caribbean-flavours-chef-roger-mooking.
On January 21, join Chef La-toya Fagon at 4 p.m. on Facebook Live for part two of Foodways: Caribbean Flavours, as she talks about growing up eating island foods and her creative blending of traditional Caribbean cooking styles with Mediterranean flavours. Fagon was the first food expert on The Marilyn Denis Show in Toronto and is a personal chef to the Toronto Raptors. For more details, visit ago.ca/events/foodways-caribbean-flavours-chef-la-toya-fagon.

On January 28, join Chef Selwyn Richards at 4 p.m. on Facebook Live for part three of Foodways: Caribbean Flavours, as he discusses his love for soul food from the Caribbean and his experience as a food stylist. Richards is the President and Executive Chef of The Art of Catering, former owner of an upscale Caribbean restaurant and is the author of the book

The Art of Cooking – Soul of the Caribbean

. For more details, visit ago.ca/events/foodways-caribbean-flavours-chef-selwyn-richards.
AGO x RBC Artist-in-Residence
Following a nationwide call for proposals, the AGO is pleased to announce, thanks to the generous support of RBC, its three AGO x RBC Artists-in-Residence for 2022. Each selected artist or duo will engage in a three-month virtual residency and will present details of their project publicly upon completion. Responding to the theme of Friendship Near and Far, the AGO welcomes Eric Chengyang & Mariam Magsi, Ivetta Sunyoung Kang and Shion Skye Carter. For more details, including bios of the artists, visit ago.ca/emerging-artists-program.
Talks
Committed to leading global conversations from Toronto, the AGO welcomes distinguished and emerging artists, curators and authors this winter. Upcoming talks include:
On Thursday, January 13 at 4 p.m., American painter Ali Banisadr joins Kenneth Brummel, AGO's Associate Curator of Modern Art, in conversation about Pablo Picasso's Blue Period paintings of 1901-1904. To register to this free Zoom talk, visit ago.ca/events/ali-banisadr-contemporary-thoughts-picasso.

On Wednesday, January 19 at 1 p.m., join speaker Maurice Switzer

 

for a discussion on how Treaties have impacted the lives of Indigenous and non-Indigenous people in Canada. This free talk is presented via AGO's Facebook Live. For more details, visit https://ago.ca/events/we-are-all-treaty-people-maurice-switzer. 

On Tuesday, March 1 at 4 p.m., poet and critic John Yau discusses the paintings and writing of Chinese-Canadian artist Matthew Wong, in conjunction with the ongoing exhibition

Matthew Wong: Blue View

. To register for this free Zoom talk, visit ago.ca/events/matthew-wong-john-yau.

Art in the Spotlight, the AGO's free series of conversations with emerging and established artists continues this winter.
 
[list]
On January 27 at 4 p.m., Toronto-based filmmaker Esery Mondesir discusses his new exhibition and ongoing exploration of the Haitian global diaspora. This program is held in conjunction with the exhibition

Esery Mondesir: We Have Found Each Other

. To register to this free Zoom talk, visit ago.ca/events/art-spotlight-esery-mondesir.
Close Looking, a bi-weekly series of art talks highlighting works from the AGO collection, continues this winter with a focus on new acquisitions and current events. Talks are posted bi-weekly on the AGO Facebook page.

On Monday, January 24, Erin Rutherford, AGO's Collection Development Librarian, will take a closer look at Toronto-based artist Annie S. MacDonald's bookbinding techniques.


[/list]


Pop-up Studio in Mandarin
Inspired by the ongoing exhibition Matthew Wong: Blue View, the AGO invites artists of all ages to join a weekly series of free artmaking sessions focused on the colour blue. Participants will be guided in a drawing and colouring exercise led in Mandarin by artist instructor, Jenny Chen. Sessions are free via Zoom every Wednesday at 7 p.m. from January 12 to February 2, 2022. For more details and to register, visit ago.ca/events/pop-art-making-mandarin-inspired-matthew-wongs-landscapes.

Community Programs
The AGO works with numerous community partners to provide art education and make art accessible for people with diverse abilities. That commitment continues this winter with the return of Multisensory Moments, Seniors Social and Art Enables Workshops, and the continuation of the AGO's partnership with Workman Arts.
Continuing its exploration of mental health awareness and advocacy, the AGO presents two new videos in the ongoing Workman Arts video series titled

Talking Back and Together

. Debuting on the AGO Facebook Page on January 21 and February 18 at 11 a.m. respectively, each episode features a different artist sharing their practice and artwork.

The AGO's popular Seniors Social program returns on January 14, February 11, March 11 and April 8 at 2 p.m. with free conversation and artmaking activities for older adults. Pre-registration is recommended and each session is unique. To register for one or all of these sessions, visit ago.ca/learn/ago-makes/virtual-seniors-social.

Students from OCAD U's Inclusive Design Multisensory Museum Course have translated artworks in the AGO Collection into multisensory objects and will present their projects on January 24, February 28, March 21, April 25 and May 20 at 11 a.m. For more details about the students and their artworks visit ago.ca/events/multisensory-moments-christi-belcourts-wisdom-universe.
Family Programs
Songs and stories are an important part of artful play this winter at the AGO. Family Programs are free and open to parents, children and caregivers of all ages.
On Sunday, January 16, February 20 and March 20 at 2 p.m., the AGO is partnering with Story Planet for Family Fireside Chats, a free fun family experience. Mixing story-making and play time inspired by works from the AGO Collection, each 45 minute session will be Zoomed live from the Dr. Mariano Elia Hands-On Centre. For more details and to register, visit ago.ca/events/fireside-family-chat.

Beginning on Tuesday, March 1 at 11 a.m., and continuing each week, the AGO presents its first ever Mohawk song circle. Indigenous Early Childhood Educator Miss Kristi Talbot will present classic nursery rhymes and children's songs in the Mohawk language. Parents, guardians and educators are encouraged to participate. For more details and to register for the Zoom link, visit ago.ca/events/mohawk-language-nursery-songs.
Youth Programs
In addition to providing free admission to all visitors aged 25 and under, the AGO continues to support dynamic programming by and for youth.
Launching January 26 comes Inner Space, an original series of videos curated by the AGO Youth Advisory for Inner Space and AGO staff. In each episode, an artist will provide viewers with an intimate look at their studio and practice. A new video, featuring a different artist, will be presented each month on ago.ca/innerspace, where you can also find more details about the participating artists and the AGO Youth Advisory for Inner Space.

On February 23, March 2 and March 9 at 4 p.m., Toronto-based writer Fan Wu presents a series of free writing workshops for youth about the resonances of the colour blue, inspired by the ongoing exhibition

Matthew Wong: Blue View

. To register for these free Zoom workshops series, visit ago.ca/events/ink-pin-writing-workshop-fan-wu.
Courses
Online studio art courses for the entire family continue this winter. Challenge yourself with new courses and workshops inspired by Robert Houle: Red is Beautiful, Fragments of Epic Memory and Matthew Wong: Blue View.  For full course listings, fees and materials, visit ago.ca/Learn. 
AGO Members receive a discount on courses. For more information on how to become a Member, visit ago.ca/membership today. Highlights from the 2022 winter online course schedule include: 
New this season is Online Art and Ideas: Fallon Simard. Inspired by the ongoing exhibition

Robert Houle: Red is Beautiful

and beginning February 2, this four-week adult online course discusses many of themes present in Houle's artwork. Led by artist instructor Fallon Simard, students will use digital photography to create new colourful abstract, modern and conceptual images.

Online Painting Explorations: Landscapes, led by artist and writer Gomo George, begins February 3. This four-week online course will introduce adults to the art of Landscape painting using subject matter inspired by artworks in the exhibition

Fragments of Epic Memory

.

Beginning February 6, join Online Painting Explorations: Inspired by Matthew Wong, a four-week online course for adults inspired by the imaginary nocturnal landscape drawings of Chinese-Canadian artist Matthew Wong. Learn painting elements such as gesture, composition and colour and experiment with a range of materials like gouache.  
Acknowledgments
The AGO is grateful to the following for annual support of Education & Programming:
Virtual School Programs generously supported by:
Lead Support:            
The Michael Young Family Foundation
Generous Support:    
The Azrieli Foundation
Generous Assistance:
Liza Mauer & Andrew Sheiner  
Additional Support:    
Chubb Charitable Foundation
Nordstrom 
Family Programs generously supported by:
Janis Rotman
Youth Programs generously supported by:
The Lloyd Carr-Harris Foundation
Accessibility Programs generously supported by:
Greenrock Charitable Trust
With additional assistance from Matthew Teitelbaum Fund for Community Access Initiatives
School and Teacher Programs generously supported by: 
The Weston Family Teacher Training Fund established by the Weston Family Foundation
Education programs at the AGO are supported by endowment funds from the Arthur Lismer Group, The Learning Circle, and the Learning Fund.
AGO x RBC Artists-in-Residence generously supported by:
RBC
ABOUT THE AGO
Located in Toronto, the Art Gallery of Ontario is one of the largest art museums in North America, attracting approximately one million visitors annually. The AGO Collection of more than 120,000 works of art ranges from cutting-edge contemporary art to significant works by Indigenous and Canadian artists and European masterpieces. The AGO presents wide-ranging exhibitions and programs, including solo exhibitions and acquisitions by diverse and underrepresented artists from around the world. In 2019, the AGO launched a bold new initiative designed to make the museum even more welcoming and accessible with the introduction of free admission for anyone 25 years and under and a $35 annual pass. Visit AGO.ca to learn more.
The AGO is funded in part by the Ontario Ministry of Heritage, Sport, Tourism and Culture Industries. Additional operating support is received from the City of Toronto, the Canada Council for the Arts and generous contributions from AGO Members, donors and private-sector partners.
( Press Release Image: https://photos.webwire.com/prmedia/7/283868/283868-1.png )
Related Links
WebWireID283868

This news content was configured by WebWire editorial staff. Linking is permitted.
News Release Distribution and Press Release Distribution Services Provided by WebWire.