TELUS reports operational and financial results for second quarter 2021
Vancouver, B.C. –
WEBWIRE
–
Friday, July 30, 2021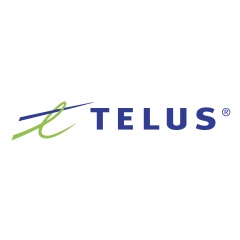 Industry-leading customer net additions of 223,000, up 82,000 over last year, reflecting continued adoption of our superior connected experiences, innovative product set and premium bundled offerings
Industry-leading mobile phone net additions of 89,000, an increase of 28,000 over the prior year, driven by higher gross loading and maintained leading blended customer churn of 0.81 per cent
Industry-leading fixed customer net additions of 50,000, powered by TELUS PureFibre and world-leading customer loyalty; Accelerated broadband expansion program actively underway, further expanding our PureFibre and 5G coverage and copper de-commissioning
Continued strong momentum in TELUS International and Health services, with robust financial results driven by acquisitions along with strong organic customer growth; Robust digital health transactions including increasing virtual care adoption
Consolidated revenue and EBITDA growth of 10 per cent, with robust net income and EPS expansion of 9.2 and 8.7 per cent, respectively, and year-over-year dividend growth of 8.6 per cent, showcasing strong and consistent operational execution, powered by a leading asset mix
Reaffirming 2021 annual consolidated financial targets including revenue and EBITDA growth of up to 10 and 8 per cent, respectively
TELUS Corporation today released its unaudited results for the second quarter of 2021. Consolidated operating revenues and other income increased by 10 per cent over the same period a year ago to $4.1 billion. Earnings before interest, income taxes, depreciation and amortization (EBITDA) increased by 6.8 per cent to $1.45 billion while Adjusted EBITDA increased by 9.5 per cent to $1.5 billion. This growth reflects: (i) higher internet and third wave data service margins, as well as other fixed data service margins resulting from subscriber base growth and expanded services; (ii) growth in our mobile subscriber base and mobile equipment margins; (iii) growth from business acquisitions (net of associated support costs); (iv) an increased contribution from our Digitally-led customer experiences – TELUS International (DLCX) segment from customer growth and increased depth and breadth of services offered to our existing customers; and (v) the non-recurrence of the comparative period's COVID-19-related provisions and non-labour restructuring and other costs related to the pandemic. This growth was partly offset by lower legacy fixed voice and legacy fixed data services and higher employee benefits expense.
"Our team once again achieved strong operational and financial results in the second quarter at both TELUS and TELUS International (TI)" said Darren Entwistle, President and CEO. "TELUS' continued execution excellence, realized against the backdrop of the ongoing global pandemic, was characterized by the consistent combination of industry-leading and profitable customer growth, yielding strong financial results across our business as evidenced by 10 per cent consolidated revenue and EBITDA growth. This robust performance reflects the effectiveness of our globally leading customer-centric culture and broadband networks, underpinned by our highly engaged team and their dedication and passion for delivering outstanding connected experiences. This contributed to leading customer net additions of 223,000 and industry-best client loyalty across our key mobile and fixed product lines. Notably, blended mobile phone, voice, PureFibre internet and Optik TV churn were below one per cent in the second quarter, while our postpaid mobile phone churn result of 0.64 per cent in the quarter continues to lead the industry."
"Our results are buttressed by our highly differentiated and potent asset mix geared towards high-growth, technology-oriented verticals," continued Darren. "Earlier today, TI announced strong double-digit operating revenue and EBITDA growth for the second quarter, demonstrating its position as the partner of choice for premier digital customer experiences as it continues to win more business from existing and new clients alike. Indeed, our passionate and talented team at TI are powering differentiated customer experiences for leading global brands through end-to-end next-gen digital solutions and services, including its unique mix of content moderation and growing artificial intelligence capabilities. At TELUS Health, our team drove 26 per cent year-over-year health services revenue growth in the quarter, with robust key operating results, including earning one million new virtual healthcare members over the last twelve months, representing an 83 per cent increase over last year. We are leveraging our leading position in healthcare technology solutions to deliver improved health outcomes for citizens through access to better health information, which has never been more critical. We continue to grow and integrate our TELUS Agriculture business, and expect it to also generate double-digit revenue growth and annual revenues in agriculture of approximately $400 million in 2021. As we continue to increase our agriculture related disclosure, we are confident this will provide meaningful insight into the valuable asset we are creating as a globally-leading provider of agriculture technology solutions."
"Our second quarter performance was backed by strong digital capabilities and superior service offerings over our world-leading wireless and fibre broadband networks," added Darren. "At a time when the human connection is more important than ever, with more people working, learning, and accessing information from home, U.S.-based PCMag recently ranked TELUS as the fastest internet service provider in Canada for the second year in a row. Additionally, last week, TELUS once again won the Fastest Mobile network Speedtest Award for Canada for the first half of 2021, from U.S.-based Ookla. This is the fifth year in a row Ookla has ranked TELUS' mobile network as number one in Canada, and is a true demonstration of the incredible expertise and dedication of our entire team. Importantly, these awards reinforce TELUS' leadership in terms of offering customers the fastest service in Canada across both our wireline and wireless networks, as also confirmed by other independent, third-party organisations, including UK-based Opensignal, Canada-based Tutela and U.S.-based J.D. Power. Moreover, this recognition of the superiority of TELUS' national broadband networks reinforces the value of our significant investments in fibre and wireless technologies, including our $1.5 billion accelerated broadband expansion programme through 2022. These generational investments will fuel enhanced customer growth and operating efficiencies, and drive positive cash flow benefits as TELUS completes the expedited build, also supported by faster than expected reduction in capital expenditures beginning in 2023. Importantly, this will further enable the advancement of our financial and operational performance, strengthening our confidence in the robust outlook for our business and the long-term sustainability of our industry-leading dividend growth program, now in its eleventh year."
"TELUS is proud of our storied history of building and operating the world's best networks, enabled by our talented engineers and technology innovators, complemented by our award winning service that reflects our team's passion for putting customers first," said Darren. "Indeed, by acquiring spectrum in the 3500 MHz auction, we secured licences critical to bring transformational, next-generation, 5G connectivity to Canadians, TELUS is able to continue to offer the globally leading network speed, coverage and reliability our fellow citizens need to realize improved outcomes in our digital world. Importantly, TELUS' wireless network being the fastest on a global basis truly matters as it drives the innovation that enables the diversity and competitiveness of our country's private sector, supporting economic growth and job creation for our nation. It also matters because it helps us answer society's most pressing social challenges in health, education, food security and climate change, while improving economic equality for the benefit of all Canadians. However, Canada's position as a global leader in broadband networks is vulnerable to burdensome regulations governing access to spectrum. Going forward, if we are to truly benefit all Canadians, accelerate the government's innovation and affordability agendas, and transition successfully into a 5G digital world, we need responsible, forward looking and predictable regulatory policy that ensures affordable, fair and expeditious access to this national asset so we can continue building our world-leading networks."
"Our TELUS team members and retirees continue to give back in the communities where we live, work and serve," expressed Darren. "By way of example, so far in 2021, more than 50,000 team members, retirees, family and friends have participated in our TELUS #FriendlyFuture Days, inspiring over 290,000 volunteer hours to help those who need our support the most.  Moreover, we are providing three million vulnerable Canadians with access to low-cost internet, free mobile phones, specialised technology solutions and quality healthcare through our Connecting for Good programmes. Notably, in May, we expanded our Tech for Good programme nationally, providing support for people with disabilities who require professional assistance to independently use their mobile device, and we continue to support COVID-19 response efforts for marginalised communities through our Health for Good mobile clinics.  Indeed, our TELUS teams' passionate efforts to support our communities and our customers further exemplifies our leadership in social capitalism."
Doug French, Executive Vice-president and CFO commented, "Our second quarter results announced today continue to showcase our execution excellence, superior asset mix focused on technology-oriented verticals, and focus on disciplined cost containment and enhanced effectiveness. As our results have consistently demonstrated, our success is powered by our team's collective focus around the world on delivering outstanding customer experiences over our globally-leading networks and superior bundled solutions. Indeed, our team is focused on driving product intensity higher as we leverage our accelerated broadband build and expanding fibre footprint along with our copper-to-fibre migrations."
"Investing from a position of strength, our accelerated broadband build is actively underway and importantly pre-funded by our equity offering in March earlier this year," Doug added. "The strategic and transformational investments we are making in our leading broadband technologies, including our valuable investment in 3500 MHz wireless spectrum, will significantly advance our leading customer experience and network leadership position and enhance our competitive positioning to drive strong profitable customer growth. Our margin and cash flow profile will also benefit from the efficiencies we will extract from our advanced program to migrate our remaining copper customers within our fibre footprint to our superior PureFibre network. Our consistent execution, healthy balance sheet and strong cash flow outlook, including our expectations for significantly lower capital expenditures beginning in 2023, provides our team with the confidence to make these critical investments to enhance our network and customer service leadership position. These growth-oriented investments, including those in healthcare and agriculture, support our leading annual financial targets that we are reaffirming today, including consolidated revenue and adjusted EBITDA growth of up to 10 and 8 per cent respectively, and underpin our long-standing dividend growth program, now in its eleventh year, with our October quarterly payment up 8.6 per cent on a year-over-year basis."
"In June, we successfully issued our inaugural Sustainability-Linked Bond, representing the first of its kind in Canada, putting our team at the forefront of sustainability practices and setting a clear leadership example in respect of leveraging behaviour-based financing to advance our sustainability goals. The $750 million 10-year note, with a 2.85 per cent interest rate, reinforces our commitment to reducing Scope 1 and 2 greenhouse gas emissions, as approved by the Science Based Targets initiative, further demonstrating TELUS' global sustainability leadership. Our team is proud to take a leadership role and demonstrate what a committed organization can do to support the world's fight against climate change. Notably, with this successful offering, our average cost of long-term debt declined by 10 basis points to an all-time low of 3.70 per cent, further enhancing the quality and strength of our balance sheet, and underpinning our ability to make the necessary investments to continue to advance our growth strategy while remaining committed to our investment-grade credit ratings," concluded Doug.
To view the full release in PDF format, please download here.
( Press Release Image: https://photos.webwire.com/prmedia/5/277250/277250-1.png )
Related Links
WebWireID277250

This news content was configured by WebWire editorial staff. Linking is permitted.
News Release Distribution and Press Release Distribution Services Provided by WebWire.