Is Open Finance the future of insurance innovation?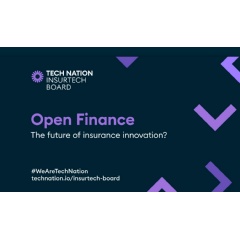 To be a key driver for the next wave of insurtech innovation and reach its full potential, Open Finance will require collective effort from a wide range of stakeholders across the financial industry, consumer groups and technology sphere.
That is the conclusion of a new report released today by Tech Nation's Insurtech Board. It aims to encourage greater awareness, wider engagement and communication within the insurance and insurtech sector while inspiring future insurtech innovation to drive positive consumer outcomes throughout the next decade.
What is Open Finance?
Open Finance builds on developments within Open Banking, broadening out the type of financial data customers can share with other financial and service providers. While Open Banking enables data-sharing for retail current accounts, Open Finance could include additional areas such as mortgages, pensions and insurance policies. The Financial Conduct Authority (FCA) presents this as:
"Open Finance is based on the principle that the data supplied by and created on behalf of financial services customers are owned and controlled by those customers. Re-use of this data by other providers takes place in a safe and ethical environment with informed consumer consent."
What does Open Finance mean for insurance?
Louise O'Shea, Insurtech Board Chair and CEO at Confused.com, said: "Open Finance has the potential to establish a whole new value chain where existing customers benefit from new products and services, with the opportunity for unmet and excluded customer needs to be addressed, as greater efficiencies enable insurers and insurtechs to reach a far wider market."
Shân M. Millie, founder of Bright Blue Hare and Chair of Insurtech Board Open Finance Working Group, commented: "As someone who believes in both the social necessity and economic power of insurance, it is essential that we use this opportunity to build on our collective Data and Tech experience to move faster and better even than Open Banking."
These changes will not be immediate however as the application of Open Finance to insurance, and the concept of "Open Insurance" still needs to be clearly defined, with key questions remaining such as "which data should fall into scope" and "which customer problem is this solving".
David Sparkes, Head of Compliance & Training at BIBA, emphasised: "We would welcome greater detail on the challenges around cost, time for the market to adapt and the need to avoid any unintended consequences on customers."
What does Open Finance mean for insurance customers?
Open Finance has the potential to bring numerous consumer benefits. These include the ability to consolidate policies together in one place, a wider choice of innovative products better suited to their needs, switching more easily, and greater access to tailored advice. The risk of inadvertent fraud could also be lowered by automatically populating relevant data such as claims history.
Small businesses and entrepreneurs also stand to benefit. A survey of 1,000 UK small businesses showed that SMEs would welcome more choice within commercial insurance. Almost two-thirds of respondents said they would support data sharing to improve understanding of the insurance risks facing their business; they would share more information if it provided more accurate and personalised premium levels; and would support information sharing in order to receive competing like-for-like quotes from other insurers.
"Small & medium businesses are critical to the UK economy," said Richard Phipps, Senior Project & Delivery Lead, Swiss Re. "It is crucial that these enterprises can access relevant insurance propositions, purchase with confidence, and administer coverage with the minimum of effort. Open Finance can help to deliver modern, efficient customer journeys and outcomes."
What are the risks and challenges?
Open Finance is not without potential risks. These include premiums or switching decisions based on incomplete, out-of-date or low-quality data, as well as financial exclusion if more accurate, personalised pricing prohibits cover for people or businesses with higher risk profiles.
John Warburton, Insurtech Board member and founder of insurtech firm Konsileo, said: "The challenges of implementing these principles into insurance are complex. Considerations must be given to how data legacy systems can be extracted effectively and blended with third party data to help previously uninsurable groups get cost effective cover."
The building blocks for success
The report concludes with discussion of eight key areas to ensure a successful approach to Open Finance in insurance. These are:
An enabling regulatory framework
An implementation entity
Clearly defined datasets
Protecting and increasing access to insurance
Informed consent and channels for redress
Adoption: Trust for take-up
Strategic investment
Inspired insurtech innovators
Discussing the opportunities for insurtech innovators, the report acknowledges that scaling insurtechs can be held back by the unavailability of relevant data sets to develop, train and test digital tools.
"One of the big challenges to building a new insurance company is a lack of claims history for pricing," explained Kieran Borrett, Insurtech Board member and Corporate Innovation and VC at Plug and Play. "If individuals and businesses could share their claims data in an easy and automated way when switching or signing up for new products, it could be a catalyst for more great insurtechs to enter the market."
( Press Release Image: https://photos.webwire.com/prmedia/7/277044/277044-1.jpg )
Related Links
WebWireID277044

This news content was configured by WebWire editorial staff. Linking is permitted.
News Release Distribution and Press Release Distribution Services Provided by WebWire.