Euro 2020: Return of the foot soldiers
Munich, Germany –
WEBWIRE
–
Monday, July 5, 2021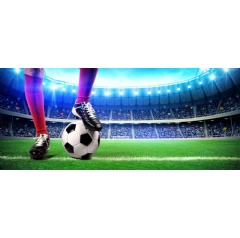 Euro 2020 has sent football fever soaring across Europe. As fans cautiously return to attending soccer matches in person, what has the pandemic changed in the sports and entertainment arena? 
A different kind of fever is sweeping through Europe. One to which most Europeans have been looking forward for a while.
After a lull of more than a year, football fever is back in the air with the UEFA Euro 2020 marking a grand return of life to the stadiums. The excitement among fans and even organizers is palpable.
Even though the jury is still out on whether we are ready for such mass gatherings, the tournament has given Europeans some semblance of normalcy after months of uncertainty. If the enthusiasm at stadiums and post-match celebrations is any indication, fans have already shrugged off Covid fatigue.
However, truth is that the unprecedented situation has changed the way we work and live. Has the pandemic modified the face of the sports and entertainment industry too? What will be the legacy of Covid in this sphere of our lives?
Have the expectations of organizers, players and spectators changed along the way? And most importantly, what kind of insurance opportunities have emerged in the post-pandemic events arena?
Allianz's corporate insurer Allianz Global Corporate & Specialty (AGCS), which provides event contingency and cancellation insurance, offers some insights. 
Cheerful but careful
Summer has brought the sun out in Europe. Amid improving weather, a decline in infection rates and lifting of restrictions have brought people out of their homes. As vaccinations accelerate, there is optimism that the pandemic will soon be behind us.
Nevertheless, scientists contend that the threat is far from over, with new variants hinting at a third wave.
Not that the fears have stopped football fans. As stadiums begin to stage matches, enthusiasts have thronged venues for some real-time action. Not about to be left behind, restaurants and bars have set up big screens to bring Europe's most-loved sport to the guest's table.
Caution, however, remains the name of the game, says Alastair MacLean, Global Product Leader for live events in the AGCS Entertainment team.
Spectators have to provide negative corona tests or proof of full vaccination to enter the stadiums. In addition, they have to follow local social distancing, mask and hygiene rules at venue. Those on the other side of the fence – players, coaches, support staff and organizers – need to be even more careful. While it is not possible for players to wear masks on the field, there are limits to how they celebrate a goal or interact with each other. "It's advised not to do a group embrace and interactions between players after the game are restricted," Alastair elaborates.
With good reason. Cases of infection have been reported.
For example: During the England-Scotland game, a Scottish player and two English players continued their conversation into the tunnel. "From an outdoor environment, they went into an indoor environment. The Scottish player then tested positive for Covid  and the English players had to go into quarantine and miss the next two games," Alastair says. According to him, a high degree of caution will remain until the vaccinations drives are complete.
Crowd count varies
Games like football are hardly just about the players and the play. They are as much about frenzied fans cheering on their teams in packed stadiums. In the immediate aftermath of the pandemic, limitations on how many people can attend a match means stadiums might have to wait to see full energy return to them.
"What percentage of capacity is being utilized, varies from one location to another, depending on local rules," Alastair says. In England, Wembley has the ability to hold 90,000 spectators. This season, it had about 22,500 spectators – or about 25 percent of capacity. As more people get vaccinated, the expectation is that up to 60,000 people will be able to attend the semis and finals at the stadium.
In contrast, locations with lower infection and death rates have been more generous with their seats. The Netherlands versus Czech Republic match in Budapest, for instance, saw 90-100 percent of the stadium capacity filled. Some nations like Italy, one of the countries worst hit by the pandemic, are being more cautious. For the England-Ukraine game, Italy refused to allow fans who had been to the UK in the previous 14 days to enter the Stadio Olimpico, even if they had a ticket. Only those had entered Italy at least six days before the game and stayed in quarantine for five days were allowed in, provided they had a negative test. 
Fan zones
Between the hardcore fans screaming themselves hoarse in stadiums and football enthusiasts parked comfortably on couches before their TV sets lies a huge segment of people who mix socializing with watching sports. You will often find these people in bars and restaurants with huge screens streaming the games.
While the show pretty much goes on at such places because any transmission failures or game cancellation have little impact on their revenue from food and drinks, the situation is different at 'fan zones'. Fan zones are large, dedicated spaces with multiple large screens to allow fans to enjoy a match together. "We have seen a rise in inquiries from such businesses for event contingency coverage. In Trafalgar Square in London, for example, there is a big fan zone that houses up to 1,000 people. The cost of putting together a fan park of that size is huge. Also at risk is revenue from food, drinks and merchandise. If you buy a day ticket for a fan zone, it has to be refunded if the game is cancelled. In the past, we have seen purchase of insurance from fan zones for big events such as World Cup and Olympics." 
More online action
One of the biggest beneficiaries of the Covid crisis was digitalization. When coronavirus locked us down, many of us switched to the World Wide Web for comfort. Starting with talking to friends and binge-watching Netflix, we graduated to attending entertainment events online. We tasted wine, worked out with fitness gurus, cooked gourmet food with top chefs and watched live performances, all online.
Why wouldn't Euro 2020 matches join the list?
AGCS has seen a rise in insurance inquiries for transmission of events, through satellite, live streaming and pay-per-view contracts. "People buy an individual ticket for viewing a game at home. If there is a partial or full transmission failure, then the organizer will have to refund the tickets and that revenue is protected by this insurance cover," Alastair elaborates.
The cover was always available in the market but it has seen increased interest in the post-pandemic era as the number of spectators in stadiums drops, he adds.
Will this interest in live-streamed events continue?
Alastair believes that the thrill of watching sports live far outweighs the comfort of watching games on screen. "Once things normalize, people will want to attend the events." In fact, he expects a spike in the number of people attending sporting events next season to make up for the deprivation of the past 18 months.
The trend could be different, however, for music, arts and entertainment events. "For small entertainment events, like music or a comedy performance, I think there could be a growth in the number of live streams. These events can be more intimate online. You can have interactions with the performer. If you have a very small gig, you can have a Q&A session with the artist. In person, access is restricted because you are not allowed backstage."
Sensing the need, several social media companies are already offering platforms for live streaming events. Some examples are Twitter Spaces, Spotify and Instagram Live. Under the hashtag #TogetherAtHome, several concerts and performances were streamed online during the lockdowns. Many fans even got to interact directly with noted musicians, an opportunity that in-person concerts rarely afford. 
Within this trend, one area of interest for insurers is cyber coverage. With events being live-streamed and heavy use of technology even at venues, there is a lot of interest in coverage for cyber outages. "In the future, increasing demand might lead to specific cyber product offering for events. This is a hot topic across all areas at the moment," Alastair says. 
And now for the most important question: Which team is Alastair rooting for? "England," he laughs. "Although I have Scottish heritage, I was born and raised in England," he signs off.
Don't miss the most exciting finale of nearly two years on July 11!
About Allianz Global Corporate & Specialty
Allianz Global Corporate & Specialty (AGCS) is a leading global corporate insurance carrier and a key business unit of Allianz Group. We provide risk consultancy, Property-Casualty insurance solutions and alternative risk transfer for a wide spectrum of commercial, corporate and specialty risks across 10 dedicated lines of business.
Our customers are as diverse as business can be, ranging from Fortune Global 500 companies to small businesses, and private individuals. Among them are not only the world's largest consumer brands, tech companies and the global aviation and shipping industry, but also satellite operators or Hollywood film productions. They all look to AGCS for smart answers to their largest and most complex risks in a dynamic, multinational business environment and trust us to deliver an outstanding claims experience.
Worldwide, AGCS operates with its own teams in 31 countries and through the Allianz Group network and partners in over 200 countries and territories, employing around 4,400 people. As one of the largest Property-Casualty units of Allianz Group, we are backed by strong and stable financial ratings. In 2020, AGCS generated a total of 9.3 billion euros gross premium globally.
About Allianz
The Allianz Group is one of the world's leading insurers and asset managers with more than 100 million* private and corporate customers in more than 70 countries. Allianz customers benefit from a broad range of personal and corporate insurance services, ranging from property, life and health insurance to assistance services to credit insurance and global business insurance. Allianz is one of the world's largest investors, managing around 785 billion euros on behalf of its insurance customers. Furthermore, our asset managers PIMCO and Allianz Global Investors manage 1.8 trillion euros of third-party assets. Thanks to our systematic integration of ecological and social criteria in our business processes and investment decisions, we are amongst the leaders in the insurance industry in the Dow Jones Sustainability Index. In 2020, over 150,000 employees achieved total revenues of 140 billion euros and an operating profit of 10.8 billion euros for the group.
These assessments are, as always, subject to the disclaimer provided below.
*Including non-consolidated entities with Allianz customers.
( Press Release Image: https://photos.webwire.com/prmedia/5/276177/276177-1.jpg )
Related Links
WebWireID276177

This news content was configured by WebWire editorial staff. Linking is permitted.
News Release Distribution and Press Release Distribution Services Provided by WebWire.