The nation stops for another All Day PopMaster this May Bank Holiday
Ken Bruce will be pitting some of the UK's most-loved celebrity quiz brains against listeners in the nation's favourite pop quiz, with everyone vying to be crowned only the second ever All Day PopMaster Champion!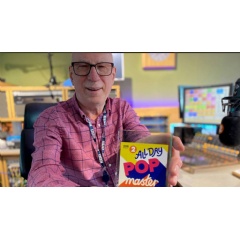 Ken Bruce
"No pressure, you understand, your fine reputations aren't at stake at all... much!"
"Our radio celebrities last year did shamefully badly against our wonderfully bright and knowledgeable Radio 2 listeners, so let's see if the self-proclaimed Quizzers can do any better. No pressure, you understand, your fine reputations aren't at stake at all... much!" — Ken Bruce
Among the well-known quizzers taking part across the day are:
The Dark Destroyer (aka Shaun Wallace of ITV's The Chase)
Zoe Lyons (BBC Two's Lightning)
Richard Osman (BBC One's Pointless and House Of Games)
Jeremy Vine (Channel 5's Eggheads)
The Chase's Vixen (aka Jenny Ryan)
Anita Rani (Channel 4's The Answer Trap)
Rick Edwards (BBC One's Impossible)
Vernon Kay (ITV's Games Of Talents), who is standing in for Steve Wright that day, is a contestant himself in the final heat!
The nation stops for PopMaster as Ken delivers all the rounds every hour, from 7.30am onwards - from The Zoe Ball Breakfast Show with Gary Davies (6.30am-9.30am), Ken's regular show (9.30am-12pm), Patrick Kielty's Bank Holiday Cover Stories (12pm-2pm) and Steve Wright In The Afternoon with Vernon Kay (2pm-5pm), culminating in the Grand Final in Sara Cox's show at 5.30pm. And as a treat for the final, Ken will be handing over to Sir Tom Jones and Sharleen Spiteri to ask the bonus-round questions!
For the inaugural All Day PopMaster last year, radio presenters including Zoe Ball, Shaun Keaveny, Ronan Keating, Fleur East and Nick Grimshaw battled it out against Radio 2 listeners throughout the day, culminating in two listeners competing in the grand final. Will the celebrity quizzers this year do better than the radio hosts, or will a faithful listener triumph once again? Tune in for all the nail-biting tension on the day. A BBC Audio production.
Ken Bruce says: "Our radio celebrities last year did shamefully badly against our wonderfully bright and knowledgeable Radio 2 listeners, so let's see if the self-proclaimed Quizzers can do any better. No pressure, you understand, your fine reputations aren't at stake at all... much!"
The Dark Destroyer (Shaun Wallace) of The Chase, says: "Although I'm known for my quizzing prowess, that will be put to the ultimate test when I take part in the most challenging quiz on radio. Tune in to All Day PopMaster on Bank Holiday Monday 31 May 2021, a test to sort out the very best, from the rest..."
Zoe Lyons of Lightning says: "I am so excited to be taking part in Pop Master. I can't wait to have the Nation shout the answers at me in disbelief at my floundering via their radios. Dream come true really."
The Chase's Jenny 'The Vixen' Ryan, says: "I'm stopping for All Day PopMaster on 31 May and hoping for lots of BritPop questions… and for none on 50s crooners. I'm also absolutely terrible at year questions, so wish me luck!"
Vernon Kay, host of Games of Talents, says: "What have I signed up for! Not only am I presenting The Big Show on Radio 2, standing in for Steve Wright this Bank Holiday Monday, but I'll also now be a PopMaster contestant in that very same show, up against some of the brightest quiz brains in Britain. What could possibly go wrong?"
Impossible host, Rick Edwards, says: "I've won on Mastermind, Pointless, The Chase, House Of Games, Child Genius… but all of those shows have just been a warm up for the big one. The prize they all want. The Popmaster trophy. And I can very confidently say - I have absolutely no confidence going into this. I know miserably little about pop music. But bring it on! What have I got to lose, except my good name. And all credibility."
Eggheads host Jeremy Vine says: "I am so excited that my sparring partner Mr Bruce is going to allow me onto PopMaster! I have asked for an assurance that the questions will only feature the early albums of Elvis Costello, but Ken hasn't agreed yet. PopMaster is the jewel in the crown of Radio 2's weekday output - the moment the entire nation stops to play. So this is a big moment for me, and I know I mustn't blow it."
And tune into One Year Out - The PopMaster Story presented by Rob Brydon - available now on BBC Sounds and on Radio 2 from 9pm-10pm on Sunday 30 May. Rob will be quizzing Ken Bruce about PopMaster, which began in 1998, talking in depth to Ken, rather than impersonating him - although that may happen too!
The show features great clips from the archives and fiendishly tricky bonus round questions on topics such as Red Red Wine and On The Road Again. Richie Anderson, who delivers traffic and travel news in Ken's daily show, will be keeping score to see if Ken can remember all the key events! Rob hears from the first competitors on PopMaster: the very first were two brothers, of which the younger one has never lived down being beaten by his older sibling; the second day saw the first person to score maximum points and is also when the phrase "I would have got full points with their questions" was first spoken. Ken will also reveal whose showerproof radio became covered in limescale and why there was a cupboard full of foot pumps left in the PopMaster office by mistake…
Rob Brydon says: "I can't wait to spend some quality time questioning the king of the airwaves about the unmissable PopMaster. A quiz in which I once competed and only got one question wrong, a perfectly understandable confusing of Shakatak and Shalamar. It doesn't bother me. I barely think about it. I hope you'll join me and the man who can honestly say his Ken Bruce is better than mine as we look back over 23 years of PopMaster."
Rob himself recalls both competing and pushing the PopMaster jingle buttons, alongside Pat Cash, Dawn French, Tim Vine, Jennifer Saunders, Steve Cram, Daley Thompson and Clare Grogan, who is still asked to join proper pub quizzers after her unexpected victory. And Fortunately podcast presenter, Fi Glover, reveals she is an avid fan. Ken will be put on the spot by Shaun Wallace as he attempts to Beat The Chaser and Paddy O'Connell recalls refreshments were needed after PopMaster was broadcast live from the searing heat in Baku as part of Eurovision in 2012.
In an extended version on BBC Sounds, Jon Holmes and Richard Wilson play KenBruceMaster, a One Year Out T-Shirt is worn at Checkpoint Charlie, and one contestant auditions in the queue for security and takes part from the departure lounge, while the pilot of her plane hears her mentioning his flight as he arrives in the airport car park. You'll hear the quickest 3in10, the longest tie break and the April 1st editions which even fooled Ken. A BBC Audio production.
BBC Radio 2 is the UK's most listened to radio station, with a weekly audience of 14.4 million (RAJAR Q1, 2020). The network's presenters include Michael Ball, Zoe Ball, Tony Blackburn, OJ Borg, Rev. Kate Bottley, Ken Bruce, Craig Charles, Rylan Clark-Neal, Fearne Cotton, Sara Cox, Jamie Cullum, Gary Davies, Vanessa Feltz, Paul Gambaccini, Bob Harris, Ana Matronic, Cerys Matthews, Jason Mohammad, Trevor Nelson, Paul O'Grady, Dermot O'Leary, Mark Radcliffe, Liza Tarbuck, Jeremy Vine, Johnnie Walker, Jo Whiley, Claudia Winkleman and Steve Wright.
( Press Release Image: https://photos.webwire.com/prmedia/7/274397/274397-1.jpg )
Related Links
WebWireID274397

This news content was configured by WebWire editorial staff. Linking is permitted.
News Release Distribution and Press Release Distribution Services Provided by WebWire.