Yayoi Kusama: Infinity Mirror Rooms
-Tate Modern
14 June 2021 to 12 June 2022 (Tate Members from 18 May)

- Presented in The George Economou Gallery
In partnership with Bank of America with additional support from UNIQLO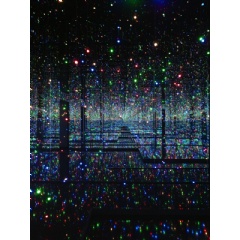 Yayoi Kusama Infinity Mirrored Room - Filled with the Brilliance of Life 2011/2017 Tate. Presented by the artist, Ota Fine Arts and Victoria Miro 2015, accessioned 2019 © YAYOI KUSAMA
Tate Modern presents a special exhibition of two immersive mirror room installations by Yayoi Kusama. This year-long, focused exhibition showcases these much-loved works by one of the most celebrated artists working today. Yayoi Kusama: Infinity Mirror Rooms is a rare chance to experience two major installations alongside fascinating early documentation of Kusama's experimental performances and events, as well as a brand-new sculptural work that continues the theme of endless replication.
The exhibition features Infinity Mirrored Room - Filled with the Brilliance of Life, one of Kusama's largest installations to date and originally created for her 2012 retrospective at Tate Modern. In this immersive work, mirrored walls and a shallow pool of water endlessly multiply a constellation of tiny, suspended lights to create a feeling of infinite space. This is shown alongside Chandelier of Grief, another whole-room installation in which the viewer disappears into a seemingly boundless universe of rotating chandeliers.
Visitors will also be able to experience The Universe as Seen from the Stairway to Heaven 2021, Kusama's brand new 'peep in' sculpture, which has been created especially for this exhibition. Deploying both mirrors and the colourful 'dot' motif, it recalls the iconic early work Kusama's Peep Show or Endless Love Show 1966. The work demonstrates Kusama's life-long obsession with concept of infinite repetition, exploiting the formal properties of mirrors to create the illusion of limitless space.
An accompanying display of film and photography - some on show for the very first time - provides historical context for the global phenomenon that Kusama's mirror rooms have become today. Photographs by Eikoh Hosoe (born 1933) and the partnership Harry Shunk (1924-2006) and Janos Kender (1937-2009) explore how Kusama subverted the notion of the artist's studio: Hosoe's images show the studio as an almost reverent space that is central to Kusama's unique artistic brand, while Shunk-Kender show Kusama traversing the studio's physical boundaries, the mirrored environments becoming a backdrop for performance, painting, sculpture and fashion design. This theme of the expanded studio is continued in Walking Piece, a slide show made with photographs again taken by Hosoe who captured an early performance of Kusama navigating the desolate streets of New York, an act that highlights her outsider status and feelings of urban alienation.
The exhibition also includes recently rediscovered film footage by the British academic John Jones (1926-2010) of Kusama in her New York studio in the mid-1960s - a unique, moving image testimony that records the artist's earliest sculptural works and confirms her simultaneously as a torch bearer for surrealism and an unparalleled artistic force in her own right.
Born in 1929 in Matsumoto, Japan, Yayoi Kusama came to international attention in 1960s New York for a wide-ranging creative practice that has encompassed installation, painting, sculpture, fashion design and writing. The artist has been the subject of monographic exhibitions around the world, including a major travelling retrospective initiated by Tate Modern in 2012, and forthcoming presentations at the New York Botanical Garden and the Gropius Bau in Berlin, both in 2021. Since the 1970s Kusama has lived in Tokyo, where she continues to work prolifically and to international acclaim.
Yayoi Kusama: Infinity Mirror Rooms is curated by Frances Morris, Director, Tate Modern and Katy Wan, Assistant Curator, Tate Modern. The exhibition will be accompanied by a learning programme, as well as community engagement events supported by Bank of America.
To celebrate Kusama's return to Tate Modern in 2021, Tate Publishing is proud to reissue the 2012 exhibition catalogue with a brand new cover. This lavishly illustrated book details the extraordinary life and work of the artist, and features an introduction by Frances Morris, with contributions by Jo Applin, Juliet Mitchell, Mignon Nixon, Rachel Taylor and Midori Yamamura.
About the Arts at Bank of America
At Bank of America, we believe in the power of the arts to help economies thrive, educate and enrich societies, and create greater cultural understanding. Bank of America's art program is part of the company's commitment to grow responsibly while bringing value to economies, society and the communities it serves. 
Andrea Sullivan, Head of International Environment, Social & Governance at Bank of America said: "The arts are intrinsic to society, playing a fundamental role in our well-being and helping communities attain greater cultural understanding. A key focus of Bank of America's programme is partnerships with our arts institutions, and we are proud that this exhibition marks our 8th collaboration with Tate since 2008. For the Kusama exhibition we have co-developed a community engagement programme with Tate, engaging hundreds of young people from diverse backgrounds. The programme will include a live art commission and paid opportunities for young people to help devise and deliver the programme."
About Uniqlo Lifewear
Apparel that comes from the Japanese values of simplicity, quality and longevity. Designed to be of the time and for the time, UNIQLO's LifeWear is made with such modern elegance that it becomes the building blocks of each individual's style. A perfect shirt that is always being made more perfect. The simplest design hiding the most thoughtful and modern details. The best in fit and fabric made to be affordable and accessible to all. LifeWear is clothing that is constantly being innovated, bringing more warmth, more lightness, better design, and better comfort to people's lives.
Taku Morikawa, CEO of UNIQLO Europe said: 'We are a global brand from Japan, and it's even more symbolic for UNIQLO to welcome you to this highly anticipated exhibition by a Japanese contemporary, Yayoi Kusama. Our partnership with Tate goes back five years and together we have expressed creativity and imagination. At UNIQLO, we have a special philosophy of LifeWear, where we aim to make the highest quality, most comfortable and affordable clothing available to all. We are pleased to collaborate with Tate, who shares the sentiment of these values - making Art Available for All.
( Press Release Image: https://photos.webwire.com/prmedia/6/274117/274117-1.jpg )
Related Links
WebWireID274117

This news content was configured by WebWire editorial staff. Linking is permitted.
News Release Distribution and Press Release Distribution Services Provided by WebWire.