SSE Thermal and Equinor join forces on plans for first-of-a-kind hydrogen and carbon capture projects in the Humber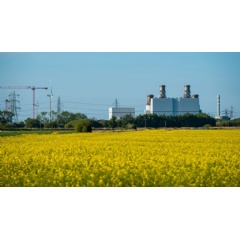 Equinor and SSE Thermal have unveiled plans to jointly develop two first-of-a-kind, low-carbon power stations in the UK's Humber region, comprising one of the UK's first power stations with carbon capture and storage (CCS) technology, and the world's first 100% hydrogen-fuelled power station.
The plans, underpinned by a new cooperation agreement between the two companies, would support the UK's transition to net zero and accelerate the decarbonisation of the Humber, the UK's largest and most carbon-intensive industrial cluster. The projects have the potential to create thousands of skilled jobs and revitalise a key industrial heartland.
The two decarbonised power stations, which would form a 'clean power hub' near Scunthorpe, North Lincolnshire, would be among the first in the world to utilise CCS and hydrogen technologies. Keadby 3 and Keadby Hydrogen would replace older, carbon-intensive generation on the electricity grid, providing flexible and efficient power to support intermittent renewable generation and maintain security of supply through the net zero transition.
These projects would also result in the Humber making a significant contribution to the UK's 2030 targets for CCS and hydrogen. Keadby 3 could deliver 15% of the target for 10MT of carbon captured annually by 2030, while the demand from Keadby Hydrogen could account for a third of the 5GW hydrogen production goal.
Keadby 3 would be a 900MW power station fuelled by natural gas and fitted with carbon capture technology to remove the CO2 from its emissions. The captured CO2 would then be transported using shared pipelines before being securely stored under the Southern North Sea. A formal consultation for Keadby 3 concluded in early 2021 and the project is currently progressing towards the submission of a development consent application in Spring 2021. Keadby 3 would have the potential to come online by 2027, in line with Government ambitions for 'Track 1' industrial cluster projects.
Keadby Hydrogen power station would have a peak demand of 1,800MW of hydrogen, producing zero emissions at the point of combustion. It would be the world's first major 100% hydrogen-fired power station, securing at-scale demand for hydrogen in the region for decades to come. With appropriate policy mechanisms in place, Keadby Hydrogen could come online before the end of the decade.
The Keadby 3 and Keadby Hydrogen projects are both in the development stage and the companies will continue to engage government, regulators and stakeholders. Final investment decisions will depend on the progress of policy frameworks that are commensurate with the delivery of this critical net zero enabling infrastructure.
The projects would utilise the parallel hydrogen and CO2 pipeline infrastructure being developed by the Zero Carbon Humber (ZCH) partnership – which includes Equinor and SSE Thermal – and offshore CO2 infrastructure developed by the six-member Northern Endurance Partnership (NEP), which includes Equinor. Both ZCH and NEP won public funding from the UK's Industrial Strategy Challenge Fund in March.
Equinor's H2H Saltend project will be the first to connect into the ZCH infrastructure and will come online by the mid-2020s. Like the additional hydrogen that would be produced for the Keadby Hydrogen project, H2H Saltend will provide low-carbon hydrogen to already-identified customers.
As part of the agreement announced today, SSE Thermal and Equinor are also developing options for hydrogen blending at SSE Thermal's Keadby 2 project (already under construction), aiming to progressively decarbonise the UK's newest and most-efficient power station. The companies also have the intention to collaborate on projects elsewhere in the UK.
Today's agreement builds on the longstanding partnership between Equinor and SSE in the UK, which includes joint ownership of the Aldbrough Gas Storage facility in East Yorkshire, and the joint venture to build the Dogger Bank Offshore Wind Farm, the largest offshore wind farm in the world.
Kwasi Kwarteng, Secretary of State for Business, Energy and Industrial Strategy, said:
"The Humber region is at the heart of our commitment to tackle climate change and is already on the frontline of developing vital clean technologies which will change the way people's homes and businesses are powered while slashing emissions. This new partnership will ensure that world-first technology is being developed in Scunthorpe and across the Humber, creating green jobs and bringing new investment which will benefit local communities and businesses – revitalising this industrial heartland as the UK builds back greener."
Stephen Wheeler, Managing Director of SSE Thermal, said:
"We're delighted to be announcing this agreement with Equinor through which we aim to develop these first-of-a-kind low-carbon power stations. These projects would play a major role in decarbonising the UK's flexible generation capacity, while supporting a green economic recovery in the Humber. By utilising cutting-edge carbon capture and hydrogen solutions, we can decarbonise power generation, heavy industry and hard-to-reach sectors of the economy, which will be essential in both achieving net zero emissions and ensuring a just transition for workers and communities. With over 12 million tonnes of annual carbon emissions, ideal transport and storage options, and major energy and industrial companies working together, the Humber has to be at the centre of the UK's decarbonisation strategy."
Grete Tveit, Senior Vice President for Low Carbon Solutions at Equinor, said:
"We are very happy that Equinor and SSE are building on our long-term energy partnership to also develop low-carbon projects together in the UK. These world-leading power plants at Keadby will accelerate efforts across the Humber to create a decarbonised industrial cluster, and contribute to the UK's goals for a green industrial revolution and reaching net zero. They are a further step in Equinor's ambitions for the Humber, following on from our H2H Saltend project that will start producing low-carbon hydrogen at scale by the mid-2020s. We believe these technologies are vital for heavy industry, flexible power and other hard-to-abate sectors to achieve net zero emissions, while also ensuring a just transition for industrial communities. We are committed to working together with stakeholders to accelerate these real-life projects and make these investments happen."
ABOUT EQUINOR
Equinor has been operating in the UK for over 35 years and is the country's leading energy provider, supplying natural gas, oil and electricity. Headquartered in Norway, the company aims to reach net zero emissions globally by 2050. Equinor operates one offshore oil field and three offshore wind farms in the UK and its expansion plans include Dogger Bank, the largest offshore wind farm in the world. Equinor is also a leader in carbon capture & storage and hydrogen, developing the H2H Saltend hydrogen production plant at the heart of the Zero Carbon Humber alliance, and partnering in the Net Zero Teesside project and the Northern Endurance Partnership. Find out more at www.equinor.co.uk
ABOUT SSE THERMAL
SSE Thermal is responsible for SSE plc's flexible generation and energy storage activities, with over 600 direct employees across the UK and Ireland. As part of its commitment to achieving net zero carbon emissions, the business has a core focus on decarbonising its operations through carbon capture and storage (CCS) and hydrogen technology. In addition to its plans in the Humber, SSE Thermal is also progressing the development of a CCS-equipped power station at its Peterhead site in Aberdeenshire, Scotland. SSE Thermal is part of the FTSE-listed SSE plc, a Principal Partner to the UK Government for COP26. Find out more at www.ssethermal.com
( Press Release Image: https://photos.webwire.com/prmedia/6/272588/272588-1.jpg )
Related Links
WebWireID272588

This news content was configured by WebWire editorial staff. Linking is permitted.
News Release Distribution and Press Release Distribution Services Provided by WebWire.