Adaptable and efficient: the factory of the future
Bosch highlights at Hannover Messe 2021
Stuttgart and Hannover, Germany –
WEBWIRE
–
Tuesday, April 6, 2021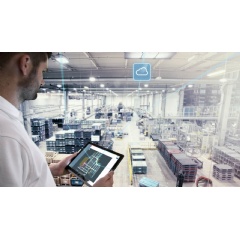 While demand sets the pace, the product determines the process. Machines and robots are constantly reconfiguring themselves. Autonomous transport vehicles deliver components, sophisticated robotic systems pick up workpieces and sort them, assistance systems support workers, and artificial intelligence takes over quality control. Industry 4.0 software can visualize processes and machine statuses at any time. But control over all this remains firmly in human hands. That is how Bosch envisions the factory of the future – and the company is setting up just such a factory for Hannover Messe: a model factory which will be open to visitors at Bosch Rexroth's new customer and innovation center in Ulm starting in summer 2021.
The factory of the future is adaptable, connected, and flexible
The factory of the future is movable – and Bosch Rexroth's intelligent floor makes the factory floor itself flexible and capable of adapting to the manufacturing process. It transports energy contactlessly, with load cells in the floor that "recognize" people and measure the weight of plant and machinery. LED strip lighting indicates pedestrian and vehicle aisles that can be altered at any time. Communication between the systems and machinery is wireless as well. The smart floor, which Bosch presented as a research project at Hannover Messe in 2019, is now available for use by pilot customers. Together with various partners, Bosch has developed new functionalities such as a floor module with an integrated safety switching mat that automatically shuts machinery down in the event of unauthorized entry.
Using a modular manufacturing system, Bosch's special-purpose machinery unit will demonstrate how adaptable manufacturing will be in the future. The system is based on a platform with standardized hardware and software interfaces. All other process modules, for example for joining or testing processes, are flexibly integrated as required. Whether workers assemble parts at an assisted manual workstation, work together with a collaborative robot, or have handling and transport processes take place autonomously – the degree of automation is freely scalable.
Bosch Rexroth's ctrlX AUTOMATION solution is helping hardware and software grow together. With the market's first open 5G-capable automation platform, users can use apps provided by Bosch Rexroth or third-party providers, or they can create apps themselves and offer them to other companies via the platform. ctrlX AUTOMATION supports more than 30 communication interfaces and standards for data exchange and is compatible with any programming language.
Bosch Connected Industry's Nexeed industrial application system also offers maximum flexibility. This Industry 4.0 software consists of specific applications developed together with customers. To cite one example: thanks to a customized Nexeed solution, workers at the Osram plant in Berlin can now simply consult an app for a status report on their machines and systems. Upcoming maintenance work or material deliveries can be clearly displayed, organized and evaluated online.
AI helps the factory of the future learn all the time
Bosch Rexroth's smart item picking solution is a self-learning robotic system that will support labor-intensive picking tasks in intralogistics in the future. Following a model-free approach, it can also recognize new objects and reliably grip them. Data from operations and the latest AI methods help refine the system's object recognition for each specific application and optimize its gripping strategy. The modular system with hardware and software modules allows a wide portfolio of individual items, such as drugstore products in cartons or spare parts, to be picked onto a conveyor belt. Smart item picking reliably processes more than 600 items per hour, with a 99 percent success rate.
The APAS automatic production assistant has revolutionized interactions between people and machines. The APAS assistant needs no protective housing to work safely with human operatives. And for the automatic visual inspection of workpieces, there is the APAS inspector. Thanks to artificial intelligence (AI), the system can be retrained at any time. Detection capability can be improved without the need for extensive programming skills.
Track and trace provides the necessary transparency about products' journeys to retailers and customers. The logistics solution monitors deliveries by using sensors and gateways that regularly transmit information about the location and processing status of the goods. That way, logistics specialists know at all times where the goods are, and whether they will arrive on time. Track and trace helps keep supply chains up and running.
The factory of the future is climate neutral
Bosch Climate Solutions is a newly created unit that advises manufacturing companies on how to reduce their carbon emissions, based on Bosch's own experience of becoming climate neutral. Within a period of four weeks, the experts carry out a CO₂ audit and present an initial master plan. Three months later, a CO₂ reduction concept is in place. This integrated approach includes measures to increase energy efficiency, expand the supply of power from renewable sources, and procure green electricity and offsets. The customers enlisting Bosch's help on the road to climate-neutral operations include the engineering companies Freudenberg and Prettl and the shower and faucet manufacturer Hansgrohe.
Bosch combines knowledge and technology: the company's Energy Platform is an intelligent software solution that controls the consumption of heat, electricity, and compressed air at more than 120 of Bosch's locations. External customers are using the platform in more than 80 projects. At Hannover Messe, Bosch is presenting an extension of this platform: the Balancing Energy Network analyzes energy flows and provides forecasts. Its energy schedules incorporate information from production scheduling and from shift and logistics planning as well as weather data. Originally developed for manufacturing facilities, the AI-based software has the potential to help all types of larger building complexes, such as logistics centers, reduce their environmental footprint.
About Bosch
The Bosch Group is a leading global supplier of technology and services. It employs roughly 394,500 associates worldwide (as of December 31, 2020). According to preliminary figures, the company generated sales of 71.6 billion euros in 2020. Its operations are divided into four business sectors: Mobility Solutions, Industrial Technology, Consumer Goods, and Energy and Building Technology. As a leading IoT provider, Bosch offers innovative solutions for smart homes, Industry 4.0, and connected mobility. Bosch is pursuing a vision of mobility that is sustainable, safe, and exciting. It uses its expertise in sensor technology, software, and services, as well as its own IoT cloud, to offer its customers connected, cross-domain solutions from a single source. The Bosch Group's strategic objective is to facilitate connected living with products and solutions that either contain artificial intelligence (AI) or have been developed or manufactured with its help. Bosch improves quality of life worldwide with products and services that are innovative and spark enthusiasm. In short, Bosch creates technology that is "Invented for life." The Bosch Group comprises Robert Bosch GmbH and its roughly 440 subsidiary and regional companies in 60 countries. Including sales and service partners, Bosch's global manufacturing, engineering, and sales network covers nearly every country in the world. The basis for the company's future growth is its innovative strength. At 126 locations across the globe, Bosch employs some 73,000 associates in research and development, as well as roughly 30,000 software engineers.
The company was set up in Stuttgart in 1886 by Robert Bosch (1861-1942) as "Workshop for Precision Mechanics and Electrical Engineering." The special ownership structure of Robert Bosch GmbH guarantees the entrepreneurial freedom of the Bosch Group, making it possible for the company to plan over the long term and to undertake significant upfront investments in the safeguarding of its future. Ninety-four percent of the share capital of Robert Bosch GmbH is held by Robert Bosch Stiftung GmbH, a charitable foundation. The remaining shares are held by the Bosch family, by a corporation owned by the family, and by Robert Bosch GmbH. The majority of voting rights are held by Robert Bosch Industrietreuhand KG, an industrial trust. The entrepreneurial ownership functions are carried out by the trust.
Additional information is available online at www.bosch.com, www.iot.bosch.com, www.bosch-press.com, www.twitter.com/BoschPresse.
( Press Release Image: https://photos.webwire.com/prmedia/7/272342/272342-1.jpg )
Related Links
WebWireID272342

This news content was configured by WebWire editorial staff. Linking is permitted.
News Release Distribution and Press Release Distribution Services Provided by WebWire.