Researcher, Prison Counselor and Army Vet, Puts New Light on this Bane of the Century
From the slippery slope of Drug Addiction to Full Recovery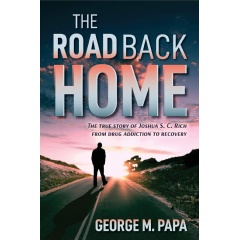 The world is in a crisis. In the United States alone more than 70,000 people overdose and die, while other hundreds of thousands unknowingly start their slide down the slippery slope. There is not a family in this nation that does not have a loved one or an acquaintance that has hit the skids. It can happen to any person. It cuts across all demographics. This relentless demon slays or disables the rich and poor, the young and old, the smart, athletic, gifted, the beautiful and the cream of every national origin.

What starts out as a curious dabble soon becomes slavery to a craving. – "Stop!! You idiot!! Can't you see you are ruining your life and your family too!!" – This phrase is repeated tens of thousands of times daily, but it is ignored. Within this book – especially chapters 56 and 96 – is the solid answer for both drug addiction and prison reform.

According to author George M. Papa: "Ibogaine is a very effective 'One Pill' solution, which 'Big Pharma' does not want the U.S. government, or any person to know about. The reason is because one pill of Ibogaine washes out – within hours – all of the minute chemical toxin that stays behind in one's brain. If this tiny residual is not regularly augmented, then the addict experiences excruciating withdrawal pain, which traps the addict in the vicious cycle of being forced to do drugs, in order to merely get relief from the savage withdrawal pain."

Papa continues: "At present, this powerful pill can only be properly administered in limited Mexico clinics, as explained in this book. i.e., one must have excellent vital signs, and be monitored during intake, or it can be fatal. 'Big Pharma' suppresses Ibogaine because there is no profit in one pill, vs. a life-time of pricey suboxone or methadone. These are not cures, but are only watered down 'band aids,' which are still addictive."

Joshua Rich was an outstanding young man gifted in many wonderful ways far beyond the average. He was smart, athletic and good-looking. He grew up in a caring family, who were well-versed in the doctrines of the Church of Jesus Christ of Latter-day Saints, in Provo, Utah. Joshua had a promising future waiting for him. Blessed with athleticism, talent, and academic excellence, a full-ride athletic or scholastic scholarship from a major university was inevitable. However, things took a turn for the worse when at a young age he was introduced to alcohol, which soon became a big-time and roller-coaster drug addiction, which snaked through Las Vegas, Utah and Arizona.

George Papa, a war veteran, and author of eighteen highly researched nonfiction epics, recounts Joshua's experiences as a substance-abuse victim and his road to becoming whole again. This book is a manual for all who suffer from drug addiction or who want to help someone recover. Set in a unique and simplified writing format, George Papa has pioneered a new literary phenomena, which abandons standard prose regimentation and unleashes "speed-of-read" versatility of profound visual-panoramic proportions. The effect is a new and distinct "movie-like" feel and style, which is sure to become the new action vogue.
About the Author:
Former 1Lt. Infantry combat veteran George Papa (Vietnam) and his wife met Joshua when they volunteered to serve as religious teachers and counselors for the thousands of inmates in the Arizona Maricopa County Jails. When Mr. Papa found out Joshua's incredible story, he asked Joshua to write down the sequence of events to the end that George turn it into a book to benefit the world. Joshua did this, and the book turned out to be two books. This book is the first book and the second is on its way.

Buy the book at: https://youronlinepublicist.com/product/the-road-back-home-the-true-story-of-joshua-s-c-rich-from-drug-addiction-to-recovery-by-george-m-papa/
The Road Back Home: The True Story of Joshua S. C. Rich from Drug Addiction to Recovery
Author: George M. Papa
Publisher: Your Online Publicist
Published Date: March 2021
Book Genre: Historical, Biography, Religion, Spirituality
( Press Release Image: https://photos.webwire.com/prmedia/74576/272034/272034-1.jpg )
WebWireID272034
Contact Information

Amara Bryant
Production Manager
Your Online Publicist

This news content may be integrated into any legitimate news gathering and publishing effort. Linking is permitted.
News Release Distribution and Press Release Distribution Services Provided by WebWire.