Coca-Cola Surpasses 5by20 Women's Economic Empowerment Goal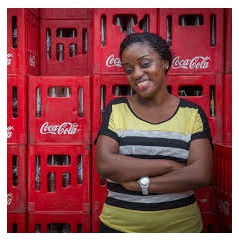 Coca-Cola delivered on its decade-long drive to enable the economic empowerment of 5 million women entrepreneurs, the company announced today on International Women's Day.
In fact, the initiative known as 5by20® surpassed the ambitious goal announced in 2010 on the margins of the United Nations General Assembly by then Chairman and CEO Muhtar Kent. To date, 5by20 has reached more than 6 million women entrepreneurs—from fruit farmers, retailers and restaurant owners, to artisans, recyclers and distributors—through access to business skills training, financial services, peer networks, mentors and other resources.
5by20 set out to help women entrepreneurs overcome social and economic barriers to business success—while creating thriving, sustainable communities. The vision was rooted in the belief that investing in women, who are pillars of their communities, creates a ripple effect of economic growth and sustainable change. 
"By investing in women's economic empowerment over the past decade, we have created shared value in hopes of a better shared future—enabling improved livelihoods for women, their families and their communities," Chairman and CEO James Quincey writes in the 2020 5by20 report released today. 
According to a 2018 International Monetary Fund report, women's economic empowerment boosts productivity, economic diversification, income equality and other positive outcomes.  
"Above all, what we found through 5by20 is that when women have access to opportunity, there is no limit on what can be accomplished," said Bea Perez, global chief communications, sustainability and strategic partnerships officer, The Coca-Cola Company.
We spoke with Norah Odwesso, senior director of social impact at The Coca-Cola Company and 5by20 program director, about this important milestone and what's ahead. 
Much has changed in both the company's business and the world at large since 5by20 launched. How has the initiative evolved over the years?
At first, 5by20 focused on women entrepreneurs across our global value chain… women who own or manage small businesses we work with around the world. As the program evolved, we realized that women entrepreneurs were not the only ones facing barriers. There was a broader set of women who were potential entrepreneurs that then came into the program. We, therefore, worked with partners to drive scale and deeper impact. In 2013, we expanded the scope of 5by20 to allow for independent contributions by The Coca-Cola Foundation (the company's independent philanthropic giving arm) and other partners to extend our reach to women who faced barriers and were conducting businesses outside the Coca-Cola value chain. Beneficiaries of programs funded by The Coca-Cola Foundation have no link to our value chain. 
Additionally, we recognized that harnessing the power of technology would play a major role in rapidly and flexibly scaling our programs, while ensuring effective delivery during the height of the pandemic season, by giving women access to digital programming from their homes. Digital resources have been available through 5by20 for a few years now, but their use accelerated in 2020 when countries like the United States, Ukraine and the Philippines were able to scale their programs through virtual digital training offerings. 
The 5by20 initiative kicked off in Africa before scaling to other parts of the world. Why did we start there? 
We focused initially on four countries: Brazil, India, South Africa and the Philippines. One of the biggest opportunities we identified was in Africa, where we worked through an innovative distribution program in East Africa, referred to as the Manual/Micro Distribution Center (MDC). These MDCs served as a foundational catalyst for 5by20 by showing us a model that played a social development role while at the same time benefited our core business operations, and were financed solely through business funding. This model also engaged several women entrepreneurs. From research, we established that at least 86% of these outlets, which served as hubs to distribute our beverages to other small retail customers, were owned and/or operated by women. We identified an opportunity to start there and then scale up. We saw similar opportunities in Latin America and Asia. As of the end of 2020, our total 5by20 programs expanded to more than 300 programs in 100 countries. 
How did the company arrive at the total number of 5by20 beneficiaries (6 million)? 
In order to be counted, women must: be at least 16 years old; participate in at least one 5by20 enabling activity; face barriers addressed by 5by20 program; and be either a current or a prospective entrepreneur. 
Beyond these numbers, what qualitative impacts did 5by20 have on participating entrepreneurs?
When we speak to 5by20 entrepreneurs and listen to their stories, we find they've gained greater confidence to set up and run their businesses. They're reporting and enjoying incremental income and the ability to support their families and make a bigger impact in their communities. They're inspiring other women to set up their own businesses with confidence. It's a powerful multiplier effect. We have proof points from independent research done by Ipsos that also support this assertion.  
What are some of key learnings from the 5by20 journey?
From the beginning, 5by20 was a shared value model with both a societal and commercial impact. Engaging our leaders early on and helping them understand this important intersection – that 5by20 would support women, who in turn would support their families and their communities, while also driving our commercial imperatives – was foundational to the long-term sustainability of the initiative.
Secondly, it was very important for us to build strong partnerships. We realized very early that it wasn't possible for us as a company to scale up these programs and deliver the impact we wanted on our own. This led us to partner with governments, civil society organizations, our bottlers, and local implementing partners in the women's economic empowerment arena. The Coca-Cola Foundation funded some of our programs through grants to recipients within its Women's Entrepreneur Empowerment priority giving tier.
We worked with multiple partners around the world, including global partners like UN Women, the Bill & Melinda Gates Foundation, Technoserve and CARE, as well as numerous other organizations at regional and country levels. Our global partners not only bring to the table expertise, but they help deliver program design, local execution and support to scale these programs. Our on-the-ground implementing partners, particularly in countries where our presence may not be as strong, offer expertise in areas like gender equality and advocacy of women's economic empowerment. 
Finally, external validation and assurance were key to ensuring the credibility of this program. It was important for our goal to be measurable, so we set up a rigorous counting methodology to count women who had gone through the 5by20 program, and all markets were required to provide supporting documentation. Our computation and verification processes were externally and validated by PricewaterhouseCoopers and then independently assured by Ernst & Young LLP. 
How did 5by20 impact other Coca-Cola sustainability priorities like water and waste?
That's a great question. There have been discussions around the intersectionality between 5by20 and our sustainability priorities. Our company's water stewardship programs have reached more than 400,000 women, who now have access to clean drinking water and, therefore, have more time for other entrepreneurial activities. In fact, IPSOS research in 2018 clearly showed that when women don't have to spend time looking for clean water, many of them use this free time for economic activities. This important research established that of the women who used saved time for economic activities, 91% saw an increase in income. There are women entrepreneurs, many in Latin America and parts of Africa, who are recyclers and waste collectors. And female farmers produce ingredients we use in our beverages, like sugarcane and mangoes. 
Now that you've achieved the target, what's next?
While we are pleased that we have achieved our decade-long goal, women's economic empowerment continues to be a major global challenge and core priority for The Coca-Cola system, both internally and externally. Internally, our goal is to mirror the diversity of the communities in which we operate. We recently reconfirmed our 2030 goal to be 50% led by women. Our external efforts will focus on supporting community resilience and as the impact of our continuing efforts multiplies with each passing year, we expect to reach many more women and underprivileged populations around the world.
Read a LinkedIn post on the 5by20 milestone authored by James Quincey, chairman and CEO, and Mel Lagomasino, lead independent director.
-----
https://www.youtube.com/watch?v=NpwDgOpbusM
( Press Release Image: https://photos.webwire.com/prmedia/6/271258/271258-1.jpg )
Related Links
WebWireID271258

This news content was configured by WebWire editorial staff. Linking is permitted.
News Release Distribution and Press Release Distribution Services Provided by WebWire.