Malcolm X Assassination: Published Files Show FBI Believed Threats Against Malcolm X were a Publicity Stunt
J. Edgar Hoover told the CIA Malcolm X's organization was a threat to the national security of the United States.
Los Angeles, CA –
WEBWIRE
–
Monday, February 22, 2021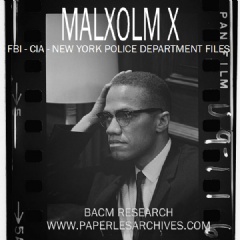 Malcolm X: FBI - CIA - New York Police Department Files
In a memo dated July 2, 1964, FBI Director J. Edgar Hoover described Malcolm X's organization, the OAAU, as a threat to the national security of the United States.
BACM Research has announced the publishing of 9,660 pages of FBI, CIA, and New York Police Department files covering Malcolm X.
The collection can be obtained at https://downloads.paperlessarchives.com/p/261j/
Malcolm X was a Minister of the Nation of Islam until March 1964, when he left and formed the Muslim Mosque, Inc., and the Organization of Afro-American Unity. Malcolm X was assassinated on February 21, 1965, while delivering a speech in New York City. Norman Butler, Thomas Johnson, and Talmage Hayer were convicted of his murder and sentenced to life in prison.
FBI Files
In the FBI files Malcolm X is first identified as Malcolm K. Little, his birth name.  Malcolm X was released from prison in August 1952 and by February 1953 the FBI had opened a file on him. The files give FBI accounts of intercepted personal correspondences, eavesdropped phone conversations, information from informants, newspaper articles, radio and television interviews, sermons, and speeches.

The files show the change in the association between Malcolm X's and Nation of Islam leader Elijah Muhammad, and the Nation of Islam. Files show that the New York Police Department believed reports of threats on the life of Malcolm X was a publicity stunt.
 
CIA FILES

Much of the CIA files concern his funding by the government of Egypt and his meeting with Fidel Castro in 1960.

One set of documents of interest are 8 pages, 3 memos from November and December 1964, detailing conversations between Malcolm X and an informant. The memos were sent from the CIA's Director of Plans, Richard Helms, to S.J. Papich, the FBI's liaison to the CIA.  Helms would later become Director of the CIA. The memos convey information from the informant about views expressed by Malcom X during their conversations. The informant reports on Malcolm X talking about his plans for the Organization of Afro-American Unity (OAAU), an organization started by Malcom X after leaving the Nation of Islam. In a memo dated July 2, 1964, FBI Director J. Edgar Hoover described the OAAU as a threat to the national security of the United States.

Malcolm X also mentions his views about the NAACP,  civil rights movement,  the late President Kennedy, Martin Luther King, his hope that Barry Goldwater would be elected president because he believed this would cause chaos, pleasure of learning that China detonated an atomic bomb, the status and future of African Americans, his admiration for the Mau Mau in Kenya, his belief about Islam and its relationship with Africans and people of African descent, and among other things his beliefs about the use of violence.


NEW YORK POLICE DEPARTMENT FILES
 
The NYPD files mostly contain reports regarding Malcolm X's assassination on February 21, 1964 as he was preparing to address the OAAU in Manhattan's Audubon Ballroom. Mostly witness statements and short form reports on investigative activity of NYPD detectives assigned to the assassination.
 
 
About BACM Research
 
BACM Research's https://downloads.paperlessarchives.com/ provides historical documents, primary source material, early secondary sources, and histories that allow access to historical and often once secret documents, recordings, photos, video and audio.
Materials cover Presidencies, Historical Figures, Historical Events, Celebrities, Organized Crime, Politics, Military Operations, Famous Crimes, Intelligence Gathering, Espionage, Civil Rights, Civil War, World War I, World War II, Korean War, Vietnam War, and more
Material from Federal Bureau of Investigation (FBI), Central Intelligence Agency (CIA), National Security Agency (NSA), Defense Intelligence Agency (DIA), Secret Service, National Security Council, Department of Defense, Joint Chiefs of Staff, Department of Justice, National Archive Records Administration, Presidential Libraries, and more.
 
 
( Press Release Image: https://photos.webwire.com/prmedia/2267/270607/270607-1.jpg )
Related Links
WebWireID270607
Contact Information

Jerry Spencer
Communications Director
BACM Research - PaperlessArchives.com

This news content may be integrated into any legitimate news gathering and publishing effort. Linking is permitted.
News Release Distribution and Press Release Distribution Services Provided by WebWire.