Cisco, Telefónica and the University of Vigo promote Network Slicing on 5G
Madrid –
WEBWIRE
–
Tuesday, February 9, 2021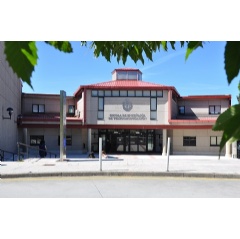 The project will demonstrate the flexibility of the 5G network in adapting to different services and customers within the framework of the Piloto 5G Galicia (5G Galicia Pilot), promoted by the Ministry of Economic Affairs and Digital Transformation via Red.es.
A demonstrator will be implemented on laboratory infrastructure at the University of Vigo, with three slices deployed to offer distinctive services: low latency, high bandwidth and emergencies
Cisco, in collaboration with Telefónica and the University of Vigo, will carry out a 5G Network Slicing pilot test with the aim of demonstrating how flexible 5G networks can devote specific capacities to different services and customers.
Specifically, this project consists of implementing a demonstrator on laboratory infrastructure at the facilities of the University of Vigo, where three slices will be deployed in order to offer distinctive services: low latency, high bandwidth and emergencies. This will enable, for example, customers to make use of the 5G network and enjoy ultra high-definition content while guaranteeing the resources of the mobile network in the event of an emergency in the area.
With this initiative the intention is also to begin building services for customers to be marketed via Telefónica's 5G network. The project will thus enable Telefónica to obtain key results that will serve to drive the ecosystem and promote the interoperability and standardisation of this technology with a view to its marketing towards the end customer. Some of the sectors that can benefit the most from Network Slicing are the State Security Corps and Forces, media and communication, cars, industry and hotels.
Contributions to the project
Telefónica is coordinating the project as a provider of one of the most cutting-edge and disruptive technologies for 5G networks (Network Slicing) and as the driver of the standards-based ecosystem.
As a proven 5G infrastructure provider, Cisco will demonstrate the benefits of its native cloud software with the Cisco Ultra Packet Core platform, which lies at the heart of service creation and operates alongside key technologies such as Network Slicing, NFV and automation through Cisco's Network Services Orchestrator (NSO) to support specific public and entrepreneurial customer use cases, thus constituting one of the numerous digitalisation projects in Spain driven by its "Digitaliza" programme.
Similarly, the University of Vigo, as a research centre with far-reaching experience in 5G, is working on the design and deployment of the demonstrator, its validation and performance measurement to demonstrate the benefits, quality and versatility of Network Slicing technologies.
5G communication systems are aiming to become a universal mechanism to simultaneously support highly diverse devices and use cases (industrial robots, connected cars, IoT devices, smartphones, etc.) with very different requirements.  To achieve the above, 5G networks must be flexible, scalable, programmable and dynamically adaptable to the different communication requirements. Network Slicing allows the creation of specific network capabilities for a service or group of users, thus offering distinctive services over the 5G network, something that was not possible with 4G and earlier versions.
Mercedes Fernández, Innovation Manager and Head of 5G Technological Cities at Telefónica Spain, highlighted the following: "Telefónica is fully committed to the development of 5G technology and opening up our telecommunications ecosystem to the different vertical industries. With this project, in collaboration with Cisco and the University of Vigo, we're giving an important boost to our goal of making our networks more flexible and scalable with 5G in order to meet the different requirements posed by our services and customers".
Andreu Vilamitjana, General Manager of Cisco Spain, declared that "5G constitutes an excellent opportunity for service providers to generate new digital services, monetise their investments in infrastructure and, above all, lead the digital transformation. Cisco shares this vision and this pilot is an example of researchers and providers working together to accelerate digitalisation".
Felipe Gil, the project's chief researcher at the University of Vigo, pointed out that "working on this project with Telefónica and Cisco is enabling us to advance in the research into dynamic 5G networks and bring the results closer to the market, as we can collaborate with the people who are developing Cisco's latest products and those who are designing Telefónica's future networks".
This is one of the winning projects in the first call for grants for the development of 5G organised by the Ministry of Economic Affairs and Digital Transformation and co-financed by Red.es with ERDF funds as part of the Piloto 5G Galicia (5G Galicia Pilot) initiative, whose aim is to test the technology of different providers and use the results to define the networks of the future.
About Telefónica
Telefónica is one of the world's leading telecommunications providers. The company offers fixed and mobile connectivity services, as well as a wide range of digital services for individuals and companies.  It operates in Europe and Latin America, where it has more than 341 million customers.
Telefónica is a fully private company whose shares are listed in the continuous market of the Spanish stock exchanges and the New York and Lima stock exchanges.
About Cisco
Cisco (NASDAQ: CSCO) is the global leader in internet technology. Cisco inspires new possibilities by reinventing applications, protecting data, transforming infrastructure and facilitating collaborative work so as to advance towards a global and inclusive future. Find out more at news-blogs.cisco.com/emear/en / The Network 
( Press Release Image: https://photos.webwire.com/prmedia/6/270115/270115-1.jpg )
Related Links
WebWireID270115

This news content was configured by WebWire editorial staff. Linking is permitted.
News Release Distribution and Press Release Distribution Services Provided by WebWire.