New test provides fast and accurate diagnosis of liposarcomas
Emerging technologies harnessed to develop a faster, cheaper, and more accurate test for these hard-to-diagnose tumors, researchers report in The Journal of Molecular Diagnostics
Philadelphia –
WEBWIRE
–
Thursday, February 4, 2021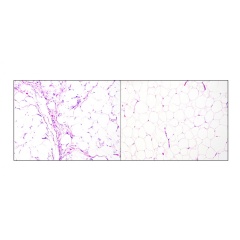 Atypical lipomatous tumor/well-differentiated liposarcoma (left-hand); lipoma (right-hand) (Credit: Tony Ng, MD, PhD, The University of British Columbia).
Researchers have leveraged the latest advances in RNA technology and machine learning methods to develop a gene panel test that allows for highly accurate diagnosis of the most common types of liposarcoma. It quickly and reliably distinguishes benign lipomas from liposarcomas and can be performed in laboratories at a lower cost than current "gold standard" tests. The new assay is described in The Journal of Molecular Diagnosis, published by Elsevier.  
"Liposarcomas are a type of malignant cancer that is difficult to diagnose because, even under a microscope, it is hard to differentiate liposarcomas from benign tumors or other types of cancer that need different treatments," explains lead investigator Torsten Owen Nielsen, MD, PhD, Genetic Pathology Evaluation Centre, Department of Pathology and Laboratory Medicine, University of British Columbia, Vancouver, Canada. "Many liposarcomas look like their benign and relatively common counterparts, lipomas. Diagnostic delay and uncertainty cause severe stress for patients, and misdiagnosis can have many consequences including delayed or inadequate treatment or unnecessary surgical procedures and long-term postoperative follow up."
Among the current recommended diagnostic tests for liposarcomas, immunohistochemistry (IHC) is inaccurate and hard to interpret, and fluorescence in situ hybridization (FISH) is relatively expensive, as well as labor- and equipment-intensive. In this study, investigators explored whether NanoString technology, ideal for analyzing even poor-quality RNA, could allow for more rapid and cost-efficient diagnosis of liposarcomas through gene expression.
The investigators utilized data from the Cancer Genome Atlas, a catalog of genetic information from over 20,000 cancer samples, to identify the 20 most common genes that are overexpressed in liposarcomas. Probes for these genes were designed by NanoString bioinformatics and run on a set of "training samples" that included lipomas and liposarcomas. Analysis of the NanoString results showed clear separation of lipoma from liposarcoma cases.
A machine learning model was developed to determine the probability that a given sample was positive for liposarcoma and was then applied to 45 retrospective cases to determine boundaries for positive and negative predictions. The test was subsequently applied in a real-world clinical setting. A molecular technologist with no knowledge of the clinical, histologic, IHC, or FISH information about the cases was asked to identify each sample as liposarcoma or not liposarcoma from the NanoString test results. The same samples were examined by specialist pathologists using standard testing.
The retrospective and prospective cases probed by the NanoString assay had a 93 percent success rate and agreed with standard tests 97.8 percent of the time. Results from the NanoString assay were available in 36 hours, whereas it took between one to two weeks to get FISH results. NanoString costs amounted to US$270 per case, factoring in reagents, labor, and equipment maintenance.
Advances in biotechnology have shown great promise in other cancers such as breast cancer. "We applied these new technologies to improve patient care in areas where existing diagnostic methods were inaccurate, slow, or costly and saw substantial improvements. There is no patent on this test; anyone can apply the method we describe, and we are happy to help others get set up to run it at their own institution," says Dr. Nielsen.
First author Xiu Qing (Jenny) Wang, a fourth year medical student at the University of British Columbia, adds that accurate and fast diagnosis can be critical for patients who are dealing with what are often difficult and quite large tumors. "I am proud to be part of a team that has made significant progress in bringing this test closer to clinical reality."
This group previously published a NanoString-based assay for sarcomas bearing diagnostic fusion oncogenes, which is now in clinical use. However, the most common type of liposarcoma carries a different type of mutation (gene amplifications) and so was not covered. Thus, the current study not only expands the types of sarcoma that can be diagnosed accurately with NanoString-based diagnostics, but also shows how a different category of mutation can be detected. This strategy may help develop diagnostics for other types of cancer.
-------
Notes 
The article is "A Rapid and Cost-Effective Gene Expression Assay for the Diagnosis of Well-Differentiated and Dedifferentiated Liposarcomas," by Xiu Qing Wang, Xue Qi Wang, Anika Terra Ye Way Hsu, Angela Goytain, Tony Ling Tin Ng, and Torsten Owen Nielsen  (https://doi.org/10.1016/j.jmoldx.2020.11.011). It appears online in advance of The Journal of Molecular Diagnostics, volume 23, issue 3 (March 2021) published by Elsevier.
The article is openly available at www.jmdjournal.org/article/S1525-1578(20)30586-9/fulltext.
This study was supported by grants from the Canadian Cancer Society (grant number 705615) and the Terry Fox Research Institute (grant number 1082), as well as by provision of reagents by NanoString Technologies.
Full text of this study is also available to credentialed journalists upon request; contact Eileen Leahy at +1 732 238 3628 or jmdmedia@elsevier.com. Journalists wishing to interview the authors should contact Kerry Blackadar at kerry.blackadar@ubc.ca.
About The Journal of Molecular Diagnostics
The Journal of Molecular Diagnostics, the official publication of the Association for Molecular Pathology, co-owned by the American Society for Investigative Pathology, and published by Elsevier, seeks to publish high quality original papers on scientific advances in the translation and validation of molecular discoveries in medicine into the clinical diagnostic setting, and the description and application of technological advances in the field of molecular diagnostic medicine. The editors welcome review articles that contain: novel discoveries or clinicopathologic correlations, including studies in oncology, infectious diseases, inherited diseases, predisposition to disease, or the description of polymorphisms linked to disease states or normal variations; the application of diagnostic methodologies in clinical trials; or the development of new or improved molecular methods for diagnosis or monitoring of disease or disease predisposition. www.jmdjournal.org
About Elsevier
As a global leader in information and analytics, Elsevier helps researchers and healthcare professionals advance science and improve health outcomes for the benefit of society. We do this by facilitating insights and critical decision-making for customers across the global research and health ecosystems.
In everything we publish, we uphold the highest standards of quality and integrity. We bring that same rigor to our information analytics solutions for researchers, health professionals, institutions and funders.
Elsevier employs 8,100 people worldwide. We have supported the work of our research and health partners for more than 140 years. Growing from our roots in publishing, we offer knowledge and valuable analytics that help our users make breakthroughs and drive societal progress. Digital solutions such as ScienceDirect, Scopus, SciVal, ClinicalKey and Sherpath support strategic research management, R&D performance, clinical decision support, and health education. Researchers and healthcare professionals rely on our 2,500+ digitized journals, including The Lancet and Cell; our 40,000 eBook titles; and our iconic reference works, such as Gray's Anatomy. With the Elsevier Foundation and our external Inclusion & Diversity Advisory Board, we work in partnership with diverse stakeholders to advance inclusion and diversity in science, research and healthcare in developing countries and around the world.
Elsevier is part of RELX, a global provider of information-based analytics and decision tools for professional and business customers. www.elsevier.com.
( Press Release Image: https://photos.webwire.com/prmedia/6/269938/269938-1.jpg )
Related Links
WebWireID269938

This news content was configured by WebWire editorial staff. Linking is permitted.
News Release Distribution and Press Release Distribution Services Provided by WebWire.