Happy And Healthy Forever After Marriage
Miami, FL –
WEBWIRE
–
Wednesday, February 3, 2021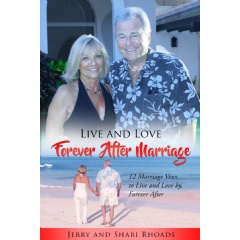 Statistics are against a happy forever after marriage. Since the 1960's, 50% divorce rates are on an upward trend and haven't seen the worst yet. Though there has been a decline in the recent numbers, this is not exactly good news. People nowadays marry later in life, usually for comfort and convenience. Some millennials shun the idea of tying the knot and settle for live-in arrangements. The essence of marriage has become more and more forgotten resulting in 30% of those live-in solutions, splitting up in the first year of marriage.
 
As a result, a successful first marriage is rare but certainly achievable. This is exactly how it went for this lovely couple, coauthors Jerry and Shari Rhoads. They have been married for sixty years (61 on November 27, 2020), and present in their book, their secrets: "Live and Love Forever After Marriage: 12 Marriage Vows to Live and Love by, Forever After."
 
The book is meant to be a template to help people who are about to venture into the journey of marriage OR REMARRIAGE. In their "Girl talk and Guy talk" section of each chapter is the real-life experiences and secrets of the Rhoads' and how they made their marriage work for over six decades. It will also help struggling couples rekindle their passion with a loving companionship and sex life for love that honors their marriage vows.
 
With a light-hearted take on love and commitment, Jerry and Shari invoke inspiration and how a renewed belief in a long-lasting life with love, health and happiness realistically results in longevity together.
 
They have creatively presented their take on love and marriage by writing poems, which greatly increase the readability of the book. They will not bore you with the usual perfect amount of humor infused within the lessons. Along the way they impart the science of genetics, longevity and retention of that look of a fountain of (you)th. The book also narrates real-life scenarios, which adds to its authenticity. Including, how they have grown a family tree of 4 children, 12 grandchildren, 8 great grandchildren, 12 grand dogs and a grand cat. 
 
Overall, the book is a fun "how to" read. The lessons are practical and not just written to romanticize the struggles of marriage and relationships in general but why a happy couple's thinking drives their "real age" score versus their "biological age," being the aging report card, so you can look 20 years younger than you are. Jerry and Shari have proven that at the age of 80+ you can still be attractive, active and avoid the typical chronic aging process (retire at 55, file for Medicare at 65, lose sexuality at 75 and die early before 80). With America's life expectancy declining to 78 for both men and women, the research experts on aging are finding that a healthy marriage, like Jerry and Shari's results in longer, happier love lives with ages in the nineties and hundreds achievable.
 
Effectively, their love for each other creates an inspiration for every couple to live longer, stronger, and beat the current marriage world record of 93 years. Jerry and Shari say they expect to be married at least 80 years and live past 100 and go for the record or die trying.
 
A long-lasting love and marriage are rare but possible. Take a look at their picture on the cover, taken in Cabo at the age of 77, then learn how middle age is 70 and how you can be happily married forever after.
 
Grab your copy at: https://youronlinepublicist.com/product/live-and-love-forever-after-marriage-12-marriage-vows-to-live-and-love-by-forever-after-by-jerry-and-shari-rhoads/
 
Live and Love Forever After Marriage: 12 Marriage Vows to Live and Love by, Forever After
Author: Jerry and Shari Rhoads
Publisher: Your Online Publicist
Published Date: January 2021
Genre: Self-Help Book
Target Audience: Young lovers, newlyweds, newly divorced, aging baby boomers and their families.
 
About the Authors
Jerry is a CPA, licensed nursing home administrator and health care consultant and Shari a cosmetologist, nursing home administrator and health care consultant.They have been married for 60+ years, together for 63 years and have an extended and blended family of 34. Together, they have been in the CPA, health care management consulting business for forty years. They recently purchased and sold three nursing homes and were consultants to nursing home clients for twenty of those years. As a result, Shari, a nursing home administrator, and Jerry have delivered more than 200 workshops, training seminars and self-health presentations, including State and National health care events. Most recently, they begun giving workshops to corporate Human Resource departments regarding the 12 Marriage Vows and Lifestyle Habits for staying married and healthy to avoid chronic aging. See their consulting website www.lifestylesforaging.com.
And as a nationally known consultant on Medicare and Medicaid, Jerry has a vast network of promotional partners willing to help promote "Live and Love Forever After Marriage: 12 Marriage Vows to Live and Love by, Forever After." Jerry has authored nine health care books, five poetry books, one novel, and a health care cost accounting book.
 
They've also written and published industry newsletters for their clients and nursing home associations. Jerry has appeared on TV and radio as an expert and weekly radio show host for a program called "Focus on Health Care." And their sole focus for the foreseeable future is promoting their books and assisting in national health care reform.
Their main marketing websites are: 12vowsforstayingmarried.com and www.lifestylesforaging.com
Jerry has also written the following books available through Amazon and bookstores and his web site www.jerryrhoadsauthor.com
"The Eighth Wonder of the World" (first Wonders poetry book)
"The Ninth Wonder of the World" (second Wonders poetry book)
"The Tenth Wonder of the world" (third Wonders poetry book)
"The Eleventh Wonder of the world" (fourth Wonders poetry book)
"The Twelfth Wonder of the World" (fifth and final of the Wonder series)
"Live and Love Forever After Marriage" (a marriage relationship book)
"Life Styles: Of the Healthy, Happy and Prosperous" (a self=health book)
"How to Live Forever" (a self=health book)
"The Boomers Are Coming" (a self=health book)
"Health Care for All" (a self=health book for healthcare reform)
"Never Too Old to Live" (a self=health book)
"America in the Red Zone" (a self=health book)
"Restore Elder Pride" (a self=health book)
"Remedy Eldercide" (a self=health book)
"The Monopsony Game" (an economic analysis)
"Failing Government Taketh Away" (a political analysis)
"American Enterprise Manifesto" (a government analysis)
"Basic Accounting and Budgeting" (for Long Term Care Facilities)
"Americana 1984 2084 2184" (a novel remembering George Orwell)
"Mancology" (the science of managing human value)
"Cost Accountin" (for Long term care facilities)
 
( Press Release Image: https://photos.webwire.com/prmedia/60925/269862/269862-1.jpg )
Related Links
WebWireID269862
Contact Information

Jeff Mathews
Production Manager
Your Online Publicist

This news content may be integrated into any legitimate news gathering and publishing effort. Linking is permitted.
News Release Distribution and Press Release Distribution Services Provided by WebWire.