Celebrating Blackness past, present, and future
WEBWIRE
–
Tuesday, February 2, 2021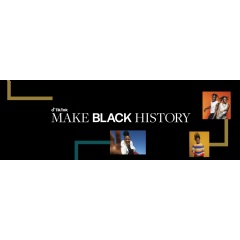 This Black History Month, we're thrilled to celebrate Black excellence and honor the Black community on TikTok as we kick off #MakeBlackHistory. Our community is at the heart of these efforts, and all month we'll be highlighting individuals who are making a difference through TikTok LIVE programming that celebrates Black creators and artists – including @TaylorCassidy, @KellyRowland, and  @TheShadeRoom. With new creative effects that embrace expression, Black music playlists, and much more, #MakeBlackHistory is about respecting and recognizing the past, present, and future of the Black experience.
From starting trends to fostering connection, to innovative creative expression and inspiring others, Black creators are blazing trails everywhere and our community would not be what it is today without them. At the end of the day, Black culture is the culture, and culture starts on TikTok.
Black TikTok Trailblazers
Today we're announcing the inaugural Black TikTok Trailblazers list. These individuals were recognized and nominated by the North America #BlackTikTok community for being leaders and pioneers on and off TikTok. Our Trailblazers are using their platform to educate, entertain, and advocate for the Black community. From a nature-loving forager to a creative mathematician, these creators are defining what it means to be Black. Follow them on TikTok and look out for more from these incredible Trailblazers!
@alexisnikole - Alexis (Columbus, OH), a lover of the outdoors, is a forager who finds and harvests exceptional wild food. She was inspired to start creating content about her love of foraging when she didn't see a lot of Black representation in the outdoor recreation industry. She prides herself on being unapologetically Black and unapologetically nerdy, joyfully sharing her love of foraging and the outdoors with others.
@beauty2thestreetz - Shirley (Los Angeles, CA) takes care of hundreds of homeless people in Los Angeles every week and is using her platform to be a voice for them. At the height of the pandemic, she provided resources such as PPE masks to the homeless and shared stories from LA's Skid Row in her TikTok videos.
@christian_shelton - Christian (Las Vegas, NV) always knew he wanted to share his singing talent on TikTok. He loves that there is a strong Black community and culture on TikTok. He feels that sometimes Black artists are "put into a box" when it comes to the type of music they create and wants to show the breadth and depth of Black musical talent.
@dadlifejason - Jason (Atlus, OK) is a husband and father of three children. As the patriarch of a multiracial family, he uses his platform to share family moments and experiences. For Jason, it's important to show the love and tenderness of fatherhood and parenting in the Black community. From random acts of kindness to music jam sessions, he and his family focus on spreading positivity through their content.
@fatraco0n - Jax (Fargo, ND) uses her voice and platform to spotlight topics ranging from her own South Sudanese culture, to racism and feminism. She focuses on activism on and off of TikTok, and believes her calling is to care about and help others.
@iconiccpinkk - Munera (Missouri) is changing the look of the creator world. After she noticed there was a lack of representation of Black hijabi women, she and her sister, Fatima, started creating comedy and prank videos. Many know her for the "Don't Leave Me Challenge," and she wants to be an inspiration to the next generation of Black hijabi women.
@iconicgreen1 - Fatima (Missouri) started creating prank and challenge videos with her sister, Munera. She realized there was an audience who loved the content that she and her sister were sharing and is excited to be an inspiration to other Black hijabi women.
@kentai.haven - Kenyon (Cordova, TN) is a creative mathematician who is known for his mind-blowing height guessing videos. Since he was young, he's known that he wanted to show the world a different way of problem solving. He believes the Black community is underrepresented in the Science, Technology, Engineering, and Math (STEM) world, and he wants to help change that.
@kissyduerre - Kissy (Saskatchewan, Canada) is passionate about bringing transgender stories into the spotlight. As a transgender woman, she feels it's important to use her platform to bring awareness to the issues this community faces. Her message for young, queer people is, "their gender identity doesn't matter, as long as you love yourself and embrace yourself."
@quenwilliamss - Quen (Round Rock, TX) is a professional real estate agent who is using her platform to help make homebuying attainable for the Black community. She didn't see much Black representation in the real estate industry and hardly any representation of home ownership in Black households and wants to change that. She hopes her content will help more people of color own a home and create generational wealth.
@taylorcassidyj - Taylor (O'Fallon, IL) creates TikTok videos with a positive and educational message. She prioritizes Black culture by teaching Black History through her "Fast Black History" series and uplifting current creatives in her mini talk show, "Black Girl Magic Minute." Her purpose is to help her audience find the beauty in themselves and appreciate their cultural roots as well.
@theres.food.at.home - August (New York, NY) is a content creator who loves all things food-related. She owns John's Juice and Fluffy's NYC, based out of Brooklyn's most popular food market, Smorgasburg. Due to COVID-19, she found herself with a lot more free time and decided to start her TikTok journey in April 2020. August's goal is to help level up her audience's relationship with cooking at home, to make it fun and non-intimidating. To do this she focuses on easy recipes and hacks that can be replicated at home with everyday ingredients at an affordable price.
@trendycurvy - Kristine (Los Angeles, CA) loves to replicate popular trends and celebrity looks on her size 18 body. She's proud to encourage body positivity while sharing content about plus size fashion. She believes style is unlimited and everyone has the ability to push their own boundaries.
@veondre - Veondre (Seattle, WA) has been an activist for the transgender community since she came out. She is motivated to share trans stories because she realized they were making a positive difference in people's lives. She wants to support her community by continuing to use her platform to address trans subjects perceived to be taboo.
Black LIVE Entertainment
Starting today, #MakeBlackHistory will be a featured banner on the Discover page, connecting our community to a schedule of TikTok LIVE programming featuring Black creators and artists, including our Black TikTok Trailblazers @fatraco0n, @veondre, and more. Additionally, we're collaborating with @TheShadeRoom on a special TikTok LIVE featuring a different Black Trailblazer each week to discuss Black history, Black beauty and fashion, and Black progression. Community-favorite TikTok LIVE programs such as Learn on TikTok and Fashion Month will also honor and feature Black creators, celebrating all of the different expressions of Blackness.
Creative Effects
Our design team has also dreamt up new information stickers to help creators pay homage to Black history, Black creatives, Black pride and Black magic. The stickers were designed to celebrate Black culture and honor the colors of the Pan-African flag. To feature a sticker, open the Stickers tray after filming and add them on top of your video.
Music
From Ragtime, Jazz and Reggae and Blues to Hip-Hop and Soul, Black musicians have been innovators in their fields and shaped so much of modern day music as we know it. To honor the past, present, future and joy of Black music in the US, the Sounds page will have special playlists, banners, featured songs, and exclusively Black artists on TikTok LIVE music series airing throughout the month.
Community Support
While programming and live streams on TikTok open the doors to community creation, conversations, and celebration, we know the work continues in and across the Black community. We're donating $500K to non-profit organizations that fight for racial equality and justice, and that provide programs and resources to local Black communities. These organizations include Alvin Ailey Foundation, Black AIDS Institute, Thurgood Marshall College Fund, Operation Hope, Trans Women of Color Collective, CEE Centre for Young Black Professionals, and more.
To build on our Support Black Businesses initiative, we're launching an all-new Black Business Showcase within our app that will recognize and promote amazing Black-owned businesses throughout Black History Month. The TikTok community will be able to discover and shop from Black-owned businesses that participated in our recent #ShopBlack program including Maya's Cookies, F&W Style, LAMIK Beauty, and more. The month-long Black Business Showcase will be a reimagined experience within the Rewards section of the app, which can be located by searching for "Black Businesses" or "Rewards."
We're looking forward to celebrating our Black creators and their experiences and stories this Black History Month and beyond. Follow #MakeBlackHistory as we honor Blackness past, present and future.
( Press Release Image: https://photos.webwire.com/prmedia/7/269797/269797-1.png )
Related Links
WebWireID269797

This news content was configured by WebWire editorial staff. Linking is permitted.
News Release Distribution and Press Release Distribution Services Provided by WebWire.