Disposable gloves can be used up to 20 times with the right disinfection method
Single-use, medical-grade gloves could be safely reused up to 20 times when using certain disinfection methods – a welcome piece of news for frontline healthcare workers facing PPE shortages during the COVID-19 pandemic.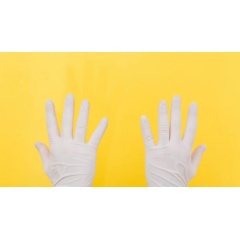 In a new study of six viral disinfection treatments on two commonly used types of disposable gloves worn for personal protection throughout the pandemic, researchers at the University of Waterloo found that alcohol, UV and heat treatment could be acceptable disinfection methods that allow the reuse of gloves up to 20 cycles.
Tizazu Mekonnen, a University of Waterloo chemical engineering professor and lead author of the study, said the team evaluated the effects of disinfecting gloves made from nitrile and ones made from latex with ultraviolet (UV) radiation, dry heat, steam, alcohol, chlorine compounds, and quaternary ammonium compounds, commonly found in disinfectant wipes, sprays and other household cleaners designed to kill germs.
Results showed that the barrier properties of both types of gloves were not affected using any of the six types of treatments up to 10 times.
Mekonnen, an expert in renewable polymers, became interested in researching the various disinfection treatments after he visited a Walmart pharmacy just after the pandemic started.
"The pharmacist told me that due to the shortage of PPE she was disinfecting and reusing her gloves multiple times," he said. "After speaking with her, I found there was no comprehensive study showing the impact disinfecting gloves has on the number of times they can be safely used."
Proper disinfection of gloves up to 20 times would significantly decrease the number that end up in landfill, decreasing the impact disposable gloves have on the environment, Mekonnen said.
While either type of glove could withstand up to 20 cycles of the six types of disinfection treatments with no observable change to its chemical structure and little to no change to its baseline strength, only the alcohol, UV and dry-heat treatments did not affect the barrier properties of the gloves as well when they were disinfected between 10 and 20 times.
The researchers found there was a slight reduction in the barrier properties of the gloves when steam, chlorine compounds and quaternary ammonium compounds were used in the same disinfection cycle.
Since alcohol can be used to disinfect gloves while they are still being worn, researchers consider it the most feasible disinfection method to prolong the life of the PPE. Alcohol is one of the most prevalent and inexpensive microbial disinfection techniques in both medical and non-medical settings.
Further research to ensure the recommended disinfection treatments meet occupational safety and health and similar administration guidelines is required before official recommendations are made for clinical re-use of medical gloves.
A paper on the Waterloo research findings – "Can Medical-Grade Gloves Provide Protection after Repeated Disinfection?" – was recently published in ACS Applied Polymer Materials.  The authors include  Mekonnen, Elnaz Esmizadeh, Boon Peng Chang, Dylan Jubinville,  Ewomazino Ojogbo,  Curtis Seto and Costas Tzoganakis, all of the University of Waterloo's chemical engineering department.
( Press Release Image: https://photos.webwire.com/prmedia/7/269690/269690-1.jpg )
Related Links
WebWireID269690

This news content was configured by WebWire editorial staff. Linking is permitted.
News Release Distribution and Press Release Distribution Services Provided by WebWire.