Rolls-Royce to deliver the first 8-cylinder variant of the new Bergen B36:45 gas engine series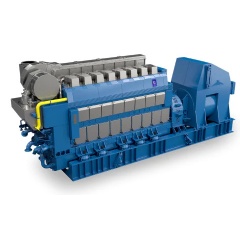 The first 8-cylinder variant of the Rolls-Royce Bergen B36:45 gas engine will be delivered to Belgian tomato producer Tomw@tt.
The Rolls-Royce Bergen B36:45 gas engine series continues its success in greenhouse applications. Being one of the first customers of the 6-cylinder variant in 2018, the Belgian tomato producer Tomw@tt has again opted for the highly efficient gas genset. With the new order, Tomw@tt will be the first customer to install the 8-cylinder variant of the new Rolls-Royce Bergen B36:45 engine series.
The medium speed genset is planned for delivery in the spring of 2021 and will replace an existing Rolls-Royce Bergen 12-cylinder B35:40 genset. Compared to its predecessor, the new B36:45 engine offers a 20 per cent increase in power per cylinder and sets a new standard in efficiency with exceptionally low fuel consumption and emissions.
Dirk Willaert, owner of Tomw@tt, said: "The high efficiency of the Rolls-Royce Bergen engines made us go for the blue engine again. We trust that the new B36:45 genset will be as reliable as the unit it replaces and continues to supply electricity, heat and CO2 for many years to come"
The new plant will generate 4700 kW electrical power and 5520 kW heat. Tomw@tt plans to use the generated electricity to power the greenhouse led lighting and sell the surplus energy to the Belgian grid. Heat extracted from exhaust gasses and engine cooling systems will be used to heat up the greenhouse facility. In addition, cleaned CO2 from the engine exhaust gases will be injected into the greenhouse to increase the level of CO2 and boost plant growth. Due to release of condensation energy in the exhaust gas, the plant will achieve outstanding efficiency levels.
Rolls-Royce has supplied the complete CHP for the greenhouse, including the exhaust gas systems with a selective catalytic reduction (SCR) system, heat exchangers and the electronic control system. Most of the current plant equipment will be re-used or reconditioned, in addition to new equipment as required for the new 8-cylinder engine.
Press photos are available for download from https://www.rolls-royce.com/media/press-releases.aspx. 
Read more about Rolls-Royce power generation based on medium-speed engines at www.rolls-royce.com/bergen.
About Rolls-Royce Holdings plc
Rolls-Royce pioneers cutting-edge technologies that deliver clean, safe and competitive solutions to meet our planet's vital power needs.
Rolls-Royce Power Systems is headquartered in Friedrichshafen in southern Germany and employs around 10,000 people. The product portfolio includes MTU-brand high-speed engines and propulsion systems for ships, power generation, heavy land, rail and defence vehicles and for the oil and gas industry as well as diesel and gas systems and battery containers for mission critical, standby and continuous power, combined generation of heat and power, and microgrids. Medium-speed engines from Bergen power ships and power generation applications.
Rolls-Royce has customers in more than 150 countries, comprising more than 400 airlines and leasing customers, 160 armed forces, 70 navies, and more than 5,000 power and nuclear customers.
Annual underlying revenue was £15.45 billion in 2019, around half of which came from the provision of aftermarket services.
In 2019, Rolls-Royce invested £1.46 billion on research and development. We also support a global network of 29 University Technology Centres, which position Rolls-Royce engineers at the forefront of scientific research.
( Press Release Image: https://photos.webwire.com/prmedia/5/269132/269132-1.jpg )
Related Links
WebWireID269132

This news content was configured by WebWire editorial staff. Linking is permitted.
News Release Distribution and Press Release Distribution Services Provided by WebWire.