Onur Genç: "There are three main aspects that define good leaders: entrepreneurship, empowerment and accountability"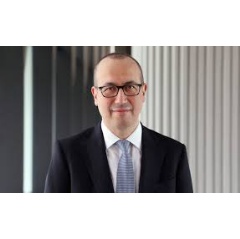 We all depend on each other to do well in life and I believe the value of success multiplies with the number of people involved in the making of it
BBVA's CEO was interviewed by a university publication where he did his MBA, Carnegie Mellon University (Pittsburgh, Pennsylvania, U.S.). Onur Genç shares his view of leadership and the importance of teamwork. "In my view, there are three main aspects that define good leaders: entrepreneurship, empowerment and accountability," he says.
As the CEO of one of the largest banks, Onur Genç is very familiar with leadership. In this interview published several weeks ago, he stresses that trust is the bedrock of teamwork. "We all depend on each other to do well in life and I believe the value of success multiplies with the number of people involved in the making of it," he says.
From his time at this American university, he underscores the opportunity it gave him to "interact with a very diverse set of colleagues" who helped shape his view of what a leader should look like in the corporate field. Onur Genç points to three key aspects. The first is having an entrepreneurial attitude: "Be courageous with our ideas and always strive to improve results," he explains. However, he stresses that: "This entrepreneurial attitude also calls for action. Leaders should always be ready to make decisions and act fast." Second, he indicates that: "We must empower people, actively listen to them, and inspire and encourage them to give the best of themselves." And third, "we must be accountable by taking ownership of our work to achieve results." Onur Genç recalls that: "Good leaders I've met were always taking accountability of what they do and making sure that others, who were empowered to do their jobs, assumed the same accountability."
BBVA's leadership in the transformation of banking
In a financial sector that is constantly evolving, adapting quickly to lead the change is a must. In this interview, BBVA's CEO explains that: "Digital transformation is something that we have been pushing for many years. We are pioneers in commitment to digital, and we have gone through a significant internal transformation," he maintains.
In his opinion, BBVA's digital strategy "is already paying off." Since 2015, "The number of clients that interact digitally and through mobile devices has doubled and tripled respectively," he notes. And he is especially proud "to have our BBVA Spain mobile banking app ranked at the top of Forrester's global mobile banking app list, for the third year in a row in 2020, and Garanti BBVA banking app ranked second globally."
Furthermore, Onur Genç feels that "one of the most important benefits of digitization is the impact on customer satisfaction." This has allowed BBVA to maintain "leading positions in the Net Promoter Score in the majority of the countries in our footprint."
Diversity and inclusion, increasingly important
"Diversity and inclusion are a key value for BBVA," says Onur Genç, who recalls that "we decided to face this challenge of diversity as one of BBVA's transforming drivers in the management and training of our employees."
We decided to face this challenge of diversity as one of BBVA's transforming drivers in the management and training of our employees
In the diversity area in particular, "we have decided to take action against gender bias in the execution of our talent and culture processes (inclusive job offers, Rooney Rule, which requires that at least half of the finalist candidates for internal positions should be women) and lifting the internal and external barriers for our female talent to advance (flexibility and work-life balance, defining an inclusive leadership model and creating additional sources of female talent to tap on and ensuring maternity impact is fair)," he explains.
"To ensure we deliver on this plan, we have defined diversity scorecards for each area that will be quarterly reviewed with me and the bank chairman," he says. Onur Genç also shares some results of this strategy, for example that "we have significantly improved our percentage of female directors in our management committee, from 5% a year ago to 19% as of today," he concludes.
( Press Release Image: https://photos.webwire.com/prmedia/6/269067/269067-1.jpg )
Related Links
WebWireID269067

This news content was configured by WebWire editorial staff. Linking is permitted.
News Release Distribution and Press Release Distribution Services Provided by WebWire.