Thales Alenia Space in 2020 – From Earth to Deep Space
An exceptional year for Earth observation and space exploration
Cannes –
WEBWIRE
–
Tuesday, January 5, 2021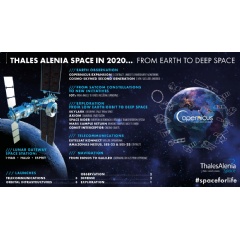 Despite the unprecedented health crisis in 2020, developments during the year confirmed that satellites play a key role in our world, today and for many years to come:
Protecting national sovereignty, while ensuring the defense and security of populations, increasingly depends on satellite solutions; at the same time, we are tackling new national and international challenges, such as a return to the Moon, the exploration of Mars and the commercialization of space.
Environmental monitoring and management are central concerns, both locally and globally.
We are seeing greater and greater demand for connectivity, spanning people and objects, along with high-speed content transmission.  
Geolocation and "safety of life" applications are developing at a fast pace.
Thales Alenia Space, the joint company between Thales (67%) and Leonardo (33%), is proud of the solid commitment of its people, and thanks its many customers, both public and private, whose agile and strengthened collaboration within the space ecosystem generated landmark successes in 20201, reflected in the company's watchword, "Space for Life".
Space to Explore: focus on a humanity return to the Moon and the exploration of Mars
Thales Alenia Space has confirmed its European leadership in space exploration and its world leadership in pressurized space station modules, since it will be supplying three key parts of the lunar space station Gateway: I-HAB, ESPRIT and HALO. Gateway is part of NASA's Artemis program, designed to land a crew on lunar soil by 2024. This program will also support plans to send humans to Mars in the near future.
Thales Alenia Space is the only European company involved in the design of NASA's Human Landing System (HLS), as part of the Dynetics-led consortium recently selected by the American space agency NASA. The company will also be contributing to VIPER, the NASA rover designed to look for water at the Moon's South Pole.
In addition, Thales Alenia Space was chosen to build two modules for the first commercial space station planned by Axiom Space, and contributes to the Orion spacecraft.
Within the scope of program contracts awarded by the European Space Agency (ESA), Thales Alenia Space will play a major role in the Mars Sample Return (MSR) mission, it has won a design study contract for the Comet Interceptor mission, and will team up with AVIO to build Space Rider, Europe's autonomous and reusable space transport system.
Space to Observe and Protect: Europe is launching its follow-on Copernicus Expansion environmental monitoring program and is developing two more satellites for Italy's COSMO-SkyMed observation program
In the Earth observation field, Thales Alenia Space plays a major role on five of the six new Copernicus Expansion environmental missions in this ESA/European Commission program. The company is prime contractor for the three missions CHIME, CIMR and ROSE-L, and will supply the IRIS radar altimeter for the CRISTAL mission and the payload for the CO2M mission.
What's more, the Space Alliance created by Thales Alenia Space and Telespazio has signed a contract with the Italian space agency and defense ministry to start the development of two additional satellites for the COSMO-SkyMed Second Generation (CSG) system, along with upgrades to the ground segment.
NorthStar has started development of its Skylark constellation, designed for space surveillance and the monitoring of space debris, for which Thales Alenia Space will build the first three satellites.
Space to Connect: new contracts won, Spacebus NEO and Space Inspire product lines reach new milestones
Thales Alenia Space has announced the construction of the Amazonas Nexus satellite for Hispasat (booked in 2019) and the SES-22 and SES-23 for SES, part of the plan for the redeployment of the dedicated 5G spectrum in North America. Thales Alenia Space has also announced the start of operations to build the SATRIA communications satellite for Indonesia, to help bridge the country's digital divide. At the same time, the EUTELSAT KONNECT satellite has been commissioned, signaling the successful deployment of Thales Alenia Space's first Spacebus NEO-based satellite with all-electric propulsion. In addition, Thales Alenia Space has taken another large step forward in the development of its Space Inspire (INstant SPace In-orbit REconfiguration) telecom satellite product line, with support from CNES and ESA, by passing the preliminary design review (PDR) with flying colors.
Space to Travel & Navigate: EGNOS extends its integrity and safety of life services, Omnispace launches its IoT constellation, designed to eventually provide the world's first 5G satellite network, while the Angels nanosatellite paves the way for Kineis, a French constellation dedicated to the Internet of Things.
EGNOS extends its integrity and safety of life services, Omnispace launches its IoT constellation, designed to eventually provide the world's first 5G satellite network, while the Angels nanosatellite paves the way for Kineis, a French constellation dedicated to the Internet of Things.
A major contributor to the Galileo system, and the EGNOS (European Geostationary Navigation Overlay Service) prime contractor for 25 years, Thales Alenia Space signed four new contracts concerning upgrades to EGNOS, as well as enhanced performance of its safety of life services for transport (air, road, rail). In particular, the EPICURE project is based on an integrity concept for road travel (tolls and insurance), while the IMPRESS project targets an integrity service for railroad signaling and train separation.
Thales Alenia Space is also developing the first two satellites for Omnispace's constellation dedicated to the Internet of Things (IoT), while Kineis is launching its own IoT constellation, comprising 25 nanosatellites, with Thales Alenia Space as system architect and in charge of payload development along with Syrlinks. This constellation will benefit from the technologies validated on the Angels nanosatellite, including the ARGOS NEO instrument designed by Thales Alenia Space as lead contractor.
Thales Alenia Space was aboard 10 spacecraft launched in 2020
3 communications satellites: EUTELSAT KONNECT, and the Express-80 and Express-103 satellites for Russian operator RSCC, built in partnership with ISS Reshetnev.  
3 pressurized modules for the International Space Station: 2 Cygnus cargo vessels and the NanoRacks Bishop Airlock.
1 observation satellite: Sentinel-6A for the Copernicus program, featuring Thales Alenia Space's Poseidon-4 altimeter to measure ocean surface height.
2 military observation satellites: FalconEye for the United Arab Emirates and CSO-2 for the French defense procurement agency DGA and space agency CNES.
1 exploration satellite: Solar Orbiter for ESA, with Thales Alenia Space providing the heat shield.
Thales Alenia Space invests in the space ecosystem: construction of a new clean room, development of FabLabs in Europe and partnerships to foster the use of green energy at our facilities
Thales Alenia Space implemented major measures last year to encourage the use of green energy, reflecting the Thales Group's aim of reducing direct greenhouse gas emissions by 40% by 2030: the installation of parking lot solar canopies, "energy performance contracts", etc.
Within the scope of actions initiated by the Innovation Cluster, Thales Alenia Space opened a new FabLab in Cannes, along the lines of those already running in Toulouse, Rome and Turin. These FabLabs are designed to foster employee creativity and an innovation culture within the company. They allow employees to submit ideas, culminating in the application of personal and professional projects.
The construction of a new clean room at the Thales Alenia Space plant in Madrid is advancing on schedule; in particular, it will house the assembly, integration and testing (AIT) operations for the SPAINSAT NG payload.
1 – based on 2020 announcements
ABOUT THALES ALENIA SPACE
Drawing on over 40 years of experience and a unique combination of skills, expertise and cultures, Thales Alenia Space delivers cost-effective solutions for telecommunications, navigation, Earth observation, environmental management, exploration, science and orbital infrastructures. Governments and private industry alike count on Thales Alenia Space to design satellite-based systems that provide anytime, anywhere connections and positioning, monitor our planet, enhance management of its resources, and explore our Solar System and beyond. Thales Alenia Space sees space as a new horizon, helping to build a better, more sustainable life on Earth. A joint venture between Thales (67%) and Leonardo (33%), Thales Alenia Space also teams up with Telespazio to form the parent companies' Space Alliance, which offers a complete range of services. Thales Alenia Space posted consolidated revenues of approximately 2.15 billion euros in 2019 and has around 7,700 employees in nine countries. www.thalesaleniaspace.com
( Press Release Image: https://photos.webwire.com/prmedia/6/268573/268573-1.jpg )
Related Links
WebWireID268573

This news content was configured by WebWire editorial staff. Linking is permitted.
News Release Distribution and Press Release Distribution Services Provided by WebWire.