Adventurous Muguruza cherishing every moment
Spaniard is taking nothing for granted as she plans her assault on the new season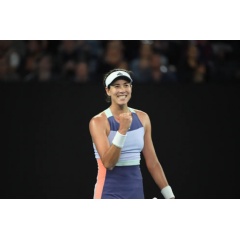 ©Corinne Dubreuil/FFT
Most players coming out of their preseason training will tell you they spent more weeks than usual preparing for 2021, honing their skills, improving their fitness and adding various elements to their game. 
But only Garbiñe Muguruza will tell you that a portion of her offseason was spent performing exercises with Spain's Civil Guard in Mallorca, jumping from helicopters, going cave diving and trekking mountains on search and rescue missions.
Garbi the daredevil
After summiting Africa's highest peak, Mount Kilimanjaro, during her 2019 offseason, the 2016 Roland-Garros champion continues to fully embrace her adventurous side, proving that having interests away from tennis is beneficial, not just for her general well being, but also for her on-court form. 
The 27-year-old Spaniard started 2020 by reaching the quarter-finals or better in her first five tournaments, including a runner-up showing at the Australian Open. 
"It's a tough experience and you learn a little bit about you, how you handle it there, the mental strength, and physically also, it's a little bit of a workout," Muguruza said of her Kilimanjaro trip last year in Melbourne. 
"It was a very hard challenge, completely different to what I do. You're climbing that mountain and it's only you. You don't get any award, any prize, any photo, any nothing up there.
"It's really challenging you physically and mentally to be there, and I was just looking for something fun, different experience outside from tennis. I really liked the experience to see myself in the middle of nowhere and, yeah, just having one clear thought just to keep climbing."
Muguruza's most recent adventure with the Civil Guard was something she'd been dreaming of doing for a long time. The two-time Grand Slam champion found it to be an eye-opening experience and looks refreshed and ready to kick off her 2021 season in Abu Dhabi this week, where she opens her campaign against France's Kristina Mladenovic. 
A lifelong dream
"I've always wanted to do military training since I was a little kid, but it just wasn't good timing, playing tennis and it had to wait," explained the former world No 1.
"And so we kind of put it all together with their help, because it wasn't easy to organise. It was an incredible week. We went to Mallorca to train there, and just sharing, more than actually the activities we did, which were already incredible, just sharing with them this kind of job that they do that actually nobody knows it, or they don't get an award or a trophy. 
"It was such an experience, I loved it. It was a dream I always wanted to do since I was a little kid, so it was a great week."
Newfound perspective
Muguruza, currently ranked 15 in the world, says her time away from court last year during the tour's five-month hiatus due to the pandemic gave her new perspective. She enjoyed her time at home, despite missing the feeling of competition, and now says she's at a phase in her career where she is taking nothing for granted. 
"I feel I'm pretty advanced already, starting to feel like I've been around for quite some years already and just my mentality is switching to taking every tournament in a different approach, going to every Grand Slam thinking, 'Okay, I'm happy to be here'," she said.  
"I don't know how many times I'm going to play Australian Open at this point, so I'm excited to be back and to play and hopefully I'll be back for sure many more years. But it's changing a little bit, you know when you're a junior,  you're just thinking, 'Okay I'm going to play this tournament for 15 years', and now I feel like, 'Okay, let's give it all, you don't know how many more you're going to play', so just taking everything more like… to live it a little bit more."
Eyeing gold with Rafa
One of Muguruza's biggest goals for the season is the Tokyo Olympics, where she hopes to compete in all three tennis events. The Games were postponed from last season and have been rescheduled for this summer. 
A long-awaited mixed doubles partnership with 13-time Roland-Garros champion Rafael Nadal is in the works for Muguruza, and she also hopes her compatriot Carla Suarez Navarro will be back to the tour by then after stepping away from the sport to receive cancer treatment last year. 
"I'm very excited for the Olympics. I was excited last year and I'm still excited, hopefully this year is going to happen. About the mixed doubles with Rafa, yes of course I'm excited. We tried to play in Rio but it's kind of hard to play singles, doubles and mixed doubles, so at the end we couldn't play," she added. 
"But I'm always super looking forward to playing with Rafa, he's one of the best players in history to play with, I think that would be great. I think it would be great to play doubles with Carla if she's able to be back. So I want to play all of the competitions."
( Press Release Image: https://photos.webwire.com/prmedia/7/268559/268559-1.jpg )
Related Links
WebWireID268559

This news content was configured by WebWire editorial staff. Linking is permitted.
News Release Distribution and Press Release Distribution Services Provided by WebWire.