2020: Tech Nation's Year in Review
WEBWIRE
–
Wednesday, December 30, 2020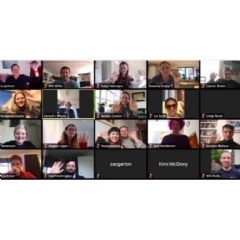 2020 has been a year like no other and we are hugely grateful to those who have worked tirelessly to help us navigate these unprecedented times. At Tech Nation, we have been steadfast in our objective to unlock the growth potential of scaleups and their leaders during this period. A record year for Tech Nation
Engaged with 944 new companies (up from 799 in 2019) 
1,700+ Tech Nation visa applications (up from 900 in 2019)
2 billion data points analysed to deliver 12 insight reports (up from 500M data points and 6 reports in 2019)
10,000+ active learners via our Academy (up from 9,200+ in 2019)
6,675 event attendees from 60 countries (up from 2,000 in-person in 2019)
24% of all UK tech unicorns created have been through one of Tech Nation's programmes
From 32% to 68% representation from outside London with the companies we work with since 2018
-$650M of Gross Value Add to the economy contributed, and on track to deliver $1Bn by March 2022 
As set out in our impact report in March, we have engaged with nearly 2,000 businesses in the past five years and generated upwards of £439m GVA for the UK economy. Alumni of our programmes have cumulatively raised $20bn and we've supported the growth of 20 unicorns and seen nine IPOs. Our ambitions are as big as those of the founders we support and we take great pride in being part of their journeys.
The team has adapted superbly to 'working from anywhere' and it is their commitment and resilience which has enabled us to engage with over 650 new companies in the past year. We've also had 40 new joiners in this time. This includes our great new chair, Stephen Kelly, who has brought a wealth of knowledge, experience and enthusiasm to our mission as well as our brilliant new board members who joined in September.
A year like no other
The pandemic has had a profound impact on society's relationship with digital technology. We have kept in touch with loved ones through video calls. The idea of the 'workplace' has been totally reinvented. The number of people reliant on physical cash has dropped from 20 million to five million. The adoption of digital technology has been accelerated in every aspect of our lives and at a remarkable rate.
For example in healthtech. In the space of a few weeks, this sector has been required to take leaps which would usually take years. For example, Oxford Optronix developed brand new breathing aids with Mercedes F1 in less than seven days and AccuRx built a video consultation product for GPs over a single weekend. Similar rapid innovation was delivered in edtech too, ensuring our children could swiftly transition to learning online. Across industries, tech companies have adapted, collaborated and innovated in the face of a common goal and we should be immensely proud of their achievements.
Reports and ecosystem
None of this would have been possible without a strong UK tech ecosystem. Our annual Tech Nation Report was released in March of this year – a pivotal month in the world's battle with the coronavirus pandemic. The report outlined how UK digital tech grew six times faster than any other industry in the year prior and was home to 77 tech unicorns (a figure which has since grown to 85), plus an additional 100 'futurecorns'.
In this year's Unlocking Global Tech Report, we showed that the UK was the 5th greatest digital tech services exporter in the world in 2019, at £23.3bn. UK tech also currently exports far more than it imports, with a trade surplus of 55% in 2019, underlining how harnessing the export potential of high growth tech companies will prove pivotal during the recovery process.
Knowledge sharing is a pillar we remain deeply passionate about and forms the basis of our shared understanding on where to work collaboratively to promote growth. In 2020, we analysed over two billion data points for our 12 insight reports. Next year we hope to push this further still and continue to contribute to policymaking processes with the information we gather and disseminate.
Support and events
One such area we were proud to work with government on this year was the Future Fund, established to support the UK's most innovative businesses through the difficult pandemic period. In our trusted position between the worlds of Westminster and the scaleup community, we will always endeavour to bring voices together for a joined up approach to the biggest issues we face.
This thinking also led to arranging Lockdown Unlocked in March. The event brought together key political and industry stakeholders for an online event designed to help scaling businesses with their key challenges during the pandemic. It underlines our ability to convene the right people at the right time and in the right context.
Moving online with our event programme this year has not been without its own challenges. However, it has enabled us to considerably boost our global reach – with 6675 event attendees from 60 countries over the past 12 months. Expanding our sphere of influence in this way has been hugely beneficial in terms of the network effect. It shows to the world that the UK is one of the most innovative markets and allows us to present Tech Nation and our cohorts to a truly global audience.
Growth programmes
In terms of our cohorts, in March, we welcomed a further 28 additions to our prestigious Future Fifty programme: the longest-running and most successful accelerator programme for late-stage tech companies in Europe. The companies joining Future Fifty 8.0 have already raised over £1.4bn, employ nearly 6,000 people and includes two unicorns – bringing the total from this programme to 18. From Benevolent using AI to discover and develop new medicines to Elvie improving the lives of women through smarter technology, these companies are transforming society and the markets they operate in. 
This year we also had a further 30 of the UK's fastest growing tech companies join our Upscale programme, reinforcing our commitment to providing support at every stage of the scaling journey. Many of these companies are addressing some of society's most pressing issues, too. For example, Arctic Shores improving diversity and inclusion in recruitment processes and Kheiron Medical using machine learning to help more accurately detect breast cancer. This cohort has so far raised a combined total of £216.6m and we will work together to help them grow and contribute to a maturing UK tech ecosystem. 
We have also shown dedication to creating a truly national network of digital excellence and to levelling up tech ecosystems in every corner of the country. In the past two years, the percentage of non-London companies we support has jumped from 32 to 62 per cent. In February, it was also a pleasure to host Minister Warman at the Grand Final for Rising Stars 2.0. This competition highlights the sheer breadth of innovative, early-stage tech companies across the UK and we have just announced the regional winners for next year, too.
Sectors
In October, we were thrilled to induct a further 32 companies into our Applied AI programme for tech companies with artificial intelligence at their core. Many of the hurdles they face are unique and require bringing together sector-specific expertise to overcome them collaboratively. That is the value of running targeted programmes alongside our broader schemes and that is what we will continue to build on in 2021.
This year we were particularly proud to launch the Net Zero growth programme, in partnership with BNP Paribas. This is the very first in the world to focus specifically on companies driven to reduce global greenhouse gas emissions and is aligned with the government's objective of achieving net zero by 2050. From businesses decarbonising energy systems, such as Zeigo and Electron, to those creating zero-carbon homes, such as Sero and Project Etopia, these companies are driven by a desire to reverse human impact on our climate system – and so are we. We know that the journey to net zero will be demanding, but we are passionate about the role that tech can play and we are prepared to back these companies for years to come.
2020 also saw us push into the emerging world of lawtech, launching LawtechUK alongside the Lawtech Delivery Panel and the Ministry of Justice. This year has shown just how important digital transformation is across industries and this programme aims to provide tools, leadership and support to build the UK legal sector of the future. In December, we welcomed the first five participants of the Lawtech Sandbox Pilot. This initiative aims to nurture the development of potentially game-changing technologies in a supportive environment with access to data and engagement with cross-sector regulators.
Our objective is to help the emerging strand of lawtech become as strong and as ubiquitous as fintech has become within our tech ecosystem. In September, we announced the 31 companies selected to join Fintech 3.0, our growth programme for the best and brightest UK fintechs, and we also launched the UK Fintech Pledge. Developed by our Fintech Delivery Panel, supported by HM Treasury, it aims to accelerate the growth of the sector by boosting collaboration between banks and leading fintech firms. Barclays and HSBC were among the initial five major banks to sign up, followed by a further five financial institutions in December. This important work shows the forward-thinking, proactive approach to innovation being embraced across the UK's financial sector.
Talent
Talent is of course also at the core of what makes our ecosystem world-leading – and, in 2021, we've seen this workforce begin to flourish. According to our Tech Nation Jobs and Skills Report, the number of advertised roles in digital tech grew by 36 per cent between June and September and the sector now employs more than a fifth of the workforce in the UK's nine largest cities. 
Supporting the development of this talent right across the country and ensuring we remain open to the brightest and best globally will be key in 2021. We continue to do so within the core companies we support, but also through our Digital Business Academy. In 2020, over 2300 people completed the free courses on how to start, grow or join a digital business and we had over 10,000 active learners.
Global reach
In terms of global talent, November saw the release of the Tech Nation Visa Report, produced in partnership with Kingsley Napley. Over the last two years, the visa has received more than 1,975 applications, and endorsed over 920 visas from over 50 countries worldwide. Demand for the route has continued to rise too, with growth of 45% and 48% in the past two consecutive years. Attracting exceptional tech talent and those with extraordinary potential will be essential to retaining our position as a global tech leader and we will continue to work tirelessly to help facilitate this process.
In September, we were also delighted to work with DIT and DCMS to launch the Digital Trade Network to enhance the ability for UK tech companies to reach international customers and investors. The network focuses on the Asia-Pacific region, where it is estimated that the next billion to come online for the first time will be located. With a new team of Country Leads, we are driven to help our cohort businesses scale in international markets, to share best practice around the world and to help the UK become a global powerhouse.
Future
In 2020, we at Tech Nation have remained resolutely committed to supporting the growth of the companies and leaders that are transforming societies and economies. 
2021 is about continuing our own trajectory and that of our cohort companies. It's about pushing towards our objective of unlocking the growth potential of 1000 scaling tech businesses by 2022, unlocking over $1bn to the UK economy. It's about growing our world-leading tech ecosystem across a breadth of areas, such as AI, fintech and net zero, and increasing our global reach and influence. It's about nurturing a more inclusive and equitable tech sector for diverse talent through targeted support like our proposed Founders Toolkit. And, ultimately, it's about harnessing the potential of tech to help the UK build back better.
( Press Release Image: https://photos.webwire.com/prmedia/7/268441/268441-1.jpg )
Related Links
WebWireID268441

This news content was configured by WebWire editorial staff. Linking is permitted.
News Release Distribution and Press Release Distribution Services Provided by WebWire.