Radio 4 looks to the future: from big ideas that shape our lives to small ways to help the planet
Radio 4 starts the new year with factual series that explore the world in 2021 and beyond, as well as dramas and comedies that shine a different light on lives across the UK.
WEBWIRE
–
Wednesday, December 30, 2020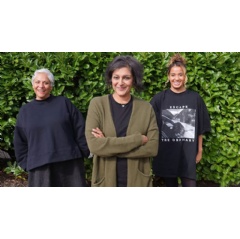 We've been presented with huge challenges in the last year both as individuals and as a society, and in 2021 Radio 4 will continue to provide listeners with information, analysis as well escapism and joy. -Mohit Bakaya, Controller, Radio 4
New Radio 4 programmes in early 2021 include:
The return of Rethink, the landmark project launched during lockdown to ask how the world might change for the better after the pandemic
Matthew Syed explores the ideas that shape our lives with stories to help you see them differently
A new major series on how to combat climate change that will be broadcast throughout 2021
Faith, Hope And Glory, an ongoing drama series illuminating the emergence of modern Britain
The Battersea Poltergeist, a new eight-part paranormal drama starring Dafne Keen and Toby Jones
Amna Saleem's sitcom Beta Female; Meera Syal returning to her much loved character, Granny Kumar
Other programmes feature world class actors, writers and brilliant comedians including Ariyon Bakare, Michael Sheen, Archie Panjabi, Pippa Bennett-Warner, Marian Keyes, Joz Norris, Imran Yusuf, Jayde Adams and more.
Controller of Radio 4, Mohit Bakaya, says: "We've been presented with huge challenges in the last year both as individuals and as a society, and in 2021 Radio 4 will continue to provide listeners with information and analysis, as well escapism and joy.
"I also want Radio 4 to keep being a place that looks forward, to explore solutions to problems and bring people together to find ways to improve the world we live in.
"In early 2021 Radio 4 will continue the Rethink project, looking at what could change for the better, exploring the ideas that shape our lives, as well as giving listeners brilliantly entertaining and equally illuminating new drama and comedy, with world-class names"
At the start of 2021, Radio 4 programming will look to the future and continue the landmark project that rethinks the world as it emerges from the pandemic. During the first week of January, Radio 4 will broadcast Rethink Fairness, a series of five programmes hosted by Amol Rajan, that continue the discussions that took place during the Rethink project on BBC Radio last year.
Throughout those conversations and essays there emerged one major theme: fairness. The pandemic brought renewed focus on how we value those who have kept shelves stacked, transport running and the old and sick cared for. There has been talk for decades about regional and health inequalities, but is now the time to bring about a fundamental shift? Across the five programmes Amol Rajan and guests including Professor Angus Deaton, Helena Morrissey, Professor Michael Marmot, Baroness Minouche Shafik and Lord Willetts, will look at fairness in the UK in relation to wealth, regional, educational, generational and health divides.
Also from 4 January and across 40 episodes broadcast throughout the year, in Radio 4's biggest series to date on climate change Tom Heap and Dr Tamsin Edwards uncover fresh ways to tackle the challenge in 39 Ways To Save The Planet. From tiny rice seeds and perovskite solar cells to the total transformation of the Siberian landscape, Tom and Dr Edwards from Kings College London view this fundamental problem of our age from a fresh perspective. Small things that make a big difference and big things that make a small difference.
Bowie Five Years On is a series of programmes to celebrate the life and work of this visionary artist to mark the fifth anniversary of his passing. The centrepiece is Bowie: Dancing Out In Space - a two-hour show to be broadcast on both BBC Radio 4 and BBC Radio 6 Music on 10 January, with guests including Tony Visconti, Chris Hadfield, Maggie Aderin-Pocock, Hanif Kureshi, Grayson Perry and Christine And The Queens and the season will see a host of other content across the two networks, including an edition of Soul Music about Life On Mars; an Archive On 4 of Bowie in his own words - Bowie Verbatim; and Low, a drama, on Radio 4.
In Dante 2021 (from 11 January) the BBC's Europe Editor and lover of all things Italian, Katya Adler, sets out to discover why the Dante's Divine Comedy are such key works for the 21st century, on the 700th anniversary of the Italian poet's death. With extensive readings from the poems by Michael Sheen as Dante and featuring specially commissioned music by Emily Levy.
Fergal Keane explores the profound influence the Irish have had on Britain over many centuries in a new three part series: How The Irish Shaped Britain (from 11 January). Keane will argue that some of the most treasured features of Britishness are in fact Irish - or at the very least, some of their finest proponents have been Irish. As migration, integration and assimilation dominate public debate in Britain, he examines the impact of the longest and biggest immigrant story in the history of the United Kingdom.
From 8 February, bestselling author Matthew Syed presents a major new series for Radio 4. Sideways explores ways of seeing the world from a different perspective, connecting disparate ideas and thinking to offer new insights.
In each episode, he tells stories from recent history, arts and science that have big ideas at their heart. In the first series, topics include:
The US air force colonel who found the secret to a winning strategy and his hidden influence on British politics
How a Swedish producer overcame the 'six-year rule' of pop music success
The British anthropologist who claimed to have found the most selfish people on earth
The shady beginnings of Stockholm Syndrome
With sound design from Peabody prize winner Benbrick (Have You Heard George's Podcast).
New comedy on Radio 4 includes a series of stand-up specials are broadcast from 3 January fronted by an array of talents including Joz Norris, Kiri Pritchard McLean, Imran Yusuf, Jayde Adams, Elvis McGonagall, Gemma Arrowsmith and more.
Beta Female, starting 12 January, is a sitcom by Amna Saleem. Kiran Sonia Sawar (Black Mirror, Pure) stars as Amna, a young woman trying to find her place in the world - in her work, in her relationships, and in her family.
On BBC Sounds from 21 January The Battersea Poltergeist - a paranormal cold case, re-investigated. 63 Wycliffe Road is an ordinary house on a quiet London street, but in 1956, it becomes famous as the site of an alleged poltergeist. Presented by Danny Robins, starring Dafne Keen, Toby Jones, Burn Gorman and Alice Lowe, with original theme music by Mercury-nominated Nadine Shah and Ben Hillier, this gripping eight-part series interweaves a chilling supernatural thriller set in 50s London with a fascinating modern-day investigation that explores a mystery unsolved.
Revolution and psychological torment lie at the heart of Dostoevsky's unsettling tales. Gary Lilburn and Jonathan Forbes star in Melissa Murray's new dramatisation Devils on 24 January.
On 28 January Ariyon Bakare (His Dark Materials) and John Hollingworth (The Crown, The Queen's Gambit) star in Voodoo Macbeth - a dramatisation of the making of that landmark theatrical event, the staging of which the young director Orson Welles regarded as "my greatest achievement".
Madhur Jaffrey is a well-known writer and performer, whose work was seminal in introducing Indian and Asian cooking to the USA and UK. Her first cookbook, An Invitation to Indian Cooking, was an instant hit in 1973. From 1 February, Radio 4 presents a new audio drama of the same name, a vivid depiction of a groundbreaking Indian actress and rising star writer in the 1950s - 1970s. An Invitation to Indian Cooking stars Archie Panjabi (The Good Wife, The Fall) as Madhur and Raj Ghatak as Ismail Merchant.
Also in February, Granny Kumar is back! Meera Syal's glorious comedy creation returns in Gossip And Goddesses with Granny Kumar, with her great granddaughter Maya (Ambreen Razia) and arch nemesis 'frenemy' Geeta (Harvey Virdi) to chat with a host of fascinating female guests. Starting with Samira Ahmed & Thandie Newton, Granny Kumar also talks to women including Beverley Knight, Maggie Aderin-Pocock, Anoushka Shankar, Konnie Huq, Mandip Gill and Anita Rani. From 10 February.
Faith Hope and Glory, starting 12 February, is an ambitious new series to begin broadcasting in 2021 telling telling stories from the immigrant perspective that together illuminate the emergence of modern Britain. Set between 1946 and the present day, the series is written by Roy Williams, Rex Obano and Winsome Pinnock. The cast includes Pippa Bennett-Warner, Shiloh Coke, Danielle Vitalis, Gary Beadle, Stefan Adegbola and Martins Imhangbe.
International bestselling Irish author Marian Keyes returns for a second series of her programme Between Ourselves from 18 February, showcasing her non-fiction writing in conversation with fellow writer and performer Tara Flynn. The chosen readings and encapsulating conversations are themed around the ideas of adventure, shame, bad health and the whole crazy notion of 'being an adult'.
( Press Release Image: https://photos.webwire.com/prmedia/6/268429/268429-1.jpg )
Related Links
WebWireID268429

This news content was configured by WebWire editorial staff. Linking is permitted.
News Release Distribution and Press Release Distribution Services Provided by WebWire.