Conversations With Colleagues: Dafina Dunmore, Fitch Ratings' Director of Financial Institutions, Shares Her Kwanzaa Traditions
WEBWIRE
–
Monday, December 28, 2020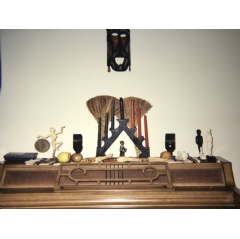 The kinara has seven candles that represent the seven principles of Kwanzaa.
Kwanzaa is a seven-day celebration founded and observed in the U.S. to honor African American culture. Observed Kwanzaa is a time for family and love. 
Every year, my family and I honor the principle of each day by lighting the corresponding candle on the kinara and discussing its meaning and how it resonates with us. We give thanks to our ancestors — those we know and those from afar — by calling out their names during libation — the pouring of water into a plant, representing life.
The kinara has seven candles that represent the seven principles of Kwanzaa. Our whole family, from children to elders, lights a candle each day and discusses the meaning of that day's principle. The center black candle is lit first, and lighting alternates between the red and green candles from outside in. While each family's practice of the traditions and application of the principles may vary, they are all derived from the seven principles, Nguzo Saba, defined as:
   1. Umoja (Unity) – To strive for and maintain unity in the family, community, nation and race.
   2. Kujichagulia (Self-Determination) – To define ourselves, name ourselves and speak for ourselves, instead of being defined and spoken for by others.
   3. Ujima (Collective Work & Responsibility) – To build and maintain our communities together, to make our brothers' and sisters' problems our problems and to solve them together.
   4. Ujamaa (Cooperative Economics) – To build and maintain stores, shops and other businesses and to profit from them.
   5. Nia (Purpose) – To make as our collective vocation the building and developing of our community in order to return our people to their traditional greatness.
   6. Kuumba (Creativity) – To do always as much as we can, in the way we can, in order to leave our community more beautiful and beneficial than we inherited it.
   7. Imani (Faith) – To believe with all our heart in our people, our parents, our teachers, our leaders and the righteousness and victory of our struggle.
The table is also set in a very special way, using black, green and red cloths and a special set of symbols:
   1. Colors – Black represents the people and the rich soil that we use. Green is for fertility, youth and ideas. Red is for our struggle and the blood of the people which has not been shed in vain.
   2. Straw Mat – The mat symbolizes tradition as the foundation on which all else rests.
 3. Basket – Filled with fruits and vegetables, the basket symbolizes the fruits of our labor.
   4. Ear of Corn – The corn symbolizes the children of the family. There should be one ear of corn on the table to represent each child in the family.
   5. Kinara (Candleholder) – The kinara symbolizes the Motherhood from which we all came.
   6. Unity Cup – The cup, which symbolizes unity, is used to pour libation to honor the spirits of our ancestors.
   7. Gifts – Special gifts, which symbolize the love we share with one another, are given to children for commitments made and kept.
Our Kwanzaa celebrations include singing and dancing, storytelling, poetry reading and African drumming, which culminates in gift giving and a big feast. The meals are very similar to a traditional Thanksgiving meal, consisting of collard greens, dressing, turkey, mac-n-cheese and much more deliciousness.
Gifts are typically given to kids but not necessarily exchanged between adults to avoid becoming overly commercialized. Handmade gifts are encouraged to promote self-determination, purpose and creativity. Gifts are also purchased from Black-owned businesses to promote cooperative economics. These gifts symbolize love, achievement and success.
The fondest memories for me are the annual celebrations that we attended with dancers performing traditional African dance movements to the beat of live drummers. There was also a market where people sold handmade goods from jewelry to clothing and art. It was really high energy and we sang, danced and had a great time!
Unfortunately, due to the coronavirus, the extended family will not be gathering in person this year. However, we will still honor the principles, reflect on our ancestors and give gifts to the children in the family.
Wishing you happiness at Kwanzaa and faith, unity and hope in the New Year!
( Press Release Image: https://photos.webwire.com/prmedia/7/268293/268293-1.jpg )
Related Links
WebWireID268293

This news content was configured by WebWire editorial staff. Linking is permitted.
News Release Distribution and Press Release Distribution Services Provided by WebWire.