New imperial couple "Sisi and Franz" found - Netflix Original "The Empress" (WT) about to start production
Berlin/Munich –
WEBWIRE
–
Monday, December 21, 2020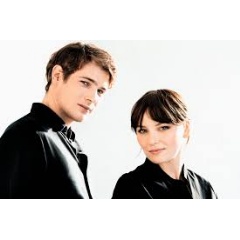 Six-part German Netflix Original series about the iconic Empress of Austria-Hungary goes into production in spring 2021

Devrim Lingnau ("Auerhaus") and Philip Froissant ("Black Island") take on the leading roles of the imperial couple

Katharina Eyssen ("Holiday Secrets") is responsible as showrunner and writer

Directed by Katrin Gebbe ("Pelican Blood") & Florian Cossen ("NSU German History X")

Jochen Laube and Fabian Maubach from Sommerhaus Filmproduktion ("When Hitler stole Pink Rabbit") are responsible for the production on behalf of Netflix

Launch of series expected in spring 2022
A day in August 1853, two young people meet. A fateful encounter - the proverbial love at first sight. He is Emperor Franz Joseph of Austria-Hungary, she is Elisabeth von Wittelsbach, Princess of Bavaria and the sister of the woman Franz is to marry… The stirring life story of Empress Elisabeth - better known as "Sisi" - has thrilled audiences in Germany, Austria and Switzerland for generations.
Now a new imperial couple has been found: Devrim Lingnau and Philip Froissant are taking on the lead roles in the new Netflix Original series. Devrim Lingnau first appeared in front of the camera at the age of 16. Since then she has been shooting continuously for film and television and has appeared in leading roles in the two-parter "Unter Verdacht: Verlorene Sicherheit" (director: Andreas Herzog), the English feature film "Carmilla" (director: Emily Harris) and the novel adaptation "Auerhaus" (director: Neele Leana Vollmar), among others. Philip Froissant lives in Munich and attends the Otto Falckenberg School there. The 26-year-old found his way to acting via detours and was most recently in front of the camera during the filming of the Netflix thriller "Schwarze Insel" (director: Miguel Alexandre) .
For Netflix, showrunner Katharina Eyssen retells "Sisi" with her co-writers Bernd Lange and Jana Nandzik. Eyssen is thrilled: "THE EMPRESS offers us the chance to tell the moving story of Empress Elisabeth for a contemporary audience. According to a modern image of women. Devrim is not only a highly talented, multi-faceted actress, but for me embodies this very woman: intelligent, passionate, rebellious. Philip Froissant, for his part, will make of the role of Franz Joseph something we have not seen before: An ambivalent and fascinating ruler whose conflicts are more topical than ever."
Eva van Leeuwen, Manager Local Originals bei Netflix: "We are immensely pleased to be able to retell the story of this dazzling and much-loved figure - with all the complexity that made up the empress - and thus to delight both an audience that will rediscover Sisi as well as the fans of the cult films from the 1950s. Hardly any other historical figure possesses so much fascination and charisma - even beyond the borders of Austria and Germany. We can't imagine a better team in front of and behind the camera to tell the story of Sisi and Franz and the Habsburg court for Netflix."
Sommerhaus will go into production as early as spring 2021. The 6 episodes directed by Katrin Gebbe and Florian Cossen will be shot in .... and will focus on the first months after Sisi's arrival at the Viennese court. It is the great love story between Elisabeth and Franz that is the focus of the narrative. Elisabeth is told as a young woman ahead of her time, rebelling against the rigid rules of the 19th century and the court. She meets Franz, a multi-layered ruler with fractures who played a major role in shaping modern European history.  Against the backdrop of jealousy, intrigue and power struggles behind the scenes of the Habsburg court and the emerging question of freedom of the people, the audience is taken into a glittering illusory world in which young Sisi must fight for her place at court as well as for the right not only to be the figurehead of an ailing empire.
Jochen Laube and Fabian Maubach from Sommerhaus Filmproduktion about the new Netflix Original: "We are very happy to work again together with Netflix, there in particular with Eva van Leeuwen, and the wonderful Katie Eyssen as author and showrunner on this special project. With Katrin Gebbe and Florian Cossen we were able to win an outstanding directing duo for "The Empress", our absolute dream combination. To experience Devrim Lingnau and Philipp Froissant as Sisi and Franz in front of the camera by these two filmmakers, who are highly esteemed especially for their intensive acting, will be a huge feast. With these such highly talented young actors as the face of our series, we go into the coming year with Katie, Katrin, Florian and Eva and couldn't be happier about it."
Expected launch of the new Netflix Original is spring 2022.
About the Netflix Original "The Empress" (working title)
When the rebellious Elisabeth ("SISI") meets Franz, the Emperor of Austria, the young couple's intoxicating love completely upsets the power structure at the Viennese court. After the wedding, the young empress must assert herself not only against her mother-in-law, the sovereign, power-hungry Sophie, but also against Franz's brother Maxi, who himself longs for the throne (and for Sisi). As enemy troops form up on the borders of the Habsburg Empire, people in Vienna rise up in protest against the emperor. Elisabeth must find out who she can trust and how high the price is to be a true empress and a figure of hope for the people.
About Sommerhaus Filmproduktion
Since 2015, Jochen Laube and Fabian Maubach have jointly headed Sommerhaus Filmproduktion. In addition to Thomas Stuber's In the Aisles (Berlinale Competition 2018), their projects to date include Sandra Nettelbeck's What Doesn't Kill Us (world premiere Piazza Grande Locarno 2018, Dominik Graf's highly successful SWR Tatort episode Der rote Schatten and Katharina Eyssen's Netflix series Holiday Secrets directed by Samira Radsi. When Hitler Stole Pink Rabbit, directed by Caroline Link and based on Judith Kerr's semi-autobiographical novel, has attracted over a million cinemagoers since its launch at Christmas, 2019. It was awarded the Bavarian Film Prize and the German Film Prize for Best Children's Film. Burhan Qurbani's adaptation of Alfred Döblin's famous novel Berlin Alexanderplatz celebrated its world premiere at the 2020 Berlinale film festival. The film received 5 'Lolas' at the German Film Awards in 2020 - for Best Production Design, Best Film Score, Best Cinematography, Best Male Supporting Role and a silver Lola in the category Best Feature Film. Composer Dascha Dauenhauer won the European Excellence Award for Berlin Alexanderplatz at the 33. European Film Awards. Recently completed projects were Maggie Peren's romantic comedy Hello Again – A Wedding a Day and Exit, a science fiction film for ARD, Germany's major public TV broadcaster, directed by Sebastian Marka. Sommerhaus Filmproduktion has branch offices in Berlin, Ludwigsburg and Munich.
( Press Release Image: https://photos.webwire.com/prmedia/6/268141/268141-1.jpg )
Related Links
WebWireID268141

This news content was configured by WebWire editorial staff. Linking is permitted.
News Release Distribution and Press Release Distribution Services Provided by WebWire.