The "Ketorranean Sweets & Treats" Book Becomes #1 International Best Seller on Amazon
Kaneohe, Hawaii, United States –
WEBWIRE
–
Friday, December 18, 2020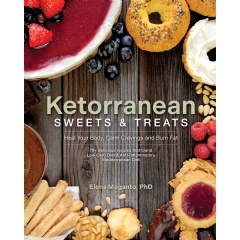 "Ketorranean Sweets & Treats" by Elena Maganto PhD
Elena Maganto PhD, is proud to present her newest book "Ketorranean Sweets & Treats: Heal Your Body, Calm Cravings and Burn Fat."

If you have a sweet tooth. If you think that eating healthy means you have to stop eating the sweets you love. If you are on low-carb diet and miss having a treat once in a while. If you eat keto sweets but still feel bloated, sluggish, or can't lose any pound. Elena Maganto, PhD in Molecular Biology and expert in inflammation and gut health, has created "Ketorranean Sweets & Treats" for you. The sweets and treats in this book will help you burn fat, maintain a healthy weight, put a stop to cravings, and decrease inflammation. Most importantly, they will not sabotage your body but instead help in the process of healing.

With her unique approach, the Ketorranean Lifestyle, Elena blends the best of ketogenic and Mediterranean diets while eliminating foods that cause inflammation.

This book gives you the tools to make friendly and simple substitutions that boost nourishment without sacrificing flavor. Inside you'll find:
76 low-carb, anti-inflammatory, delicious and simple recipes, along with color photos and preparation tips to help you get spectacular results
Detailed guidance and conversion charts on how to use low-carb flours, sweeteners, and binding agents
This book is for non-vegan and vegan treat-lovers alike! It includes tips to transform any recipe from non-vegan to a vegan alternative
Everything you need to set up your kitchen to make "sweet" cooking healthy and simple
A helpful shopping list and guidelines to make sure you're avoiding ingredients that are sabotaging your body and stocking up on the ones that will set you up for success
With these Ketorranean recipes you can eat sweets and treats and feel great! Say goodbye to bloating, stomach pain, gut microbe overgrowth, high blood glucose, feeling sluggish after you eat, or feeling fatigue or hungover the day after you "cheat" with what is supposed to be a healthy treat.

Elena Maganto's book "Ketorranean Sweets & Treats" became #1 International Best-seller in just 3 hours post released and in different countries, as well as #1 National Best-seller. It is available on Amazon for $1.99 and rated as 5 by those who have purchased the eBook.

These are some Reviews of Elena's unique approach, Ketorranean Lifestyle, from some experts in the Field of Functional Medicine:

"Knowing how to properly nourish our bodies and our guts can be challenging. The Ketorranean Diet books are not only easy to digest, but filled with incredibly delicious and healthy recipes. A must have for anyone's library. " - Dr. Michael Ruscio, Best-selling author of "Healthy Gut, Healthy You."

"Dr. Maganto has put together a fantastic array of information designed to help people understand the connection between chronic inflammation, diet,  and disease…and she doesn't stop there.  With tones of recipes, this wonderful new text doubles as a cookbook chock full of culinary delights and ideas.  Definitely one to add to your library!." - Dr. Peter Osborne - Author of the international best seller "No Grain No Pain."

"Just like so many of us who have come to our path and purpose because of a personal health crisis, Dr. Elena is no different.  Her own health challenges, and specifically, that of her mother's, led her to a dietary intervention that has proven effective AND delicious.  Her books offer a simple, straight forward and well-articulated handbook for the masses.  They break down the basics of nutrition, how to stock a good pantry and refrigerator, how to organize a kitchen to make it conducive to self-nourishment and is loaded with helpful tips and meal planning to ensure success. Loaded with tables, questionnaires and great visuals brings this book to life and encourages us to take a personal inventory and exploration to influence our own optimal health." - Dr. Nasha Winters, Best-selliing author of "Metabolic Approach to Cancer."

"I love the idea of combining the keto and Mediterranean diet to get the best of what both of these styles of eating can offer the human body. Inflammation is at the core root of all chronic disease today. The Mediterranean diet is a wonderful way to stop the daily barrage of inflammation that comes from a poor diet. When you mix this with the healing power of ketones, you will create a body ready to heal. Thank you Elena for marrying these two styles of eating so that we can end the epidemic of chronic disease. I love your book! It's brilliant. " - Dr. Mindy Pelz, best-selling author of "The Reset Factor."

For more Information:
For questions and to schedule an interview about this press release please contact Elena at (857) 210-7818 or email elena.maganto@phdhealthcoach.com

About the author:
Elena Maganto is a PhD and Integrative Nutrition Health Coach. She holds a PhD in Molecular Biology and postdoctoral training at Harvard University Medical School. As a research scientist, she dedicated herself to the study of inflammatory diseases. Her work has been published in a variety of scientific journals.

As a child, Elena suffered numerous digestive disorders and weight loss resistance. Her inspiration for change was her mother, who suffered from fibromyalgia but healed using Food As Medicine. It opened Elena's eyes to the way she wanted to help others. She decided to continue with preventive health, which led her to get certified as an Integrative Nutrition Coach. She was able to heal her gut and now works with other people who struggle with the same problems: fatigue, hormone imbalance, IBS, and related disorders, allergies, high cholesterol and more, all using Food As Medicine. She believes that nutrition and science can work together to reduce the risk of disease.

Elena is the Best-selling author of "Ketorranean Diet Solution: Reach Your Ideal Weight, Decrease Inflammation, Heal Your Gut and Balance Your Hormones."
 
( Press Release Image: https://photos.webwire.com/prmedia/68751/268069/268069-1.jpg )
Related Links
WebWireID268069
Contact Information

Elena Maganto, PhD
CEO
Elena Maganto-Health Coach

This news content may be integrated into any legitimate news gathering and publishing effort. Linking is permitted.
News Release Distribution and Press Release Distribution Services Provided by WebWire.