Vox Media receives funding from the Google News Initiative to launch Language, Please: A Guide for Catalyzing Inclusivity in Newsrooms
Funding announced as part of Google News Initiative Innovation Challenge; builds on Vox Media's DE&I roadmap
WEBWIRE
–
Friday, December 18, 2020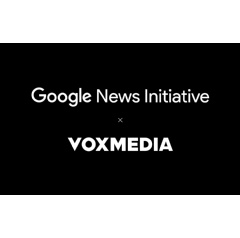 As part of the Google News Initiative (GNI) Innovation Challenge, Vox Media will receive funding to create resources for building inclusive newsrooms, called Language, Please: A Guide for Catalyzing Inclusivity in Newsrooms.
This funding will be used to build a number of public resources intended to recognize and impede bias in how journalists, storytellers, and creators select, report, and publish stories on topics including, but not limited to, race, religion, gender identity, sexuality, disability, and intersectionality. The goal is to create a toolkit to be used by Vox Media's 13 newsrooms and news organizations across the country, with a particular focus on local journalism publications, which often see a lack of representation and are under-resourced and understaffed. The intended outcome is to give newsrooms the resources needed to produce high quality, thoughtful journalism that contributes to a healthy audience and work experience.
Language, Please: A Guide for Catalyzing Inclusivity in Newsrooms will include a number of tools launching in 2021:
A free, public suite of guidelines and resources on language choices, visual and video standards, as well as best practices for assigning, framing, and sourcing pieces, setting forward-looking standards from members of marginalized communities. The guidelines will draw from Vox Media's own editorial, ethics, and style guidelines, developed by editorial and creative teams in the Summer of 2020 and will be published with input from experts and partners. The guidelines will live on a public site owned by Vox Media.
A consortium of pre-publication readers with inclusivity expertise, to help minimize tokenizing individuals based on their identity. Vox Media will build a database for public access to reduce the reliance on employees of marginalized groups across the industry to weigh in on stories or topics that are outside of their job descriptions. The database will be created with the input of a consortium of experts and partners. The goal is to shift the burden from journalists and creators of varied social and cultural identities (including people of color, people living with disabilities, and those who identify as LGBTQ+) who are too often tokenized or alienated with requests to serve as sensitivity readers based on their identity.
A comprehensive digital training and education program for journalists and creators that compiles our learnings and shares them across the industry. The training tool will be designed with inclusive language and will be ever evolving as our language choices and visual standards evolve. National and local newsrooms will have go-to resources that give regularly updated information on how to cover a wide range of complex DE&I topics, offering guidance on how news organizations can adopt or tailor their content to their audiences as needed. The goal is to empower this systemic change and promote editorial equity, product equity, and inclusive design.
As Melissa Bell, Publisher, Vox Media shared as part of the announcement "The goal of these guidelines is to provide all journalists, storytellers and creators across the industry with a strong infrastructure to help ensure their work does not include bias, perpetuate stereotypes, or dehumanize our subjects or our audiences. While these guides will not address every question of bias in our work, they will play an important role in ensuring our editorial and creative work, and the process of creating it, thoughtfully reflects our a commitment to a diverse, equitable, and inclusive society."
From Chris Clermont, Vox Media's Head of DE&I: "Developing and sharing the Language, Please guide is an attempt to pioneer a new shared set of reasoning, so we can educate ourselves and develop our own understanding of bias. We want to remove the burden and alienation of illuminating and explaining complex social and cultural issues, to ensure it does not fall upon a few, who are often repeatedly asked in newsrooms to serve as sensitivity readers or diversity saviors, based on their identity." Adds Clermont: "It's about embodying the values and changes we want to see."
This project builds off work Vox Media did this spring and summer to have candid, necessary conversations about how – as a company and a community of storytellers – we select and tell stories on topics such as the Black Lives Matter protests and the murders of trans women. The need to build a workplace that allows reporters and creators to more fully and accurately tell these stories, without bias, has never been more acute.
This is part of Vox Media's sustained dedication to building a more diverse, equitable, and inclusive workplace and industry.
About the 2020 North American GNI Innovation Challenge
The 2020 North American GNI Innovation Challenge provides funding for projects that have a clear focus on diversity, equity and inclusion in journalism, promoted the creation of sustainable models for local media that address diverse audiences, and recognized that as an opportunity for driving engagement and revenue. Google will fund selected projects up to 70% of the total project cost.
As part of the challenge, The North American GNI Innovation Challenge will provide funding for projects that have a clear focus on diversity, equity and inclusion in journalism, promote the creation of sustainable models for local media that address diverse audiences, and recognize that as an opportunity for driving engagement and revenue.
About Google News Initiative
The Google News Initiative (GNI) is a global effort to work with the news industry to help journalism thrive in the digital age. In partnership with news publishers around the world, the GNI aims to foster new thinking in online journalism and aid the development of new publishing business models. In turn, the GNI is committed to sharing knowledge generated from its work with the wider industry. For more information, visit https://newsinitiative.withgoogle.com/about/.
About Vox Media
As the leading independent modern media company, Vox Media ignites conversations and influences culture. Across digital, podcasts, TV, streaming, live events, and print, we tell stories that affect our audience's daily lives and entertain as much as they inform.
Our portfolio features influential and respected editorial properties including Vox, New York Magazine, The Verge, The Cut, Eater, Vulture, The Strategist, Polygon, SB Nation, Intelligencer, Curbed, Grub Street and Recode. Off-platform, the Vox Media Podcast Network offers one of the largest collections of popular podcasts, and Vox Media Studios, inclusive of Epic, produces and distributes award-winning nonfiction shows. Powered by innovative technology that scales quality, the Chorus publishing platform and Concert advertising marketplace answer the always-changing needs of modern audiences, creators and marketers.
Vox Media has been named one of Fast Company's "Most Innovative Companies in Media," an Inc. "Company of the Year," Digiday's "Best Company for Parents," and one of the Best Places to Work for LGBTQ Equality by the Human Rights Campaign.
( Press Release Image: https://photos.webwire.com/prmedia/7/268065/268065-1.jpg )
Related Links
WebWireID268065

This news content was configured by WebWire editorial staff. Linking is permitted.
News Release Distribution and Press Release Distribution Services Provided by WebWire.