Many high emitters missing from Summit aimed at boosting climate action momentum; but China, UK and others give hope
Paris aligned 2030 commitments by all big emitting countries and scaled finance to the most vulnerable, is essential to avoid the worst impacts of climate change.
WEBWIRE
–
Tuesday, December 15, 2020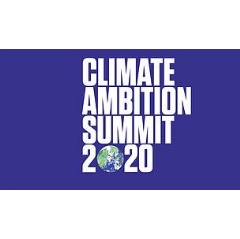 The world remembered when, five years ago, 197 countries adopted the land-mark global climate Paris Agreement signalling that climate change was a global priority. The virtual Climate Ambition Summit, held today, was addressed by more than 70 heads of state and was intended to boost momentum for climate action and drive systemic transformation to deliver on the Paris Agreement. The announcements show that the world has started the road to Glasgow on the right foot. The same level of commitment and engagement throughout  2021 is a prerequisite for a successful COP 26.
 As we were reminded by Hoesung Lee, chair of the Intergovernmental Panel on Climate Change, speaking at the Summit, that the period 2020 - 2030 is the decisive decade for avoiding runaway climate change. Short-term commitments by the UK, China, Chile, Colombia, India, and others take us closer to ensuring we hold global warming to 1.5℃ and towards a more resilient future. We also saw commitments on long-term strategies to net zero, adaptation and finance. But much more is needed. Paris aligned 2030 commitments by other big emitters such as the US, Australia, Canada, Russia, Saudi Arabia and Mexico are noticeably missing.  
 Manuel Pulgar-Vidal, WWF International global climate and energy lead said: "Today, world leaders reinforced the urgency with which the world must tackle the climate crisis, the scale of action required, and the breadth of systemic change needed. Key developed and developing countries are starting to set the pace for the world and injecting the much needed climate and nature momentum in the key year head. The world has  to make up for lost time and do more, especially the high carbon emitting countries. We have only one year until COP26 when the next crucial decisions must be agreed. We must ensure that the signals from this Summit become beacons of direction and delivery in 2021".
 Tanya Steele, WWF-UK Chief Executive said: "We needed to see two things today - action now and ambition for the future. Today we saw both from some key players, including China, the EU and the UK, setting the standard for others to follow. It's clearer than ever that those countries investing in a high carbon future are going to miss out on jobs and investment. In the UK, we have a huge opportunity to rebuild our economy and transform the way we farm and eat to deliver our climate goals and restore nature. The Prime Minister has made some bold and game-changing promises including a 68% emissions reduction by 2030 and a commitment to net zero by 2050 – as well as today's pledge to working in global partnership. Now we need these new promises translated into swift, clear and measurable action to keep temperature rise to 1.5C avoiding the most dangerous climate change."

Lunyan Lu, WWF China Chief Executive Officer said: "We welcome President Xi Jinping's just-announced enhanced targets with a focus on energy transition and increasing the share of non-fossil fuels. The increased target for forest restoration contributes to ensuring Nature-based Solutions provide benefits for people, nature and climate. These targets reiterate China's strong commitment to the international community on climate change, while requiring stronger international collaboration to ensure meeting the objectives of the Paris Agreement. We are looking forward to seeing China further strengthen collaboration with other countries to facilitate the low carbon and sustainable transition, including via green finance."
 T S Panwar, WWF-India Director, Climate Change and Energy Programme, said: "India is setting an important pace for developing nations. It needs continued focus on achievement of accelerated renewable energy targets, energy efficiency measures, and low carbon mobility options amongst others, while simultaneously enhancing the climate adaptation and resilience building efforts. There is now also a momentum for climate action by businesses and cities in the country, which needs to be further mobilised and supported."
Megan Leslie, WWF-Canada  President & Chief Executive Officer, said: "WWF-Canada welcomes Prime Minister Trudeau's just-announced $15.2-billion plan to exceed Canada's current 2030 emission reduction targets and accelerate the fight against climate change through pricing pollution and other incentives. This newly strengthened climate plan — combined with recent nature-based solutions commitments to invest $3 billion for increasing carbon stores in trees and other natural sources - has Canada showing real leadership in confronting our climate crisis."
Imke Lübbeke, Head, EU Climate & Energy Policy, said: "EU leaders agreed on higher ambition for 2030, but they failed to align their target with the science, which requires an emissions cut of at least 65% to stand a chance of limiting temperature rise to 1.5°C."
Véronique Andrieux, WWF-France CEO said: "In the aftermath of the European Council where Member States agreed to raise climate ambition to 2030, France still has not indicated how it plans to reach such an ambition at the domestic level, while the implementation of its existing commitments is already lagging behind. To this end, WWF France expects President Emmanuel Macron to fully implement the proposals made by the French Citizens' Convention on Climate in order to accelerate the pace of transition in key sectors of the economy such as transport, housing and agriculture". 
Mariagrazia Midulla, WWF-Italy Head of Climate and Energy said: "Italy is preparing to play an influential role on the international scene next year. The more coherence and ambition Italy puts into its domestic policies, the greater will be the authority with which it will serve and help the world to deal with the climate crisis.. President Conte said Italy would contribute 30 million euros  to the Adaptation Fund: we see this announcement as positive, Italy must demonstrate with facts that it wants to make a turn towards a deep decarbonized and ecological transition, with a European 2030 goal  - that could and should have been more ambitious. In the coming months we will have the litmus test on the consistency between speeches and actions, and we cannot afford to fail." 
 Michigan Governor Gretchen Whitmer (US): "Five years ago the world's leaders gathered in Paris and chose to boldly confront the climate crisis for our health, for our future, and for our economy... We joined the US Climate Alliance, a bipartisan coalition of 25 US governors committed to the goals of Paris. And like so many other leading regions and nations around the world, we just set our own target to make our state carbon neutral by 2050. This has the potential to create millions of new jobs. Michiganders are already unlocking the benefits of clean growth by transforming and electrifying the US auto industry which has long called Michigan home. And we're not alone. More than 4,000 cities, states, businesses, healthcare organizations, faith groups, tribes, colleges and universities, and community groups have put forward a new statement to go further in partnership with the federal government. Make no mistake, America Is All In. So today, let's recognize and reflect on how far we've come but let's not lose sight of how far we still have to go. Let's get to it, together."
( Press Release Image: https://photos.webwire.com/prmedia/6/267901/267901-1.jpg )
Related Links
WebWireID267901

This news content was configured by WebWire editorial staff. Linking is permitted.
News Release Distribution and Press Release Distribution Services Provided by WebWire.