Bloomberg Hosts Exclusive Healthcare Dialogue with HESTA's Debby Blakey and Medix Global's Sigal Atzmon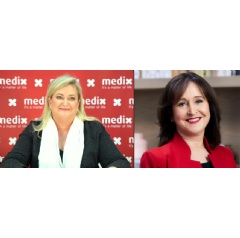 Dialogue was a curtain raiser to RADAR-Tracking Tomorrow
Bloomberg kicked off the RADAR-Tracking Tomorrow conversation series last week with a special curtain raiser debate, focused on the future of healthcare. The keynote speakers were two pioneering female chief executives, reshaping the industry – Debby Blakey, CEO of super fund HESTA and Sigal Atzmon, Founder and CEO of The Medix Group.
The exclusive invitation-only event, attended by C-Suite from the investment community, explored the major themes gripping the healthcare industry, and the immense challenges coping with the COVID-19 pandemic. One of the major takeaways to emerge from the conversation was that the healthcare and medical fields are ripe for major disruption, and these changes will be spearheaded by mass digitalization. Healthcare is facing an urgent need to revolutionise its existing and antiquated infrastructure, which is draining resources and creating significant barriers to innovation. The needs are even more pressing when you consider the increase in life expectancy and vast improvements to health longevity.
Going forward – the conversation concluded – over one billion people, aged above 60 years, will require a new swathe of healthcare and financial services. The sound solution is a swift adoption of the latest technologies, namely Artificial Intelligence and Big Data.
The dialogue also delved deep into healthcare financing, and the ability of innovators to pair a differentiated technology with the most effective value proposition, to ensure a sustainable and value-enhancing business model.
Healthcare on the cusp of change
Ms Atzmon kicked off the discussion with her views on the current state of the healthcare industry. "So much yet still not enough has been done in terms of investment and implementation of digital healthcare. A transformation is taking place globally and I believe we are going through a re-evolution in the healthcare space. It has been an unprecedented year for the sector in terms of challenges, funding, investments and opportunity."
She said the main challenges facing the industry range from an ageing population and yearly double-digit medical cost inflation, to a global shortage of healthcare workers and rising labor costs. "In terms of opportunities, we see tremendous advances in the field of medical sciences, in technology, and unprecedented corporate and venture funding," she added.
Ms Blakey explained that, "As we emerge from COVID-19, all of us have a real appreciation of what a robust health system can give us; and also how vulnerable we are if the global health system fails. The pandemic has shown us that it's possible to innovate quickly in the healthcare space. It is certainly an exciting time for us as a long term responsible investor particularly as these shifts in healthcare can create new investment opportunities that will help us keep delivering strong returns for HESTA members as well as support the global economic recovery."
Digitalization, AI and Data to lead the change
Asked about the primary drivers of change, Ms. Atzmon said, "These are such disruptive times: we are seeing the rise of unprecedented personalisation of healthcare, on-demand medical solutions, and a host of other services that are enabled by solutions provided by AI and tech companies. AI and machine learning are also being increasingly leveraged in diagnostics and pathology, to make healthcare more affordable and accessible to all."
Ms. Blakey said, "Innovation is something important for the future of and investment in healthcare. Delivering superior long term investment returns for our members is critical, but we are always mindful of impact we can have on communities, the society and the environment in the way that we invest." She added that innovation could pave the way for drive cheaper healthcare in the future as well as reduce the reliance on government spending.
Ms Atzmon added: "It is our joint responsibility to take part in this health transformation, everyone in his own capacity. Investors and corporates must participate in health-related impact investments, in shared value models. That is where I believe we shall see the most significant return on investment."
RADAR – Tracking Tomorrow is a new annual dialogue series that brings together disruptive pioneers in government, business and finance to advance the progressive ideas, innovative policies and world-changing philanthropies shaping our future. The first edition of the virtual event was held on December 1-2, 2020.
( Press Release Image: https://photos.webwire.com/prmedia/6/267432/267432-1.png )
Related Links
WebWireID267432

This news content was configured by WebWire editorial staff. Linking is permitted.
News Release Distribution and Press Release Distribution Services Provided by WebWire.