A new regional gaming powerhouse: 'Zain esports' launched to boost the online gaming ecosystem
Kuwait, Riyadh, Amman, Manama –
WEBWIRE
–
Tuesday, December 1, 2020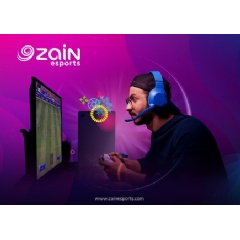 •    Inaugural EA SPORTS FIFA 21 PS4 Tournaments: Middle Eastern Challenge powered by Zain esports between 1-16 December
•    Malek Hammoud: "This initiative meets many goals for Zain, including youth development, enriching the brand, fostering digital innovation opportunities, and creating shareholder value"
•    Launch of 'Zain esports' reconfirms company's evolution to a digital services provider
•    Zain esports to host multiple flagship and community events over the next 12 months, with attractive cash and device prize pools
•    FIFA eWorld champion, MsDossary partnering Zain esports

Zain Group, a leading telecom innovator in eight markets across the Middle East and Africa, announces the highly transformational development of the launch of the 'Zain esports' brand, marking the beginning of a year-long calendar of large and exciting regional online esports tournaments comprised of multiple Flagship events as well as smaller, regular community tournaments with attractive cash and devices prize pools.
EA SPORTS FIFA 21 PS4 tournaments: Middle East Challenge Dec 1-16
The new Zain esports brand will be initially associated with a multi-nation and newly launched EA SPORTS FIFA 21 PS4 tournaments: Middle East Challenge powered by Zain esports, the first in the region, being held under an official partnership with EA SPORTS, a global leader in digital interactive entertainment and PlayStation.  FIFA 21 is a football simulation video game published by EA SPORTS as part of the FIFA series, representing the 28th installment in the FIFA series, and was released October 9, 2020 for PlayStation consoles.
The inaugural regional tournament will see qualifying rounds taking place between 1-5 December as qualifying rounds, with playoffs and finals occurring over two consecutive weekends, on 8-9 and 15-16 December, 2020.
MsDossary, former FIFA eWorld champion supporting Zain esports
Zain esports has partnered with former FIFA eWorld champion and Saudi national, MsDossary in the inaugural EA SPORTS FIFA21 PS4 Middle Eastern Challenge, who will be heavily involved in the promotional aspects of this momentous event. Moreover, Zain Group is cooperating with eGen, a full-service e-sports agency and consultancy in the launch of Zain esports and this competition.
Since early 2019, Zain has been on a concerted drive to evolve from being a mobile-centric operator to a digital services provider for consumers, businesses, and governments, and the introduction of Zain esports activities forms a key part of this strategy.
Commenting on the momentous launch of the Zain esports brand, Malek Hammoud, Zain Group Chief Investment and Digital Officer said, "We are extremely excited with the launch of Zain esports, which marks a significant achievement in Zain's diversification strategy and investment outside of areas related strictly to telco. This initiative meets a number of different goals for Zain, including youth development, enriching the brand, fostering innovation and digital opportunities on our 4G, 5G and Fiber networks, and creating shareholder value."
Hammoud continued, "Zain is a pioneer by nature, and the introduction of this latest initiative reiterates our outlook on being first-to-market with products and services that enhance the lives of the people in the communities we serve and beyond. We have every expectation that Zain esports is going to develop into a regional and international gaming powerhouse, and we are highly pleased and motivated to be working with recognized gaming partners and developers."
Zain esports to create opportunities for youth across region
Zain esports plans to identify and foster local talent in numerous ways, including by creating a competition to select commentators for Arabic commentary, as well as creating a conducive environment for esports content creators aiming to create popular YouTubers. Moreover, Zain esports will support and use local social media influencers to promote leagues among local gamers. This manifestation of Zain's digital lifestyle strategy is geared towards empowering society and driving socio-economic development by creating multiple opportunities for young people right across the Middle East. Regional amateur gamers will also have the opportunity to win prize money and devices in a fair and competitive environment.
The best gamers will represent their countries on a regional platform supported by Zain esports, and on the global stage with partner leagues; while selected casters and commentators will have the opportunity to showcase their talents to audiences from multiple nations. Zain plans to create an esports Incubator creating opportunities for aspiring coders and producers to contribute technically to the Zain esport initiative on an ongoing basis.
Hammoud concluded, "Zain esports marks a phenomenal opportunity for us to drive the business in new areas, while delighting our customers, especially the youth. The global pandemic has changed life as we know it and has created further demand for online connectivity and access to digital content. We are confident that the variety of esports games and attractive prizemoney offered by Zain to the wider regional community, will act as a catalyst to drive our progress in this domain further."
Growth of gaming boosted by Zain's 4G, 5G and Fiber networks
Zain has seen a 300% rise in gaming-related data usage since February 2020 across all its operations, with customers benefiting from the high-quality 4G, 5G and Fiber to the Home (FTTH) services offered by Zain. The size and potential of the online gaming market internationally is huge, with market estimates forecasting the industry could generate US$196 billion in revenues by 2022, making it one of the fastest growing industries on the planet. Games and e-sports analytics and market research company Newzoo estimated that of the US$152 billion in revenues generated by online games globally in 2019, US$34.7 billion, or 23%, of the global total was generated from Europe, Middle East, and Africa.
Zain esports to provide live streaming and content on social media channels
Beyond the financial benefits accruing from participating in online gaming for the players, Zain's participation in this area also makes one the strongest single largest use cases for 5G and fiber-to-the-home (FTTH), supporting Zain operating companies to connect with the gaming community to offer 5G, fiber and similar high-value services. Spectators will be able watch the gaming and content live over Zain esports social media channels, predominantly Twitch and YouTube, as well as regular posts on Instagram, Facebook, Twitter and LinkedIn.
Former FIFA e-World champion, MsDossary, said "I'm super excited to be partnering with Zain esports to help launch their entry into gaming with this momentous EA SPORTS FIFA21 PS4 Middle Eastern Challenge. There's tons of great prizes including PS5's and cash. Winning the FIFA eWorld cup was one of my greatest achievements, and it's fantastic to see companies like Zain bringing more esports and gaming opportunities to the region to uncover some amazing talent."
Promoting the launch of Zain esports and the upcoming EA SPORTS FIFA21 PS4 tournament, Zain will be undertaking numerous marketing initiatives across all media channels, targeting all those involved in the regional esports ecosystem and inviting them to participate in tournaments and other activities in this exciting new venture.
For more details on the EA SPORTS FIFA 21 PS4 Middle East Challenge, please visit www.zainesports.com  or register through the tournament dashboard on PS4, or via the competition center at compete.playstation.com 
ENDS
About Zain Group: Zain is a leading telecommunications operator across the Middle East and Africa, providing mobile voice and data services to over 48.9 million active customers as of 30 September 2020. With a commercial presence in 8 countries, Zain operates in: Kuwait, Bahrain, Iraq, Jordan, Saudi Arabia, Sudan and South Sudan. In Morocco, Zain has a 15.5% stake in 'INWI', through a joint venture. Zain is listed on the Boursa Kuwait (stock ticker: ZAIN). We recommend the Investor Community download the "Zain Group Investor Relations" Mobile App. For more, please email info@zain.com 
( Press Release Image: https://photos.webwire.com/prmedia/6/267233/267233-1.jpg )
Related Links
WebWireID267233

This news content was configured by WebWire editorial staff. Linking is permitted.
News Release Distribution and Press Release Distribution Services Provided by WebWire.