Join Tate online for digital events this December
WEBWIRE
–
Thursday, November 26, 2020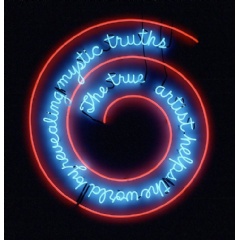 Kunstmuseum Basel © Bruce Nauman / ARS, NY and DACS, London 2020, Courtesy Sperone Westwater, New York
Tate will offer a wide range of digital events and content encouraging everyone to engage in art online and discover new artists. Highlights include the monthly Uniqlo Tate Lates Night In inspired by the Bruce Nauman exhibition at Tate Modern. This will be followed by Late at Tate Britain Online, programmed by Tate Collective Producers, who have taken inspiration from the Turner's Modern World exhibition. All events and content will be available to enjoy for free on the Tate website or through Tate's social media channels.

UNIQLO TATE LATES NIGHT IN
This year's final Uniqlo Tate Lates Night In will explore the current Bruce Nauman exhibition at Tate Modern on Thursday 3 December 19:00-20:00 GMT. The event will be hosted by Worldwide and Global Roots founder Thristian, who will introduce artists across the evening and reflect on the exhibition, recorded from Tate Modern. There will be a collaboration between composer and performer Emma-Jean Thackray, Global Roots and Tate Collective for the music segment of the evening, followed by a unique poetic response to Nauman's playful and subversive neon works by poet and musician James Massiah, also in collaboration with Global Roots and Tate Collective. The Udder, a short film by Marianna Simnett exploring childhood development and milk production processes, will be preceded by a conversation with the artist and Andrea Lissoni, curator of the Bruce Nauman exhibition. The event will be available to stream on the Tate website until 10 December and excerpts from the event will be broadcast on Global Roots, Thristian's Worldwide FM show and Emma Jean-Thackray's monthly show on the station.

LIVE STUDIO VISIT: EVE DE HAAN
On Tuesday 8th December at 14:00 GMT, visitors to Tate's Instagram will be invited into the studio of London-based neon artist Eve De Haan aka @halfaroastchicken. On Instagram Live, Eve will show how she creates her incredible text-based neon works and discuss some major influences on her practice, including Bruce Nauman, who's solo exhibition is open at Tate Modern until 21 February 2021. Viewers will gain an insight into the technical process of working with such delicate materials and have the chance to learn more about Eve's favourite works.

LATE AT TATE BRITAIN *ONLINE
On December 11, viewers are invited to join Tate Collective Producers for Late at Tate Britain Online. Tate Collective Producers are 18-25 year olds who organise free events and workshops for young people. In this month's online stream, they will explore Tate Britain's Turner's Modern World exhibition. One of Britain's greatest artists, J.M.W. Turner lived and worked at the peak of the industrial revolution. Many artists ignored the changes around them but Turner faced up to these new challenges, transforming the way he painted to better capture this new world. The Tate Collective Producers in collaboration with students from Chelsea College of Arts will present new film work about how we engage with the landscape around us today.

Empire Strikes Back will showcase a selection of shortfilms by emerging artists, Reprezent Radio will stream a specially curated playlist live from their studio in Brixton and young viewers can learn how to get ahead in their career with advice from ERIC who will talk about dealing with rejection professionally, how to learn from it and how to move forward positively.

ALIZA NISENBAUM AT TATE LIVERPOOL
To coincide with the opening of Aliza Nisenbaum at Tate Liverpool, this month Tate will release a video documenting the artist's new series of work created for the exhibition. Nisenbaum's series of paintings depict NHS staff from Merseyside who have worked tirelessly for their community during the pandemic. The film, which will be released on Tate's social media channels on 15 December, includes interviews with Nisenbaum, four of the sitters who feature in the work and footage of the paintings in development. The video follows an article sharing 5 things to know about the artist, which will be published on Tate's website on 1 December, offering further insight into her work and practice.

ONLINE ACTIVITIES
Visitors to Tate Kids can get creative at home with a new Make with Tate Kids video, that will be published on December 14. In the film, artist Harold Offeh will lead viewers in a workshop that anyone can take part in at home using movement and the body. Ahead of the opening of the new exhibition at Tate Britain, young people can also find out more about Lynette Yiadom-Boakye in a recent article introducing the artist.

A further exploration of Lynette Yiadom-Boakye's work can be found on the Tate website and a Spotify playlist has been curated by the artist specially for the show, offering an intimate look into Yiadom-Boakye's art practice and imagination.

Other content available at tate.org.uk includes artist interviews, detailed looks at artworks in the Tate collection and podcasts introducing listeners to art and artists through themes such as self-care, protest, hip-hop and comedy. Everyone can explore the online collection which includes 78,000 artworks, 4,000 artists and 22,000 archive items.
Notes to Editors
ABOUT UNIQLO TATE LATES
Since October 2016, UNIQLO has partnered with the Tate to produce the 'UNIQLO Tate Late' at Tate Modern. This is a series of special, late night events which offer an opportunity for visitors to see the latest exhibitions and displays, hear music from DJs programmed by NTS Radio, watch rarely seen artists' films and join in interactive events. The next iteration of the UNIQLO Tate Lates Night In will continue to be a vibrant platform attracting a diverse and culturally engaged community, with a greater global reach than ever before.
ABOUT UNIQLO AND FAST RETAILING
UNIQLO is a brand of Fast Retailing Co., Ltd., a leading Japanese retail holding company with global headquarters in Tokyo, Japan. UNIQLO is the largest of eight brands in the Fast Retailing Group, the others being GU, Theory, Helmut Lang, PLST (Plus T), Comptoir des Cotonniers, Princesse tam.tam and J Brand. With global sales of approximately 2.2905 trillion yen for the 2019 fiscal year ending August 31, 2019 (US $21.53 billion, calculated in yen using the end of August 2019 rate of $1 = 106.4 yen), Fast Retailing is one of the world's largest apparel retail companies, and UNIQLO is Japan's leading specialty retailer.
With a corporate statement committed to changing clothes, changing conventional wisdom and change the world, Fast Retailing is dedicated to creating great clothing with new and unique value to enrich the lives of people everywhere. For more information about UNIQLO and Fast Retailing, please visit www.uniqlo.com and www.fastretailing.com. 
ABOUT LATE AT TATE BRITAIN *ONLINE
Late at Tate Britain is a gathering space for experimentation and idea generation inspired by displays and exhibitions. It is an ongoing research project currently developed and delivered by Tate Collective Producers.
ABOUT TATE COLLECTIVE
Tate Collective is the first free-to-join membership scheme for 16 to 25 year olds at a national UK museum and is open to people anywhere in the world to join online. Members are able to see any of Tate's exhibitions for a fiver and also get discounts in Tate's cafes and shops. They can also bring up to three friends to shows, each for £5.
ABOUT TATE COLLECTIVE PRODUCERS
Tate Collective Producers are a group of 18-25 year olds based in London, Liverpool and St Ives. They collaborate to develop their ideas and knowledge about art, culture and creativity. The teams often work with emerging artists, designers, musicians and curators.
( Press Release Image: https://photos.webwire.com/prmedia/7/267105/267105-1.jpg )
Related Links
WebWireID267105

This news content was configured by WebWire editorial staff. Linking is permitted.
News Release Distribution and Press Release Distribution Services Provided by WebWire.