Bloomberg Asia announces "RADAR – Tracking Tomorrow," a new annual dialogue series that convenes disruptive pioneers in government, business and finance
Inaugural event to focus on 'Mapping the seventh continent,' featuring speakers including Nadiem Makarim, Debby Blakey, Jaime Augusto Zobel de Ayala, Boon Heong Ng, Fred Hu and Amitabh Kant
Singapore –
WEBWIRE
–
Tuesday, November 24, 2020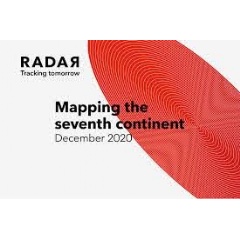 Bloomberg to launch 'Data for Good Exchange' in Asia with Philanthropy partner Dasra, an initiative that uses data science and human capital to solve societal and civic problems
Bloomberg tannounced the launch of RADAR – Tracking Tomorrow, a new annual dialogue series that will bring together disruptive pioneers in government, business and finance to advance the progressive ideas, innovative policies and world-changing philanthropies shaping our future. At the virtual event (December 1-2, 2020), Bloomberg will also launch its 'Data for Good Exchange' initiative in Asia, with philanthropy partner Dasra in India.
This year's inaugural RADAR event will present new perspectives on 'Mapping the seventh continent' – the opportunity-rich demographic segment of people aged over 60 – and how they are impacting business models, growth rates and policy making.
This demographic represents the world's most valuable and capable citizens, with a spending power reaching $15 trillion this year. Global experts, ranging from policy-makers to entrepreneurs will explore how the rising life expectancies of this group are helping to create an opportunity-rich geography of new financial possibilities, more inclusive business models, and smarter, data-driven philanthropic endeavors with the power to revolutionize our societies.
"Healthy Longevity will reshape the global financial system and disrupt the business models of pension funds, insurance companies, banks, investment firms, and entire national economies," said Margaretta Colangelo, Co-founder and Managing Director of Deep Knowledge Group. "The Longevity industry will dwarf all other industries in both size and market capitalization. At the same time, it will require unprecedented sophistication in its approach for assessment and forecasting from the start in order to neutralize challenges and reveal opportunities."
The agenda for RADAR is driven by a high caliber advisory board consisting of Jaime Augusto Zobel de Ayala, Chairman and CEO, Ayala Corporation; Debby Blakey, Chief Executive Officer, HESTA; Keiko Honda, Adjunct Professor and Adjunct Senior Research Scholar, Columbia University School of International and Public Affairs; Fred Hu, Chairman & Founder, Primavera Capital Group; and Ambassador Richard Verma, Former U.S. Ambassador to India. The Asia Group and the Gujarat International Finance Tec City (GIFT City) are partners to the event.
Jaime Augusto Zobel de Ayala, who will be speaking at the event, said, "As longevity alters the socio-economic landscape and changes the profile of the workforce, as well as the impact and influence of this important consumer segment, the world will face new challenges and opportunities. The 'seventh continent' of almost a billion people will require greater private-public partnerships to increase social and environmental capital.  With the tremendous potential of data science and AI at our disposal, we can expect unprecedented innovation going forward."
Speakers at the event will include some of the most influential business leaders and policy makers from across the region. Day 1 of RADAR will focus on the aspects of a demography in transition; how business models need to change to capitalize on the $15 trillion opportunity; and policy making for longevity. Speakers for these sessions include Debby Blakey; Anant Agarwal, Founder & CEO, edX; Tech Ambassador Anne Marie Engtoft Larsen, Ministry of Foreign Affairs, Denmark; Nadiem Makarim, Minister of Education & Culture, Republic of Indonesia; Margaretta Colangelo, Co-founder and Managing Director of Deep Knowledge Group; Cassandra Kelly AM, Chief Executive Officer and Co-Founder of CChange; and Dmitry Kaminskiy, Co-Founder & Managing Partner, Deep Knowledge Group.
Debby Blakey said, "Pensions funds, like HESTA, with large pools of patient capital are uniquely placed to invest in innovation and infrastructure needed to support the recovery and future economic resilience. COVID-19 has shown the importance of strong national social infrastructure like education and healthcare systems, and the innovation that's possible when we're faced with unprecedented challenges. Large global investors have a vital role in investing in emerging opportunities to build a more resilient and inclusive tomorrow that will benefit multiple generations of their beneficiaries."
Data and the Future of Doing Good
Shawn Edwards, Bloomberg's Chief Technology Officer, will be speaking at the event about 'Data for Good Exchange.' He will be introducing this initiative, first started in 2014 to focus on the role of data science and human capital in solving societal and civic problems, to Asia for the first time. In partnership with Dasra, India's leading strategic philanthropy foundation, Bloomberg will be hosting a series of thought leadership conversations in 2021 for Indian non-profits, funders, the government and data scientists from both academia and industry to work towards strengthening the data ecosystem for India's development sector.
Day 2 of RADAR will focus on collaboration between governments and the private sector, the role of data in future philanthropic initiatives as well as the creation of new sources of value for society as life expectancies rise. Speakers for these sessions will include Amitabh Kant, CEO of India's National Institution for Transforming India (NITI Aayog); Fred Hu; Jaime Augusto Zobel de Ayala; Boon Heong Ng; CEO, Temasek Foundation; Anil David, Founder of Agape Connecting People; Meenu Vadera, Founder of Azad Foundation; Naomi Milgrom AC of Naomi Milgrom Foundation and Neera Nundy, Co-Founder and Partner at Dasra.
Peter Grauer, Chairman of Bloomberg, said, "We are pleased to launch RADAR as our new dialogue series in Asia. It is our constant endeavor to bring together the best minds in business, government and the social sector to identify and discuss the most pertinent opportunities and challenges facing the world. As rising Millennial and Seventh Continent wealth trigger world-altering changes, governments must enact policies that recognize the potential of these changes to both advance and disrupt our societies. The most successful policy-makers will be those who are data-driven and who build strong consultative relationships with the increasingly tech-infused private sector."
RADAR is by-invitation only to a select audience of CEOs and policy makers from across Asia-Pacific. Media can register here: https://radar-december.bbgevent.com
( Press Release Image: https://photos.webwire.com/prmedia/6/266985/266985-1.jpg )
Related Links
WebWireID266985

This news content was configured by WebWire editorial staff. Linking is permitted.
News Release Distribution and Press Release Distribution Services Provided by WebWire.