The Future of Sustainable Infrastructure Investing
WEBWIRE
–
Thursday, November 19, 2020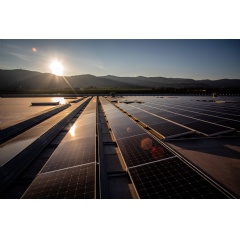 The Bloomberg Women's Buyside Network hosted an exclusive webinar on sustainable infrastructure featuring global infrastructure investing leaders including Vivek Pathak, Regional Director, East Asia and the Pacific, IFC (World Bank Group); Anna Cheung, Group Head of Credit, AIA; Verena Lim, Senior Managing Director, Macquarie Infrastructure and Real Assets, Macquarie Group; Stefen Shin, Principal Investment Officer, Asian Infrastructure Investment Bank and moderated by Virginie Maisonneuve, Founding Partner & CEO, MGA Consulting and Founding member, Bloomberg Women's Buy-Side Network.
The pandemic has focused our attention on issues such as ESG, sustainability and the social impact of infrastructure investments. Recent events have highlighted the importance of cities' infrastructure for public health, education, mobility and technology infrastructure. In this webinar, our speakers discussed whether their approach to infrastructure investments have evolved due to the pandemic and if there was a more sustainable and resilient future ahead. Already, many policy makers are turning to infrastructure development as key to rebuilding their economies.
Sustainable trend accelerating
Kicking off the event with a presentation on the current state of infrastructure investing, Vivek Pathak said, "Sustainable investments are significantly more mainstream compared to just two decades ago with cumulative green bond issuances touching US$1 trillion globally this month". Despite this positive development, he noted a major challenge – many billions of dollars are still required each year for infrastructure projects  that meet United Nations Sustainable Development Goals. "Close to 1 billion people around the world still don't have access to affordable and reliable energy and in order to provide basic levels of sanitation and clean water, we have to invest close to US$250 billion a year," he added.
Bridging the gap in sustainable infrastructure
Vivek Pathak shared that the most important question he asks himself is, "How can we attract capital into emerging markets". He feels that transparency is key. "We need to think about how to get the capital markets to provide transparency around the issuer, not only on the specific use of proceeds but on the overall issuer," said Stefen Shin.
In a volatile and uncertain world, aligning public and private sectors has become more crucial, especially with restrained government budgets post-COVID. Anna Cheung suggested, "Regulators could work with rating agencies or perform independent studies to examine the historical performance of infrastructure financing, so as to get themselves comfortable in applying preferential risk weighting on these assets."
Meanwhile, Stefen Shin called for incentives for companies contributing to Sustainable Development Goals. "Distinguishing those that are climate champions and those that are not needs to happen," he said. He added that, "AIIB has created a framework that helps institutional ESG investors look at companies based on Paris Agreement characteristics to determine whether they are a climate champion." He also said there was a need to bridge the needs of banks and investors who may prefer to invest in securitized infrastructure assets and a need to mobilize passive investing into sustainable infrastructure.
Urbanization creating new opportunities
With more than 50% of the world's population expected to live in urban areas by 2050, cities will be at the forefront of investments and urban planning, waste management and water management will need to reinvent themselves, said Virginie Maisonneuve.
Vivek Pathak shared the effects of urbanization on green buildings saying, "Between now and 2030 the whole climate-related opportunity across the globe in urbanization is expected to be close to US$30 trillion. Almost US$24 trillion of that is going to be in green buildings. And out of that US$24 trillion, US$18 trillion of it is going to be in Asia. If cities are having to grow in a sustainable manner, green buildings are going to have a huge role to play."
Rise of clean energy
One mega trend that has also emerged is the growing demand for sustainable energy. Verena Lim noted, "We have targeted the renewables sector across markets in Asia, given the demand for cleaner energy as well as favorable government policies. Waste to energy is also another sector which we've invested in markets like Korea where the environmental regulations have really strengthened over the last few years."
Similarly, Anna Cheung said, "Solar and wind has reached or are very close to grid parity in many countries in Asia. Renewables are now profoundly reshaping the global energy structure and challenging the competitiveness of the traditional thermal capacity."
Digitalization driving demand for new infrastructure
The rise of the middle-income population has also led to increased digital adaptation. "The middle-income populations are really driving opportunities for better connectivity and increased demand for computing and cloud storage," said Verena Lim.
Amid COVID-19, we have witnessed first-hand the importance of digitalization and its acceleration. Vivek Pathak said, "Data centers are a huge investment opportunity and they are also very energy intensive". Anna Cheung added, "We are coming across funding requests for these data centers given the double-digit annual growth of data center workloads in the region. We see opportunities across Singapore, Australia, Hong Kong and South Korea."
As a result of new technologies, transportation is also becoming more energy efficient. "Asia has been lagging in that space, with a few exceptions. If you look at mass transit systems across Asia, there are longer term opportunities and the payback period is longer," said Vivek Pathak.
His sentiments were echoed by Virginie Maisonneuve who said, "Transport systems will need to go faster be greener, smarter and be geared towards mass transit."
Webinar replay: Click here to view the entire session
Bloomberg Women's Buy-side Network (BWBN) is an informal community for women in asset management in Asia. Launched in 2018 in Singapore, the network has expanded to local chapters in India and Hong Kong, helmed by some of the most influential buyside leaders including Virginie Maisonneuve and Dr. Mark Konyn. BWBN convenes women in the buyside on global investment trends, serves to promote inclusion in the industry and educate on the diversity of buyside careers through active mentorship. To find out more, please email bwbnhk@bloomberg.netor check out www.bloomberglp.com/bwbn.
Our full suite of sustainable finance solutions on the Bloomberg Terminal empowers asset owners, asset managers, issuers, regulators and more to identify, analyze and capitalize on material business risks such as climate risk and emerging sustainability opportunities such as low-carbon energy transition. For more information, visit www.bloomberg.com or request a demo.
( Press Release Image: https://photos.webwire.com/prmedia/7/266756/266756-1.jpg )
Related Links
WebWireID266756

This news content was configured by WebWire editorial staff. Linking is permitted.
News Release Distribution and Press Release Distribution Services Provided by WebWire.