Dr. Samuel Enajite Enajero: Collectivization Necessary to Check Human Activities to Minimize Interdependence Costs
In societies where collective actions are scarce and certain human activities cause interdependence costs, economics system and democracy struggle.
WEBWIRE
–
Monday, November 16, 2020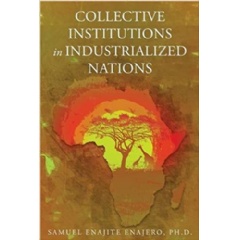 "Without collectivization of certain activities, it becomes questionable if a society really exists." Dr. Samuel Enajite Enajero
Dr. Samuel Enajite Enajero tackles the issue of social interdependence costs of some human activities in Chapter 6 "Collective Actions – The Economic Rationale for Democracy" of his book Collective Institutions in Industrialized Nations: Economic Lessons for Sub-Saharan Africa (Page Publishing; 2015).
 
There are millions of people performing various activities and so often sharing the same space. How would the problems of interdependence among people be resolved without infringement on personal liberties, most especially in Sub-Saharan Africa? Dr. Enajero advocates that human activities that are associated with interdependence costs be collectivized through arrangement in political economy.
 
"The best way," says Dr. Enajero, "in resolving problems associated with human interdependence was to separate human activities that emit greater external costs from those that are associated with little or no costs.
 
"Society can minimize or at best eliminate these social costs by collectivizing activities that release greater interdependence costs or contract these activities to a private voluntary organization. In this case, these activities are made involuntary or placed under the strong watchful eyes of the firm or State."
 
What are the activities that emit greater interdependence costs, and how? These are activities that range from sleeping, eating, and driving a car to flying a plane. "In many of these activities," says Dr. Enajero, "individuals are concerned with their personal benefits ignoring possible costs through spillover effects of activities."
 
Activities carried out by an individual have costs: private costs, which are between the parties involved in the transaction, and external costs, which are social costs due to spillovers imposed on a third party who is not a part to the original transaction. Dr. Enajero gives some examples in Collective Institutions in Industrialized Nations:
 
Sleeping while snoring. Sleeping, a private activity, allows the body to recuperate. The private costs include the hours spent in sleeping and the mattress that makes the sleep enjoyable. Sleeping releases external costs on others in the form of snoring, which disturbs others.
Eating lunch in a cafeteria or restaurant without proper etiquette. The external costs come in the form of eating loud with the mouth wide open, smacking, and the smell of food contaminating other people's meals.
Cooking lunch and then dumping the waste on the front lawn. The external cost is the buildup of bacteria and other harmful microorganisms, which burden the neighbors.
 
"External costs arise due to human interdependence," says Dr. Enajero. "The necessity to accommodate or eliminate external costs imposed on others through everyday human activities caused by persons was the major reasons for collective actions."
 
The author puts forward that collectivization promotes the well-being of the society. "Societies that ignore the collective nature of these activities and make them private would appear dysfunctional."
 
Collectivization is crucial to the transformation of the common human into human capital as it makes certain activities involuntary and conditions people to live and behave in ways that "align human aspirations with social objectives." Collective actions are also crucial to the political stability, production, and delivery of public goods (infrastructures and social capital that enable human capital), which Dr. Enajero discusses at length in Chapter 7 "Collective Actions and Public Goods."
 
To sum it up, collectivization makes – and defines – a functional society, regardless of the ideology of its political economy. "Recognition of economic interdependence and how to minimize the interdependence costs within a group makes up a society. Without collectivization of certain activities, it becomes questionable if a society really exists." It is the author's hope that Sub-Saharan Africa starts identifying and collectivizing certain activities to jumpstart its economic development.
 
Learn more about Dr. Samuel Enajite Enajero's urgent call to collectivization in Sub-Saharan Africa in Collective Institutions in Industrialized Nations: Economic Lessons for Sub-Saharan Africa. Order today on Page Publishing, Amazon, and Barnes & Noble.
 
 
 
 
Collective Institutions in Industrialized Nations: Economic Lessons for Sub-Saharan Africa
Author | Samuel Enajite Enajero, Ph.D.
Published date | November 5, 2015
Publisher | Page Publishing
Book retail price |
 
Author Bio
 
Samuel Enajite Enajero is a researcher, visiting assistant professor and lecturer and academic author with a Ph.D. in Economics.
( Press Release Image: https://photos.webwire.com/prmedia/55089/266629/266629-1.jpg )
WebWireID266629
Contact Information

Jam Comoyong
Author Relations Officer
Readersmagnet LLC

This news content may be integrated into any legitimate news gathering and publishing effort. Linking is permitted.
News Release Distribution and Press Release Distribution Services Provided by WebWire.