Conversations With Colleagues: Keya Udeshi, Hearst Creative Communications Designer, Shares Her Diwali Traditions
WEBWIRE
–
Monday, November 16, 2020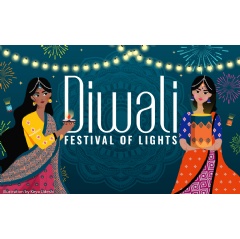 Diwali, the festival of light, lasts for five days and is one of the year's biggest celebrations in India.
I learned about the meaning of Diwali through bedtime stories I heard growing up. They were from the great Sanskrit epic Ramayana, which narrates the story of Lord Ram. Diwali is mainly celebrated to honor Lord Ram's return to his kingdom in Ayodhya after 14 years of exile. To mark their joy at his return, the people of Ayodhya lit lamps, decorated their homes and city with rows of "diyas" — clay lamps — and held a grand feast with sweets distributed throughout the kingdom. We follow these rituals today, celebrating Diwali by lighting up our homes with diyas and giving sweets to our family, friends and neighbors.
The first thing Lord Ram did upon his return was to pray to Lord Ganesh and Goddess Lakshmi. It evolved into a religious custom to worship Lakshmi and Ganesh on Diwali night, known as the "Diwali puja." Lakshmi is the goddess of wealth and money, while Ganesh is considered the god of wisdom, intelligence, success and prosperity. They remind us that wealth becomes useful and a blessing only when one has the intelligence and wisdom to use it.
Combining the religious and mythological aspects, Diwali is celebrated to spread the message of good over evil and light over darkness, and light is very important in our celebrations.
As a kid, I remember being very excited for Diwali. We start our mornings by drawing rangoli and mandalas using flowers as a way to welcome the Goddess Lakshmi into our home. The decorations vary from flowers to candles and religious imagery. We mainly use marigolds, which are among the most often-used flowers across India for worship, as they are associated with helping to reconnect people and spread love. The elephant is considered to be a symbol of loyalty, peace and power. It is a cultural symbol of fortune and good luck and is associated with Lord Ganesh, who is typically represented as half-human, half-elephant.
During Diwali, we have a puja — a religious ceremony — praying to Lakshmi and Ganesh. After the prayers are over, we snack on delicious Indian sweets and delicacies, like mithai. As evening comes, people traditionally burst firecrackers to light up the sky, symbolizing light over darkness.
However, with time and learning about climate change and air pollution, my family switched to having a very eco-friendly Diwali. We pledged not to burst firecrackers on Diwali but instead to light up our home with lamps and string lights to make a small contribution to saving our planet.
With everything going on in 2020, this year's celebration will be a bit different. We intend to call our grandparents because not everyone is equipped with laptops or smartphones to have a video call. We'll exchange our good wishes for a prosperous year ahead and good health, but the rituals will still remain the same. We'll celebrate, clean, decorate and light up our homes, while also social distancing, of course.
My favorite thing to do leading up to the festival is paint diyas, adding my own little artistic touch to them. I love painting them and sending these little handmade gifts to my friends and families. I would always paint mandalas, which are drawn to perform religious sacred ceremonies and highlight the importance of peace. Mandalas are seen as a process of transformation from suffering to joy.
I belong to a Gujarati community, and the day after Diwali is our new year, which is very significant and auspicious for us. The most important work of the day is the beginning of new accounting books for businesspeople, and the Gujarati community is very business-driven. We close the previous year's accounting books and pray for a good business year ahead. Our family business is manufacturing and exporting Castor oil, so we do this ceremony every year as a family at our factory and offices. With the Gujarati New Year, we mark the end of the Diwali festival.
Let's celebrate life, victory of light over darkness, awareness over ignorance. May this auspicious festival light up your life with happiness, joy and peace. Wishing you all a very Happy Diwali!
Check out some of Keya's design work here.
( Press Release Image: https://photos.webwire.com/prmedia/7/266608/266608-1.jpg )
Related Links
WebWireID266608

This news content was configured by WebWire editorial staff. Linking is permitted.
News Release Distribution and Press Release Distribution Services Provided by WebWire.