Coca-Cola Leaders Share Sustainability Progress and Priorities with Investors
WEBWIRE
–
Monday, November 16, 2020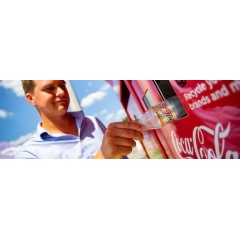 The Coca-Cola Company has advanced its core sustainability priorities – from water replenishment to sugar reduction to diversity and inclusion – in 2020 despite unprecedented challenges presented by a global pandemic, natural disasters, social unrest and more, senior leaders told investors on Nov. 13. 
Bea Perez, SVP and Chief Communications, Sustainability & Strategic Partnerships Officer, and Lori Billingsley, Chief Diversity & Inclusion Officer, shared a detailed progress report on the company's key sustainability goals and initiatives, which are anchored by its refreshed purpose and closely aligned with its business strategy.
WATER
"We have been a corporate leader on water across our system's nearly 900 bottling facilities for more than a decade – with a focus on water risk management, improving water use efficiency, and wastewater treatment – as well as returning water to communities and nature through our replenishment programs," Perez said.
Recent highlights:
Achieving the company's water replenishment goal – to return 100% of water used annually by 2020 – in 2015, five years ahead of schedule. 
Returning the equivalent of 160% of water used in finished beverages back to communities and nature as of 2019. Since 2012, this work has added up to more than 1.5 trillion liters of freshwater returned to the environment and communities. 
Delivering an 18% improvement in water use efficiency in operations since 2010. 
Reaching more than 10.6 million people globally through water, sanitation and hygiene programs, to date. Community hygiene programs have continued during the pandemic in countries such as Uganda, where Coca-Cola Beverages Africa helped distribute 5,000 hand-washing stations.
"Going forward, we will segment our business by the level of water risk," Perez said. "We will prioritize efforts and set higher replenish targets in those high-risk regions or where we are sourcing most agricultural commodities. And we will do all of this while maintaining a 100% or more global water replenishment rate."
SUGAR REDUCTION/PORTFOLIO TRANSFORMATION 
Low- or no-sugar beverages account for about 45% of the company's global portfolio and about 29% of its global volume. Additionally, about 42% of its sparkling soft drink brands are offered in small packages of 250 milliliters or less.
"We've been taking actions to change the recipes of our beverages and reduce added sugar, offer smaller portion sizes, innovate and bring drinks with additional benefits to the market, and promote our low and no-calorie options – all while providing consumers with easy-to-understand nutrition labelling," Perez said. "This work remains a priority… as we continue to transform our portfolio as a Total Beverage Company."
Recent highlights:
Increasing total sales globally in 2018 and 2019, while reducing added sugar.
Reformulating nearly 1,000 beverages from 2017 to 2019. This resulted in removing approximately 350,000 tons of added sugar from beverages on an annualized basis in 2019.
Joining an industry initiative in Europe to reduce added sugars by 10% by 2020. According to a recent audit, the industry surpassed this target ahead of schedule (14.6% reduction between 2015 and 2019). 
Growing Coca-Cola Zero Sugar volume double digits in North America for the third consecutive year in 2019, while continuing to post double-digit growth of mini can sales. 
SUSTAINABLE PACKAGING  
The Coca-Cola Company's World Without Waste strategy remains focused on three pillars: Design, Collect and Partner. "We are striving to make packaging part of the circular economy," Perez said. "Our goal is to create closed loop systems, extracting the maximum value from materials and products while in use, and then recovering and recycling them."
Currently, 88% of the company's packaging is recyclable, and 20% is made from recycled material.
Recent highlights:
Rolling out 100% recycled PET (rPET) plastic packaging in 18 markets and counting. The Netherlands and Norway recently became the second and third markets in Western Europe (after Sweden) to transition to 100% rPET for their entire portfolios. 
Developing a touch-less option for Coca-Cola Freestyle machines in the U.S., allowing consumers to select and pour drinks them via smartphone – all without touching the machine's screen. This innovation will be available on all Freestyle machines in the U.S. by the end 2020. More than 20% of the company's global portfolio is in refillable or fountain packaging.
Refilling, recycling or collecting 60% of bottles and cans in 2019 (+4% over 2018). 
Boosting PET recycling rates in Kenya from 5% in 2018 to 35% in 2019 via industry efforts to support the PETCO recycling model developed in South Africa. Similar programs launched in Ethiopia and Tanzania.
Joining industry peers to launch Indonesia's first Packaging Recovery Organization, with support from the Indonesian government, to improve collection.
Creating a $100 million fund with The Recycling Partnership, Closed Loop Partners and World Wildlife Fund in the U.S. to reclaim more plastic bottles so they can be remade into new bottles. In 2020, built on this by joining the U.S. Plastics Pact to galvanize action beyond the beverage industry to ensure that all plastic packaging gets collected. 
Launching a $140+ million PET Packaging Manufacturers of Clean Environment (PACE) initiative in India to create Asia's Largest Packaging Waste Management Venture with goal of preventing recyclable packaging material from reaching landfills by 2025.
CLIMATE AND SUSTAINABLE AGRICULTURE
In 2019, the company reported a 24% reduction of the carbon footprint of the "Drink In Your Hand" compared to a 2010 baseline. A new science-based target aims to reduce the company's absolute carbon emissions by 25% by 2030, against a 2015 baseline, in line with the Paris Agreement Goals.
Additional highlights: 
Sustainably sourcing 54% of priority ingredients – with some commodities such as coffee, tea and soybeans close to or at 100% – as of 2019. 
Revisiting Sustainable Agriculture Guiding Principles to include dairy supply chains and other ingredients. The company continues to strengthen risk assessments and streamline supplier engagement processes.
Developing supply chain management principles to support suppliers through COVID-19 disruptions and uphold food quality, social and environmental standards. 
The company's sustainability goals are interlinked. 
"We think holistically about how we achieve them," Perez added. "For example, since packaging is almost one-third of our overall carbon footprint, our World Without Waste strategy is essential for us to meet our Science-Based Climate target. By developing advanced, plant-based packaging that requires less oil, and by investing in local recycling programs that allow us to make new bottles out of old bottles, we are lowering our carbon footprint one package at a time."
WOMEN'S EMPOWERMENT
The company is on track to achieve its 5by20 goal to support the economic empowerment of 5 million female entrepreneurs by 2020. The program impacted more than 1.3 million women in 2019 alone.
"Given the scale of unemployment and the challenges to our key customers in away-from-home channels, we see an opportunity to expand our economic empowerment strategy in the post-2020 period, engaging in broader industry platforms that collaboratively transform the livelihoods of women, youth and additional vulnerable populations by promoting retraining, upskilling and entrepreneurship," Perez said.
RACIAL EQUITY AND SOCIAL JUSTICE
"As both a global and local business, diversity and inclusion are at the heart of our purpose: to refresh the world and make a difference," Billingsley said. "For us, creating a diverse and inclusive workplace is not only the right thing to do – it is a strategic business priority that fosters greater creativity, innovation and connection to the communities we serve."
Coca-Cola has developed a Global Social Justice Framework focused on four main pillars: listening, leading, investing and advocating. This multi-year effort includes addressing internal policies; supporting inclusive legislation (such as the hate-crime bill in Georgia, which was signed into law); committing to spending at least $500 million with Black-owned businesses in the U.S. over the next five years; and awarded $1 million to The Equal Justice Initiative to support communities marginalized by poverty and discouraged by unequal treatment.
"Our pledge as a company is that we will do our part to listen, learn and act with measurable and sustainable actions," Billingsley said. "Our CEO James Quincey has made it very clear what our commitment is… this commitment and alignment from the very top drives the top-down effect of ensuring the senior leaders of the company are invested in building accountability and leading by example."
Billingsley shared several steps the company is taking to promote diversity, equity and inclusion and "mirror the diversity of the communities where we operate." 
Recent highlights include:
Aspiring to be 50% women-led globally.
Advancing Black representation in leadership roles by boosting investment in leader training and internal pipeline development. 
Updating recruiting and hiring strategies to deploy tools that assess job postings for bias language, and refreshing interview guides with more inclusive messaging and ensuring all interview panels and slates are diverse. 
Extending a global pay equity analysis to ensure employees in equal or similar jobs are paid fairly, without regard to gender (globally) or race/ethnicity (in the U.S.).
Coca-Cola is committing to sharing diversity, equity and inclusion metrics with senior leaders each quarter, and disclosing results to investors and stakeholders on a regular basis.
"Beginning in 2021, we will publicly share data about our company's diversity in our Business and Sustainability Report," Billingsley said. "The report will include data on representation by race and gender for both our general population and leadership, information submitted to the U.S. Equal Employment Opportunity Commission, pay fairness data and other information."
( Press Release Image: https://photos.webwire.com/prmedia/6/266603/266603-1.png )
Related Links
WebWireID266603

This news content was configured by WebWire editorial staff. Linking is permitted.
News Release Distribution and Press Release Distribution Services Provided by WebWire.