Guggenheim Museum Fall Programs for Families, Kids, Teens, and Students
NEW YORK, NY –
WEBWIRE
–
Wednesday, November 11, 2020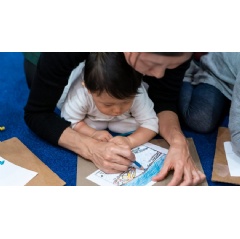 This season, the Solomon R. Guggenheim Museum offers virtual programs for kids, families, school groups, and educators in conjunction with exhibitions on view, including Countryside, The Future; Away from the Easel: Jackson Pollock's Mural; and Knotted, Torn, Scattered: Sculpture After Abstract Expressionism. Information below is subject to change. For more information, contact pressoffice@guggenheim.org.
For KidsAt-Home Art ClassesTuesdays, Wednesdays, and Thursdays
Sessions for grades PreK and K (ages 4 and 5), K–2 (ages 5 to 7), grades 3–5 (ages 8 to 10), and 6–8 (ages 11 to 14)
In 45-minute live online sessions, kids will engage with and get inspired by the artwork from the Guggenheim's collection and special exhibitions, as well as the museum's own architecture. Focusing on a new theme each week, Guggenheim educators will share process-oriented art-making projects during each session to get kids started creating their own art.
$15 per session, $10 for members. Siblings welcome. Discounted scholarships available upon request. Registration is required. For more information, please visit guggenheim.org/at-large/for-families or contact youthprograms@guggenheim.org.
Guggenheim Art KitsWednesdays, January 20–February 24, 4–4:45 pm
(Wednesdays: January 20, 27; February 3, 10, 17, and 24)
Suggested for kids ages 5–12
Looking for art classes at home, but need some zing in your Zoom? Craving something more than crayons? Guggenheim Art Kits provide a complete art experience in your own home and inspire kids to make art independently! Each kit contains a specially curated set of art materials shipped directly to your home. Kits are then activated in live online sessions with Guggenheim educators, through virtual museum visits and art activities designed to encourage creativity and art-making. Guggenheim Art Kits offer high-quality art-making materials and experiences that everyone can join.
Art Kits can be used in any learning environment—in class, at home, or in a learning pod—and provide lesson-specific art materials that are easy to use wherever you are. Siblings and families welcome.
Each kit includes all the required art materials and registration in six live online class sessions.  Sessions will be recorded and shared with participants who are unable to attend live.
January–February: Curious about Collage
Inspired by works from our collection, Guggenheim Art Kits provide specialized kid-friendly art supplies for use at home to help you explore new materials and techniques. This kit provides paper-patterning scissors, washi tape, special stickers, glitter glue, and much more. Everything you need for all six classes will be delivered to your door­—smock included!
Please note that online classes for this program began on Wednesday, January 20, at 4 pm EST. In order to receive your kit in advance of the class start, the deadline for registration is January 11, 2021. Participants may still register after the January 11 shipping deadline and will have access to recordings of any classes they may have missed. After registering, please allow 5–7 business days for shipping via FedEx.
$150, $125 for members. Each kit includes all the required art materials and registration in six live online class sessions. Registration required; for more information visit guggenheim.org/event/guggenheim-art-kits or contact youthprograms@guggenheim.org.
For Families
Spend quality time with your extended family exploring and making art through the Guggenheim's live digital programs. With offerings designed for children of all ages, these hands-on tours and workshops provide a chance for your extended family to come together, no matter how far apart they may be. Registration allows multiple family members to join from different locations and includes membership in our Guggenheim Kids and Family Facebook Group, with access to additional family art activities and opportunities. For more information contact Emily Rivlin-Nadler, Manager for Family Programs, at erivlin-nadler@guggenheim.org.
Family Tours at HomeSunday, December 13, 11am–12 pm
For families with children ages 5 and up
Connect with family members near and far through art and explore the museum together from home. This 60-minute, interactive, family-friendly tour includes creative, hands-on activities designed to help families engage with each other and with relatives from far away. Each tour is organized around a single theme and highlights artworks from the Guggenheim's collection and special exhibitions.
$15 per family, $10 for members. Each family registration includes access for all members of your family group, even if you are joining from different locations. Discounted scholarships are available upon request. Registration required. For more information, visit guggenheim.org/at-large/for-families.
Digital Little GuggsSunday, December 20, 11 am–12 pm
For families with children ages 2–4
In this 45-minute hands-on, active program, little art-lovers and their families can discover and make art together, even if they are in different physical spaces. Each program will start with art inspiration and lead to movement and art-making activities designed to help families engage with art and each other.
$15 per family, $10 for members. Each family registration includes access for all members of your extended family group even if you are joining from different locations. Discounted scholarships are available upon request. Registration required. For more information, visit guggenheim.org/at-large/for-families.
Guggenheim for All: Art for Families with Children on the Autism SpectrumSunday, December 13, 11 am–1 pm
For families with children ages 6 and up
In this free virtual program designed for individuals on the autism spectrum and their caregivers, explore works of art from the Guggenheim Museum and create your own art at home. Each 45-minute live digital session will include guided looking at a selection of artworks and a related art-making activity.
Free, registration required. A Zoom link and password will be emailed to registered participants prior to the program. Space is limited; registration is reserved for individuals with autism and their caregivers. For more information visit guggenheim.org
For teachers and professionals wishing to participate, please email Melanie Adsit, Senior Manager, Youth, Family and Inclusion Initiatives, at madsit@guggenheim.org.
For School Groups
K–12 educators are invited to take their students on a virtual tour or sign up for our online programming facilitated by Guggenheim educators and staff. These online offerings are designed to foster active learning and engage students in careful observation, active making, and the development of language and critical-thinking skills. For more information or to schedule a program, call 212 423 3637 or visit guggenheim.org/schools.
Virtual ToursGrades K–12
Our one-hour museum tours will highlight three to five works of art. By focusing on a selection of works students will have time to discuss each artwork in depth. Throughout the virtual tour, Guggenheim educators will ask students open-ended questions to help start conversations and foster exploration. Educators will also incorporate activities to encourage active engagement with the works of art. These activities may be based in drawing, writing, or physical movement, and will involve basic materials such as pens, pencils, scissors, and paper.
$75 per tour, free for New York City public schools. Discounted rates are available upon request. All virtual tours are offered through either Zoom or Google Meets. Each digital tour is limited to 30 participants per session. Tours are available between 9 am and 4 pm Eastern Time. To schedule a tour, please contact Lara Tootleman, Education Coordinator, at ltootleman@guggenheim.org.
Seminar Series for Schools: Curriculum Connections to ArtGrades K–12
For further engagement in the classroom, the Guggenheim is launching virtual classes for schools. The aim of these classes is to connect the museum's collection to school curricular objectives through the power of art. Guggenheim educators will facilitate a series of sessions on particular themes to provide engaging and interactive experiences for students to develop observational skills and explore art-making prompts. To coordinate a multisession collaboration, please contact Michelle Wohlgemuth Cooper, Education Associate, Learning Through Art, at mwohlgemuth@guggenheim.org.
Guggenheim for All: Reaching Students on the Autism SpectrumAll grade levels
This virtual program series serves classes of students with autism spectrum disorders (ASD). Each session is customized for the specific needs of the group, and includes asynchronous content designed to introduce the Guggenheim to students in advance of the program; a live virtual museum tour; and post-tour resources for teachers so that they can extend thoughtful reflections into the classroom.
Guggenheim for All programming aims to provide a developmentally sound museum experience and art-making opportunity for students on the autism spectrum. These sessions also equip teachers of students with ASD with tools to address communication and socialization goals in the virtual classroom. By mixing a familiar school structure with new experiences and routines, Guggenheim for All offers an accessible and welcoming virtual experience for students on the autism spectrum. To coordinate Guggenheim for All virtual programming, please contact Melanie Adsit, Senior Manager of Youth, Family, and Inclusion Initiatives, at madsit@guggenheim.org.
For EducatorsGuggenheim Educator Series: Exploring Art in the Online ClassroomMondays, 4–5pm
In this workshop series educators will discover new tools and strategies to integrate art into their online classrooms to best support different types of learners and provide outlets for creativity, social emotional learning, and self-expression in the online environment.
November 30: Using the Guggenheim Collection in your Online Classroom
In this session learn how to plan and select a Guggenheim field trip and how to utilize our free Teacher Guides with your students. We will share our resources and lesson plans so you and your students can focus on creating together.
December 14: Social Emotional Learning in the Online Classroom
Create a classroom culture that fosters Social-Emotional Learning for students through arts integration, artmaking and inquiry.
January 11: Building Community in the Online Classroom
Connect with your students and build a classroom community through the inclusion of inquiry conversations and artmaking.
January 25: Guggenheim for All: Art for Students with Special Needs in the Online Classroom
Learn techniques to engage students with special needs through conversations about art and hands-on art activities in the online classroom.
February 8: Integrating Art and Classroom Curriculum
Strengthen your existing arts integration skills to reinforce a classroom curriculum that allows students to demonstrate their learnings through observations and inquiry discussions.
February 22: Art for ELL's
Through inquiry conversations, observation and art making you can use art to foster language development for your English Language Learners in your online classroom.
$10 per session. Registration required. For more information, please visit guggenheim.org/educators or contact guggenheimteachers@guggenheim.org
Funders
The Sackler Center for Arts Education is a gift of the Mortimer D. Sackler Family. Endowment funding is provided by The Engelberg Foundation; the William Randolph Hearst Foundation; The Elaine Terner Cooper Foundation; the Esther Simon Charitable Trust; the Anna Kovner and Seth Meisel Education Endowment Fund; and the Goldring Education Endowment Fund.
Educational activities and/or public programs are made possible in part by Ornellaia; The Freeman Foundation; the New York City Department of Cultural Affairs in partnership with the City Council; Stavros Niarchos Foundation; The Pinkerton Foundation; Katherine and Peter Kend, Annie and Gaines Wehrle, and Michael Wehrle in honor of Ebersole Gaines and Peter Lawson-Johnston; and The Hilla von Rebay Foundation.
Funding is also provided by Guggenheim Partners, LLC; The Horace W. Goldsmith Foundation; The Seth Sprague Educational and Charitable Foundation; Gail May Engelberg and The Engelberg Foundation; The Cornelia T. Bailey Foundation; Jacadi Paris; The Barker Welfare Foundation; CBRE; and an anonymous donor.
Additional support from John L. Thomson; Peter Bentley Brandt; Lauren and Scott Pinkus; Bobbi and Barry Coller; Con Edison; JPMorgan Chase; Peggy Jacobs Bader and John Bader; Margarita and Ari Benacerraf; Sylvia W. and Randle M. Kauders Foundation; Lisa and Jeffrey Thorp; PunkinFutz, LLC; the Milton and Sally Avery Arts Foundation, Inc.; the Henry E. Niles Foundation, Inc.; the Mann-Apatow Family Foundation; Zina Starosta-Egol; and Cecilia and Mark Vonderheide.
Visitor Information
Admission: Adults $25, students/seniors (65+) $18, members and children under 12 free. Open Thursdays through Mondays from 11 am to 6 pm. Pay What You Wish hours are Saturdays from 4 to 6 pm. Timed tickets are required and available at guggenheim.org/tickets. Explore the Guggenheim with our free Digital Guide, a part of the Bloomberg Connects app. Find it in the Apple App Store or in the Google Play Store.
The Guggenheim is implementing health and safety measures in consideration of visitors and employees and in compliance with New York State and City guidelines. Face masks will be mandatory inside the museum for anyone over the age of two. New requirements should be reviewed in advance of a visit; they are posted on COVID-19 Safety Measures: What to Expect When Visiting.
For publicity images, visit guggenheim.org/press
Password: presspass
guggenheim.org/social
( Press Release Image: https://photos.webwire.com/prmedia/7/266441/266441-1.jpg )
Related Links
WebWireID266441

This news content was configured by WebWire editorial staff. Linking is permitted.
News Release Distribution and Press Release Distribution Services Provided by WebWire.