Your car begins with a moodboard.
WEBWIRE
–
Wednesday, November 4, 2020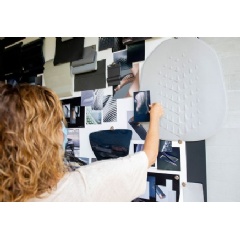 From a car's essence to its colours, shapes and textures.
Graffiti splashed across the walls of an inner-city garden that claims its space in the heart of Barcelona's Gracia district is a sample of urban art that could spark an idea for your car. Or it might be a detail seen on the façade of La Pedrera or an item of home decor. There are more than three years of design work behind a model such as the new SEAT Leon, starting with images just like these, selected and artistically arranged on moodboards.
Your car's visual universe.
These panels are precisely the starting point for any designer, whether in the automotive, fashion or any other sector. Moodboards are compositions of images, words and even textures that give technical and emotional information about the elements to be included in a specific design. Their purpose is to inspire the desired context in which to start creating, and also to establish a design code to work with. "Simply put, a moodboard is where it all starts and the only way to come up with the essence we're looking to achieve. I couldn't imagine our work as designers without them" explains Francesca Sangalli, the director of Color&Trim at SEAT.
Created in and inspired by Barcelona.
Not only are  SEAT and CUPRA models created in Barcelona, but the city inspires them as well. "Inspiration is everywhere and Barcelona is full of it. Its characteristic contrast of light and colour can be found in its streets, shops, cafés and museums", says Francesca. She often wanders around CASA SEAT, camera in hand, exploring the Gracia district. "If we find an image that we think supports the key messages of what we are going to design, we capture it and post it on the moodboard." Then the creative work begins by combining those photographs with others from the Internet, words, fabrics, colour swatches... Everything to achieve a visual representation that the team looks for in each project. 
The design rudder.A picture is worth a thousand words, the saying goes. And at the CASA SEAT Concept Lab, where the Design and Color&Trim team designs the cars and mobility services, moodboards prove this every day. "With all the prior research to produce them, we establish the key messages we want to convey to the product in images and the team aligns itself around the same code or design language", Francesca says. They inspire and point the way forward, but they are also the easiest way to explain to other areas of the company or to collaborators involved in the creation of a car where you want to go and what you want to achieve.
From the DNA to particular features.
"Moodboards are like funnels that channel our creativity, going from general to specific" says Francesca. At the beginning of a project, they set the style and spirit, as well as the essence, of SEAT or CUPRA. For example, there's a SEAT MÓ moodboard on one of the walls of the Concept Lab. At the top, there are photographs of different objects in black with fabrics such as neoprene, and one particular colour stands out. "We call it superorange, the centre of attraction, inspired by the contrast that is characteristic of Barcelona" she explains. As we look down, the moodboard reveals colours, shapes and textures that we now see in SEAT's micromobility vehicles, such as the e-Scooter 125.
A moodboard for every detail.
Another wall of the Concept Lab features a moodboard for the CUPRA Tavascan concept car. Its goal is to specify each part of the car. In it there are images that speak of a design with a halo of mystery. "One of the key aspects in this case is the human touch, so we included photographs on the moodboard, such as those of a young human-being back, which inspired the design of the seat upholstery," explains the director of Color&Trim. Another example of how important these compositions are is that they are essentially a visual representation that gives a car gets its essence, the DNA that defines it, as well as the coherence between each one of its parts.
Inspiration is everywhere: from a modernist building to graffiti and skin texture.
The 5 functions of a moodboard.
By searching for the images that will define it, the designer interiorises the key messages of each design project
The completed moodboard conveys inspirational ideas and emotions, providing a context in which to begin creating
It aligns the Design team around the same code and style
It is a guide for both the general design, highlighting the SEAT and CUPRA DNA, and the specific design for each vehicle part
It quickly and easily explains to other areas and collaborators which direction to take
( Press Release Image: https://photos.webwire.com/prmedia/6/266161/266161-1.jpg )
Related Links
WebWireID266161

This news content was configured by WebWire editorial staff. Linking is permitted.
News Release Distribution and Press Release Distribution Services Provided by WebWire.