CaixaBank shortlists 11 regional winners competing for the national 'CaixaBank Women in Business Award 2020'
Barcelona –
WEBWIRE
–
Tuesday, October 27, 2020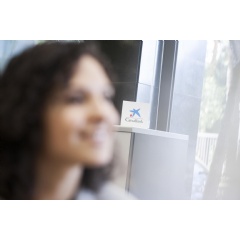 CaixaBank
• The winner of the national stage will be one of the Spanish representatives at the IWEC 2020 awards, as part of the 13th International Women's Entrepreneurial Challenge conference, this year to be held virtually on 9 and 10 November.

• The 11 regional winners will be part of the recently created 'CaixaBank Women in Business Community' on LinkedIn, in which businesswomen can share ideas and knowledge with the winners of previous editions, and access the bank's exclusive experiences.

• The CaixaBank Women in Business Award, now in its fourth edition, is part of the institution's Wengage programme, which develops and promotes the value of diversity. The institution currently has a representation of 41.3% women in management positions, and 40% on its Board of Directors, among the highest levels in the sector.
CaixaBank has shortlisted the 11 regional winners who will go on to the national stage of the CaixaBank Women in Business Award 2020, which recognises talent and professional excellence among businesswomen in Spain, who stand out due to their careers, strategic vision, capacity of innovation and transformational leadership; and promotes networking between worldwide business leaders. 
The award, now in its fourth edition, has consolidated itself over the last few years as a driver of diversity and because of its contribution to promoting gender equality across Spanish society. 
Following the regional phase, a jury formed of the CaixaBank Diversity Committee, formed of members of the steering committee and various diversity project leaders, will select the national winner from the 11 regional winners. The winner will be one of the Spanish representatives at the 2020 IWEC Awards granted by the International Women's Entrepreneurial Challenge, the global network of leading businesswomen from all over the world who cooperate internationally to help create and distribute entrepreneurial wealth. The awards will be given out as part of the IWEC Annual Conference, which in 2020 will be held virtually on 9 and 10 November. 
Regional winners competing for the national 2020 CaixaBank Women in Business Award 
The 11 winners of each of the regional CaixaBank departments competing for the national 2020 CaixaBank Women in Business Award and to become one of the Spanish representatives at the IWEC Awards 2020 are: 
Western Andalusia: Rocío Medina Muñoz, chairwoman of Grupo Medina, a family group of businesses operating for more than 60 years, and pioneers in strawberry growing in Spain. 
Eastern Andalusia and Murcia: María Ángeles López Ascanio, managing director of Docriluc, a leading company and pacesetter in the sector of industrial and commercial refrigeration for the hospitality and food industries, operating for the past 11 years. 
Balearic Islands: Lina Mascaró Pons, chairwoman of Grupo Mascaró, which has been in operation for the last 102 years, manufacturing high-quality footwear and innovative designs around the world. 70% of its total turnover comes from abroad. 
Barcelona: Marta Juanmiquel Gelabert, CEO and chairwoman of You Cosmetics, a family business that has been dedicated to creating cosmetic and perfumery products for the past 15 years. 
Canary Islands: Ana Suárez Calvo, deputy chairwoman of the Astilleros Canarios (Astican), a shipyard whose main activity is the shipping business, port operations and ship repair and transformation. 
Catalonia: Maria Teresa Vallès Queralt, managing director of El Pastoret de la Segarra, a company with three decades of experience in creating natural dairy products. It is the number one kefir seller in Spain in sales volume. 
Valencian Community: Cristina Ruíz Dealbert, manager and director of Muelles y Ballestas Hispano Alemanas, a company with 57 years of experience in designing, manufacturing and selling transport suspension components. It is a leader in heavy-duty vehicle suspension systems in Europe. 
Central Territory (Madrid, Castilla-La Mancha and Extremadura): María Julia Gonzalo Moreno, administrator of Congelados CientoCinco, a wholesale group dedicated to distributing frozen and deep-frozen products internationally. 
Ebro Territory (Aragon, Navarre, Rioja): María José Ballarín Domeque, CEO of Obras Especiales, and chairwoman of Grupo Corporativo Obercorp, a construction group founded in Navarre with more than four decades of experience. 
Northwest Territory (Galicia and Castile and León): Elena Becoechea de la Rosa, manager of Cicrosa Hidráulica, a leading company in manufacturing hydraulic cylinders for the industrial sector, founded in 2003. 
Northern Territory (Basque Country, Cantabria and Asturias): Sofía Nogueira Sánchez, founder, CEO and chairwoman of Pharmediq, a pharmaceutical company with 11 years of experience that sells consumables and medical devices for the pharmaceutical and hospital sector. 
All of them, as regional winners, are invited to form part of the new 'CaixaBank Women in Business Community' on LinkedIn, which brings together the winning businesswomen from all the editions of the 'CaixaBank Women in Business Awards', and puts them in touch with other networks of businesswomen nationally and internationally, such as the IWEC, International Women's Forum, Vital Voices and EJE&CON. 
The 'CaixaBank Women in Business Community' offers an extensive repository of information on female business and leadership, adapted to the interests of participants, and enables a participatory forum in which businesswomen can exchange knowledge and experience, learning from best practices that have been adopted in each of the businesses represented. The platform also offers access to exclusive experiences driven by CaixaBank, as is the case of the virtual Disruptive Innovation session offered by the renowned chef, Ferran Adrià, in July.
 CaixaBank's Wengage programme, the institution's commitment to equality
Diversity, meritocracy, equal opportunities and talent recognition are some of the pillars of CaixaBank's corporate culture. Under these premises, it is committed to being a pacesetter for its employees, promoting inclusion and participation and bolstering projects that promote equality, both within the company and across the whole of society. In fact, 41.3% of management positions in CaixaBank are held by women, with a public commitment to increase this figure to 43% in 2021, and with 40% proportion of women on its Board of Directors, one of the highest in the sector.
CaixaBank's Wengage diversity programme is a cross-disciplinary project developed by people from all areas of CaixaBank, based on meritocracy and the promotion of equal opportunities, which works to foster and visualise gender, functional and generational diversity. Wengage includes internal measures to foster flexibility and work-life balance, to raise awareness regarding diversity and strengthen the role of women, with training programmes and female mentoring plans, through which female managers will guide other professionals in developing their careers. 
Wengage also develops external initiatives for customers and society, based on championing the diversity and equal opportunities in 3 fields of action: leadership and enterprise; innovation and education; and sport.
Furthermore, in January 2020, CaixaBank signed an Equality Plan to promote the principles of equal opportunities and diversity in work teams, increase the presence of women in management positions and strengthen measures to enhance the work-life balance. The plan features the scope of gender in managerial development programs and in recruitment and training processes, and the fostering of teleworking and flexibility. 
Thanks to this commitment, CaixaBank has distinctions such as being included in the Bloomberg 2020 Gender-Equality Index, the Equality in Business Badge (DIE), managed by the Institute of Women, and has been recognised by the Másfamilia Foundation with EFR Certification (Family Responsible Company). It has received various recognitions, such as the 25th anniversary of the FEDEPE Award (The Spanish Federation of Female Managers, Executives, Professionals and Entrepreneurs). It also features on the EWoB Gender Diversity Index.
CaixaBank is associated with the international programme Target Gender Equality and the Women's Empowerment Principles, of the United Nations; the Voluntary Agreement with the Ministry of Health, Social Services and Equality, 'More women, better businesses', seeking better representativeness of women in management positions; and to the Diversity Charter, promoting equal opportunities and anti-discriminatory measures.
 The IWEC Awards
The International Women's Entrepreneurial Challenge (IWEC) is a worldwide network of female business leaders who nurture company ownership and cooperate on a global level with the goal of creating and distributing wealth in the business world.
Every year, within the framework of its Annual Conference, IWEC hands out prestigious awards in recognition and support of businesswomen all over the world. Among other aspects, the IWEC awards aim to increase the awareness, credibility and responsibility of businesswomen, so that they can represent a major and decisive element in the development of the 21st century global economy.
The first edition of these awards took place in Barcelona in February 2007; subsequently, they were held in New York (2008), New Delhi (2009), Cape Town (2010), New York (2011), Barcelona (2012), Lima (2013), Stockholm (2014), Istanbul (2015), Brussels (2016), Seattle (2017), Shanghai (2018), and New Delhi (2019).
( Press Release Image: https://photos.webwire.com/prmedia/7/265790/265790-1.jpg )
Related Links
WebWireID265790

This news content was configured by WebWire editorial staff. Linking is permitted.
News Release Distribution and Press Release Distribution Services Provided by WebWire.