KINGDOM HEARTS Melody of Memory: Beyond the demo
Enjoying the KINGDOM HEARTS Melody of Memory demo? Hereís a closer look at what you can expect from the full game!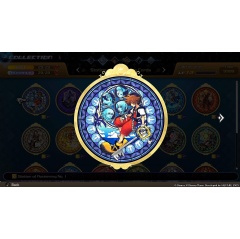 November 13, 2020 is a date that will put a song in KINGDOM HEARTS fans hearts, and a spring in their step. Thatís the day that KINGDOM HEARTS Melody of Memory releases for Nintendo Switch, PS4 and Xbox One.

But you donít have to wait that long to try this new rhythm action-adventure - thereís a new demo available to download now on Switch, PS4 and Steam! It features six tracks and two play modes from the game.

Experience the Music! Ė Gameplay Compilation

But the demo is a few brilliant bars from an entire symphony! The full game features more than 140 tracks from across the entire series including some beloved Disney songs, multiple gameplay styles, co-op and competitive multiplayer and even story segments that are brand new to the series!

To give you an example of what we mean, we thought it would helpful to take a closer look at the full game, how it goes beyond the demo, and some of the things you can look forward to.

Story and characters

A lot of fans want to know - just what is KINGDOM HEARTS Melody of Memory about? After all, the game features new story segments that follow up KINGDOM HEARTS III.

Rest assured that weíre not going to give away spoilers - that would be Heartless. But the general theme is that you journey across multiple worlds that are stored within memory.

Youíll travel by Gummi Ship to locations from across the entire KINGDOM HEARTS series, and collect Rhythms by reliving memories of the adventures within.

Many characters from the KINGDOM HEARTS series will be playable in the game. Naturally, that includes the original team: Sora, Donald and Goofy.

But other teams will be available too. For example, you can choose to play as this bunch of Nobodies.

Thatís Xion, Roxas and Axel - got it memorized?

Once characters other than Sora, Donald and Goofy have been unlocked, you can switch between teams as you choose.

Gameplay

So how does the game actually play? You can get a solid taste of this by playing the demo, but for those of you who havenít had a chance, or are saving themselves for the full experience, we can briefly explain it here:

When you enter a world, notes will flow down the screen. Youíll need to press the appropriate button in time with the rhythm. Depending on your timing, youíll get a rating of EXCELLENT, GOOD or MISS.

If you consistently hit EXCELLENT and GOOD, youíll be flying high, but be careful if you MISS - itíll cause your HP to drop (note the meter in the bottom right of the screen). If you run out of HP, itís game over. And even worse, you wonít get a high score!

There are three different button styles available in the game, all of which can be chosen from the track selection screen:
Normal: the default control method. You play with multiple buttons, which you must press in time with the on-screen prompt.

One-button: lets you control the gameplay with a single button. Itís perfect for players who want to concentrate purely on the rhythm without having to switch between different commands.

Performer: this oneís for the true rhythm-action masters. It features more buttons than Normal, and the game will throw all kinds of complicated command sequences at you. Itís a challenge to be sure, but when you nail these fast-paced sequences of commands, it genuinely makes you feel like a virtuoso.
Play modes: World Trip Mode

There are multiple play modes in KINGDOM HEARTS Melody of Memory. In World Trip Mode, youíll travel the worlds of memory, collecting songs and story movies.

There are three difficulties to choose from: Beginner, Standard and Proud - so you can make the game as easy or challenging as you like.

Once you have unlocked a song, you can play it any time from Track Selection. Play each one multiple times to set the best score possible!

Story scenes can be re-watched in the Museum. This also contains a place to view your collections, including collective cards, and listen to the music without the gameplay - perfect if you just want to chill out with these classic tunes.

Types of Stage

As you delve into the depths of memory, youíll discover many different types of stage, all of which will challenge your musical mastery in slightly different ways.

Field Battle

In Field Battles, youíll run across the top of a musical score with five lanes, set along a backdrop of past memories. This gameplay style is featured in the demo - youíll defeat enemies to the rhythm, using all kinds of awesome actions, including special abilities, and mid-air attacks.

Memory Dive

In this mode, youíll dive into some of the most memorable cutscenes from the series. Press the buttons in time with the commands to feel in sync with the movie.

Boss Battle

These stages put the team in direct conflict with some of the series most powerful bosses. Youíll have to enter commands correctly and in time with the music to defeat your enemy.

Sometimes the boss will launch a special attack - youíll have to press commands shrouded in an aura of darkness to avoid them!

Play modes: VS

A solo is all well and good, but sometimes itís more fun to play in a band. Fortunately, the full version of KINGDOM HEARTS Melody of Memory has you covered there, with multiple game modes.

Online Battle

This lets you connect to the internet to play against friends and rivals (Nintendo Switch users can also play using Local Communication). Youíll each take on tracks from the game, competing to see who can attract the best score.

Not only will you have to have a better mastery of rhythm than your opponent, you can also use Tricks - actions unique to this mode that create interference for the other player.

For example, when afflicted with the Hide Guide trick, your guide circle wonít appear. Youíll have to be really on the beat to avoid falling behind!

HP Swap can be a real game-changer when used strategically. As the name implies, it switches your HP with your opponentís, allowing you to turn the tables on them! Of course, they can do the same to youÖ

COM Battle

This is an offline mode that lets you take on the computer to increase your rank.

Your rank will increase when you beat three of the five teams you go up against. Are you good enough to reach Platinum?

Free for All

This mode is exclusive to the Nintendo Switch. Up to eight players can play a Field Battle together using the systemís Local Communications feature.

Players drop out after missing a set number of notes and the player with the highest score at the end is declared the winner!

Play modes: Co-op

If you want to keep things a little more friendly, you can play the game in co-op mode. This lets a friend join you on a single screen using multiple controllers. One player controls Sora, the other Riku. Use the power of friendship to achieve a high score!

As you can see, thereís a lot to enjoy We hope you enjoyed that little glimpse into KINGDOM HEARTS Melody of Memory.

Whether youíre a fan of the series, a fan of rhythm-action games, or someone who just loves incredible music, youíll find a tremendous amount to enjoy in the game when it releases November 13, 2020.

If you havenít tried the demo yet, I urge you to do so. Not only does it show you exactly how the game plays, itís also incredibly compelling - Iíve been coming back to it again and again. With six tracks, three difficulty levels, and three different command styles, thereís a surprising amount to dig into.
Download the demo on Switch
So give the demo a go, and weíll have much more to share about the game in the coming months. Make sure you follow KINGDOM HEARTS on Twitter, Facebook and Instagram to get the news first!
KINGDOM HEARTS

on Twitter

KINGDOM HEARTS

on Facebook

KINGDOM HEARTS

on Instagram

KINGDOM HEARTS

on YouTube
( Press Release Image: https://photos.webwire.com/prmedia/7/265734/265734-1.jpg )
Related Links
WebWireID265734

This news content was configured by WebWire editorial staff. Linking is permitted.
News Release Distribution and Press Release Distribution Services Provided by WebWire.