Perdigão Launches Campaign that Will Reveal The Flavor of Barbecue Throughout Brazil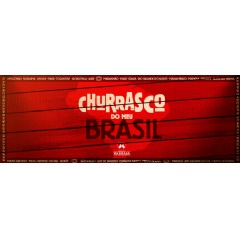 Popular in all regions of Brazil, barbecue is the dish that is present on all special occasions that deserve celebration. From family birthday tohappy hourat the end of the day, it always fits perfectly for its practicality and flavor that appeals to all tastes. With that in mind, Perdigão presents a new campaign that, once again, is featured in the dish that is present in all regions of the country and that, this time, will show its unique regional touches.
Highlighting the culinary variety of Brazil and the particularities found on tables all over the country, Perdigão invites five barbecue influencers who will present the way the barbecue gains the accent and the way of its regions. With this, the brand wants to emphasize how plural and democratic the barbecue can be and provide greater visibility for local cuisines nationwide.
In the Churrasco do Meu Brasil campaign , the ambassador of the Perdigão Na Brasa line , José Almiro, will be challenged, weekly, to prepare a dish with regional touches suggested by the five barbecues invited to participate in the initiative. Every Thursday, thehost will prepare the recipe on your official channel @churchqueadasoficial. Subsequently, all content will be made available in a new section of thePerdigão Em Brasa, created by the brand to provide greater interaction and information among barbecue enthusiasts.
With new interactive tools, this section of the site will bring content about the Churrasco do Meu Brasil webseries and will include the Manda Brasa Calculator , a new feature from Perdigão that will help the public to find the exact quantity of each item needed to 'send ember' in their homes. 
"We believe that the barbecue has the power to bring people together and create special memories, whether in a social gathering or just for a quick and practical meal at the end of the day. Now, we want to understand and show the whole country how this dish so loved by the Brazilian has singularities in each region, that's why we created Churrasco do Meu Brasil .  In addition, we are dedicated to finding new ways to get closer to our customers so that we can not only engage them in preparing their barbecue at home, but we can also help them at these times, and the Manda Brasa Calculator was designed exactly for this purpose ", says Luciana Bulau, Marketing Manager for the Perdigão brand.
The series with the challenges will start on October 25th, with two episodes per week and it will be possible to follow it on the brand's social networks and also on the brand's page.
SHEET T is TECHNIQUE: 
Ag is INSTANCE: Ampfy
Client: Perdigão
Campaign: Churrasco do Meu Brasil
CEO: Pedro Cabral
President: André Chueri
CCO: Fred Siqueira
ECD:  Rodrigo Visconti
Creative Director : Will Ferrari
Art Director:  Fabio Massaru and Matheus Santilli
Copywriter:  Tiago Daltro and Gustavo Torres
Director to call: Denise Vieira
Account Director :  Fernanda Peixe
Attendance: Fabio Dias, Verônica Bortoloto and Nathalia Cangueiro
CSO: Gabriel Borges
Planning Director: Yara Rocha
Director M í day: Sergio Brotto
My day:  Gabriela Moraes, Mariana Nunes, Ingrid Kerestes and Giovanna Morais
Tell ú of:  Patricia Pinheiro
COO: Douglas Bocalão
Opera tio es:  Eduardo Sassá
About Perdigão      
The Perdigão is present in the consumer's home for more than eight decades and believes in human relationships to celebrate meals are on special occasions or everyday situations. With the 'Comer Junto' positioning, the brand has in its portfolio democratic options that cater to different audiences and consumption occasions, ranging from breakfast, through lunch, snacks to dinner.
( Press Release Image: https://photos.webwire.com/prmedia/6/265729/265729-1.png )
Related Links
WebWireID265729

This news content was configured by WebWire editorial staff. Linking is permitted.
News Release Distribution and Press Release Distribution Services Provided by WebWire.