Pearson Media Group is in Awe of Nancy Parks: Pointing Out America's Fundamentally Flawed Political System
It has been ages since Americans were so driven with a fervent urge to attain their dreams in life. Thwarted by negligence from the federal government, their drive dwindles as the hopes for their American dreams collapse. Fortunately, Nancy Parks' book will help address and correct this long-time struggle.
Anaheim, California, USA –
WEBWIRE
–
Thursday, October 22, 2020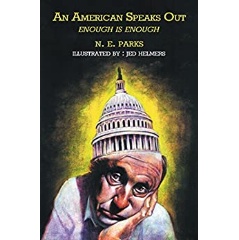 "An American Speaks Out" by Nancy Parks
The humbling wisdom of author Nancy Parks swoons the board of editors of Pearson Media Group. Packed with influential knowledge, "An American Speaks Out: Enough Is Enough," is the first on the list for non-fictional reads that has inspired the globally renowned agency to write a screenplay in accordance with the book's political concepts.
 
Famed in the industry for delivering their promises with uncompromised outputs, Pearson Media Group exacerbates this quality by partnering this year with one of the most celebrated entities in the film industry, Jose Zambrano Cassella. Jose has garnered multiple international cinematography awards over the years, and he brings this expertise for the success of Nancy Parks' book-to-movie project.
 
Moreover, the output will be submitted to 25 Hollywood film producers. With the book's effective concept, the agency admits that its hopes are high of getting optioned. Other than that, the screenplay will be showcased on 25 film festivals, including London Film Week, Milwaukee Short Film Festival, and Los Angeles Short Film Festival. This year brims of promises for the partnership.
 
A closer look into why the agency chose Nancy's work: Over the last couple of decades, a lot of American citizens have greatly suffered due to political issues, many of which remain unresolved. Fewer Americans have successfully achieved their American dream and it all boils down to the flawed systems of policies, cost, and function of the federal government. In the book, Nancy encourages her readers to see through veils of corruption and discusses her plan to get to the root of the problem to have it corrected.
 
Served 36 years as a government public servant, the author has identified the true problems as to why an alarming number of individuals are not able to live their personal American dream. "As a result of decades of political gridlock, partisanship, and a lack of focus on national priorities most Americans are concerned about such as the high cost of education, healthcare, and housing, the lack of job and retirement opportunities, the struggles for the American Dream have become insurmountable."
 
Bold, imperative, and timely, Nancy reminds people of their power to compel appointed officials to carry out what has been contracted and also encourages people to react by voting for ideal candidates. This will certainly create a massive impact on the country's future.
 
Nancy's book delves into the heart of the nation's struggles that have never been prioritized which outlines how America got into its current state. She proposes plans that will help America rise from the ashes of political negligence: reduced federal budget deficit, establish national priorities, make congress functional, better education programs, infrastructure improvement, implement career programs for the unemployed, etc.
 
The American dream is very much attainable if the people of the nation will come to realize the importance of addressing the flaws of the current system. Be in the know and make America great again with the help of Nancy Parks' book, "An American Speaks Out: Enough Is Enough." The book is available for purchase on Amazon books.
 
"An American Speaks Out: Enough Is Enough" 
Written by Nancy Parks
Published by AuthorHouse
Publish Date: April 6, 2015
Paperback: $14.95
 
About the Author:
Nancy Elshoff Parks spent thirty-six years as a government public servant. She worked three years as a legislative analyst, subcommittee staffer, and bill drafter for the West Virginia Legislature in the late 1970s. In 1980, she went to work for the federal government as a program analyst. She retired in 2014 after thirty-three years of federal government service.
 
Nancy has a degree in political science from the University of Cincinnati. She knows how the federal government works from having worked in the government. She understands the legislative process as well. She writes this book as an American citizen concerned about the future of our nation and the futures of our children and grandchildren. She sets out to understand the political and economic policy situations that have impacted the middle and lower classes of Americans as they struggle to rebound from decades of money and power games over our government officials and policies. She analyses many of our political and economic problems and provides specific recommendations on how to fix many of the problems in hopes of providing a guiding light into the future of America. She has lived most of her life in Ohio. She is married to her husband, Dan, and has a son, Mason, and two stepdaughters, Bridget and Andrea, and now has four step-grandchildren, Thomas, Victoria, Brynn, and Levi.
( Press Release Image: https://photos.webwire.com/prmedia/70063/265616/265616-1.jpg )
WebWireID265616
Contact Information

Rob Daniels
Production Manager
Pearson Media Group
(1) 833-272-8755

This news content may be integrated into any legitimate news gathering and publishing effort. Linking is permitted.
News Release Distribution and Press Release Distribution Services Provided by WebWire.